Entertainment | May 2008
Music, Flavor and Nostalgia Debut Together in '100 Years of Mexican Music'

PRNewswire
go to original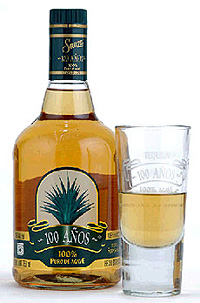 Tequila 100 Anos opens a photo exhibit with the most important figures of Mexican music from the last century.

Tequila 100 Anos pays tribute to Mexican pride and tradition with a unique exhibit that gathers singers, songwriters, and performers who contributed to make memories and leave a footprint on both Mexico's history and world history. Starting today, adult, legal purchase age Latinos in many U.S. cities will enjoy a free historic tour where talent and a love for Mexico - values shared by both Mexican music and Tequila, the most popular Mexican drink - meet.


"The '100 Years of Mexican Music' exhibit represents the immensely rich Mexican culture that - just like Tequila 100 Anos - is inspired by its roots and created with the passion and dedication of its people. We are proud to offer to Latinos and the overall community in the U.S., this musical retrospective together with Tequila 100 Anos which - along with many of the artists featured in the exhibit - has also become one of Mexicans' favorite drinks in this country", says Antonio Portillo, Brand Manager for Tequila 100 Anos.


Embracing the unique atmosphere of 1907 to 2007, original pictures of performers such as Agustin Lara, Pedro Infante, Lola Beltran, Los Lobos, Angelica Maria, among others, will be on exhibit for one month, beginning May 23 in Houston; June 24 in Chicago; and July 30 in Los Angeles.


"Mexican music transcends borders - it is an extension of the cultural richness of the country represented by its diverse music genres," says Steven Loza, Professor of Ethnomusicology at UCLA, Adjunct Professor of Music at the University of New Mexico, and curator and spokesman of the exhibition. "'100 Years of Mexican Music' is a compilation of valuable performers and songwriters celebrating Mexico, one of the richest countries in the Americas, thanks to its history and tradition."


"100 years of Mexican Music" may be appreciated at the Westin Galleria Mall in Houston, Texas; at the Ford City Mall in Chicago, Ill; and in Los Angeles, Calif. at a venue to be confirmed soon.

About Tequila 100 ANOS: Tequila 100 Anos was created to celebrate the 20th century at Hacienda La Perseverancia, in Tequila, Jalisco, Mexico; to toast to the new and exciting moments that the new century would bring, and to renew the joy and hope of Mexican people. Tequila 100 Anos has always been manufactured with the best agave, with special attention to the artisanal elements that characterize the brand. Besides its great taste, 100 Anos features other unique elements, such as its unique handcrafted bottle, ornamental rounded edges, to reflect some of the inherent values of the Mexican culture. Today there are three different varieties: Blanco 51%, Reposado 51% and Reposado 100% Agave, offered in different sizes, 375ml, 750ml and 1.75L, and in July of this year, Reposado 1L 100% Agave.


About Beam Global Spirits & Wine: Inspiring conversations around the world, Beam Global Spirits & Wine, Inc., is building brands people want to talk about. Consumers from all corners of the globe call for our brands, including Jim Beam(R) Bourbon, Sauza(R) Tequila, Canadian Club(R) Whisky, Courvoisier(R) Cognac, Maker's Mark(R) Bourbon, Laphroaig(R) Scotch Whisky, Larios(R) Gin, Whisky DYC(R), Teacher's(R) Scotch Whisky, DeKuyper(R) Cordials and Liqueurs, Knob Creek(R) Bourbon and Starbucks Liqueurs. Beam Global Spirits & Wine is part of Fortune Brands, Inc. (NYSE: FO), a leading consumer brands company with annual sales exceeding $8 billion. For more information on Beam Global Spirits & Wine, its brands, and its commitment to social responsibility, please visit http://www.beamglobal.com and http://www.drinksmart.com.
Tell a Friend
•
Site Map
•
Print this Page
•
Email Us
•
Top