Health & Beauty | May 2008
Burn Grandfather, But First Have Breakfast

JOY! - PVNN





(Video by Promovision/Post Production by Devon Allistone)

When they paved the little piece of paradise that was the tree-rich Lazaro Cardenas Park on the south side of Puerto Vallarta to put in a parking lot, I didn't think I would ever feel good about that space again.


Then, in February, Hector Lugo staged his Natural Health fair there, and suddenly the plaza came back to life. The barren piece of concrete with three sad parotta trees and a gazebo became a pueblito filled with laughter and commerce and learning.


The Encuentro Internacional Vallartense de Medicina Natural, Traditional, Alternativa was the first International natural medicine event ever staged in Puerto Vallarta.


Curanderas (native natural heath practitioners) gathered from all over the country to offer ancient alternatives to modern problems. There were also 15 shamanes from both North and South America, including Huichol, Aztec, Mayan, Apache and Hopi. It was an unequalled opportunity to experience rich and diverse native culture.


The heart of the new little community is Abuelito Fuego; Grandfather Fire. Tizoc, the leader of the Pre-hispanic Dance Group, is His primary care giver, but He is honored and cared for by all of the shamans in the square, as well as by other members of the extended family that has sprung up around him.


In return for His light and warmth and comfort He is fed cedar and oak – His favourite foods - and given tobacco. Offerings of all kinds have been placed around Him in this last week. Flowers and fruits, drinks and crystals, coins and shells are piling up on every side.


It is the perfect place for parents to teach their children about the culture and traditions. People gather here to talk about philosophy and swap stories and share wisdom. Children play games around him, families have picnics, commerce is done, life happens.


In this environment my relationship with this essential element is deepening, growing more personally appreciative, and so is my relationship with everything around Grandfather Fire. He creates companions, generates conversations and provides a central, sacred place to go. I would rather sit on cold concrete next to Him than almost anywhere else in the world right now, I never know who I will meet here, or what magic will happen.


February 15th, 4 am: I have begun my first shift caring for Abuelito Fuego. The shamans rotate so that everyone gets a chance to rest. The 4–7 am shift is Arturo's and this morning I am here with him. Every day he blows the conch to call the dancers to begin the day's ritual:


At dawn they gather to give Grandfather Fire breakfast, while a chant is sung, a selection of the fruit that has been placed as offerings is cut up and mixed with wood shavings and earth. Tizoc passes this salad around and we each take some, bless it, and in turn, place it on the fire. Next, He is offered a cup of hot chocolate, then water, in each case we all have a turn at dribbling a little over His logs.


The gringa part of me considers this all a little bizarre, but a deeper part of me understands and delights in this ritual that makes the fire such a cherished part of the family. It is something to be cared for and appreciated, never taken for granted or disrespected. Each person makes an offering, each person contributes because each person benefits from the warmth and the many gifts Abuelito Fuego offers.


It is an honour to take part in this ritual, something I didn't expect to be accorded. However on Thursday after I received my Aztec name and stepped into Jaguar energy, my staff decided it wanted to be present at the fire. This is not something that is simply done, there are only four staffs at Abuelito Fuego, one in each corner signifying the caretakers of the fire and the space, one doesn't just walk up and plant another staff there. That would be more than intrusive; it would be tantamount to an invasion.


A shaman's staff has a life and an energy all its own, I just get the privilege of taking mine to wherever it needs to go. I have learned to trust this and so I took it down to the plaza and knelt before Tizoc, presenting it to him and briefly telling him about it through a translator.


Tizoc pondered my request and allowed my staff to lie on a bed of sweet grass next to Arturo's staff, not upright, which would have been a challenge, but flat, so that it could give and receive without threat or offence. Having been placed, it must now remain there for the rest of the event.


It is an extraordinary thing to have my staff present with these others. To not be the only shaman in the community, to feel this sense of belonging and acceptance from my peers, to be acknowledged for who I am by people who understand it, live it, are it. To not be the odd one out.


A shamanic life, while deeply rewarding, can be lonely. I have been devoted to this work for 15 years, this is the first time I have ever been a part of a community like this. I refuse to sleep until the event is over, I don't want to miss a minute of it.
---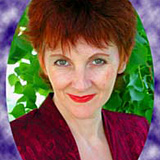 JOY! Is an internationally acclaimed life transformation coach, famous for her unreasonable success in helping people move through their challenges with her unorthodox approach and emPOWERment tools. For more information, visit her website ExperienceJoy.com or call 044-322-129-1128.
Click HERE for more articles by JOY!
Tell a Friend
•
Site Map
•
Print this Page
•
Email Us
•
Top