Health & Beauty | May 2008
Men Enjoying Spa Treatments, Too

David Swanson - Dallas Morning News
go to original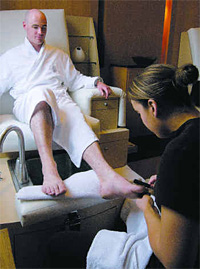 Receiving a pedicure at the spa at the Four Seasons Hotel Hampshire, outside London. (David Swanson/DMN)

"Sir, please take off clothes," the masseur said.


The diminutive young Indian man ushered me into a dark room at the Ayushman Ayurveda Center in Kerala, India. I had booked a rejuvenation massage. If one were ever to try an Ayurvedic treatment, I reasoned, where better than Kerala, where the Hindu-linked health philosophy is most deeply rooted?


Dropping my clothes onto a chair, I pondered my gut, my less-than-taut thighs. Meanwhile, the masseur wrapped an XXL plastic smock onto his XXS frame. He was humorless but not unfriendly. I had no idea how personal our relationship was about to become.


It's no secret that spas are on the upswing, here and abroad. Less known is that men are a growing segment of spagoers. The International Spa Association reports that men comprised 31 percent of spa patrons in 2006, the latest year for which data are available, up from 29 percent in 2003.


"In the past, spa has been seen as pampering – lotions and potions that appeal to women," says Jim Root, association chairman.


He proposes that "spa" stands for salus per aquam, Latin for "health through water."


"If you look at Russian and Scandinavian cultures," he says, "their health came about through bathing. Spa is a lifestyle; it's an umbrella word for all things health-, fitness- and wellness-related."


Yet, in India, being bathed in warm oil by another man didn't seem like the most obvious path to wellness.


"Sir, please sit on table," said the masseur.


Naked, I perched clumsily on the table's edge. It looked like a giant wooden breakfast tray: an upturned lip around its perimeter and a drain at one end. A bucket sat on the floor under the drain.


As I sat upright, the masseur poured sesame oil into his cupped hand and began to knead the liquid vigorously into my scalp. He poured more oil, rubbing it into my ears. Another handful was slathered onto my face.


"Sir, please lie down."


I rolled face down onto the wood surface. Handful after handful of oil followed. Little pressure was applied, but there was lots and lots of oil – 30 minutes of lathering. What oil didn't adhere to my body dripped off, oozed to the drain and drizzled into the bucket.


"Sir, please sit up."


The rubdown was over, and the masseur helped me onto the floor. My feet were so heavily lubricated that I clung to his arm as he guided me to a steam room where I sat and ripened for 15 minutes. Then the masseur collected me and escorted me to the shower, where he sprinkled a powder across my skin.


"To remove oil, sir."


I could barely stand without sliding, and I was being supported naked in a shower by a solemn man half my size.


I didn't feel rejuvenated. I felt 97 years old.


Sampling the fare


My experiences at spas have not generally been this extreme. In fact, I've learned that a great spa treatment can reliably relieve jet lag or cure stress at the end of a grueling trip. I'm not monogamous about the type of treatment: Swedish, lomilomi, reflexology or even a men's facial.


"Spa has moved beyond the pampering component and become mainstream," says Mr. Root.


But the industry has done little to encourage men, as evidenced by spa brochures, which almost always depict women undergoing treatments.


"The spa world hasn't always made it comfortable for men," Mr. Root agrees.


Common obstacles for men include a concern over intimacy, anxiety over body parts or discomfort entering what has traditionally been thought of as a women's environment.


Men "are concerned about their appearance, maybe they're ashamed of their feet," says Mr. Root, who adds that the social aspect in a spa is foreign to many men. "You can put a group of strange women in a room, and they wind up being best friends. Men aren't the same way."


But they do line up for spa treatments at the Four Seasons Hotel Hampshire, a 133-room country retreat 40 minutes west of London's Heathrow Airport. Situated on storied grounds where Henry VIII met his first wife, Catherine of Aragon, the hotel caters to weekend guests from London as well as day visitors for its much-lauded spa.


At the risk of gliding into a transoceanic cultural fender-bender, I'll posit that the English tend to be more prudish than Americans. Where better, then, than the English countryside to find experts who might know how to coddle an uneasy clientele?


Ian Mackie, the hotel's senior spa director, confirmed that English men can be reserved about spa treatments, but also that his business is increasing, with men comprising about 40 percent of the spa's guests on weekends.


"Spa has been perceived as very feminine," says Mr. Mackie. "But we are working to make men feel more welcome."


This means designing the hotel's 27,000-square-foot spa, which occupies an 18th-century stable block, with a masculine color scheme and lots of wood accents, and stocking the men's relaxation area with business and sports magazines.


It also means instituting treatments for men such as a golfer's massage and a sports massage, and day packages using men's products created by the British skin-care line ESPA.


"For massage, we've had to train therapists to give men the pressure they want," said Mr. Mackie. "And our men's facial is devised specifically for them. For instance, men like hotter towels on their face."


What about the anxiety?


I wish I were completely comfortable with the state of my own body, with its excess love handles and unsightly feet. At the Four Seasons, I am prepared to disclose my defects to spa therapist Charlotte Ansell before she starts my hot stone massage.


Perhaps sensing my anxiety, she says, "Like a doctor we see lots and lots of bodies every day. But as a therapist, you learn to look beneath the skin, to the muscles and what you're working with."


And with that, a heated basalt stone is placed at the top of my spine where it immediately transmits warmth below the skin. Ms. Ansell uses the rounded volcanic rock to massage my shoulder blades, to smooth muscles, to provide rigid force where needed. And as the stone starts to cool and my jet lag begins to melt away, she slides the stone down one arm and into my open palm.


It feels like I have been delivered a gift, the idle stone a gentle weight that anchors my body to the table while my mind floats. This time, when I leave the massage table, I feel a decade younger.

California writer David Swanson is a columnist for Caribbean Travel & Life magazine.

SPA TIPS FOR MEN


Get the backdrop. The International Spa Association represents 3,000 health and wellness facilities in 75 countries. Its Web site (www.experienceispa.com) contains a "Spa 101" section (click on Visit a Spa) covering frequently asked questions and types of spas.


Choose a spa. Review the treatment menu from a spa you're considering. Does it offer men's treatments or use products designed for men? Does it have a dedicated men's area? What other facilities or classes are available? If you have the opportunity to visit the spa, ask for a tour.


Ask questions. Communicate any concerns you might have. If you prefer a male or female therapist, ask if you can request by gender (women make up the vast majority of spa therapists). If privacy is a concern, ask what the dress code is. (Usually, what's worn under a robe is up to the client.) "There are a lot of services that can be delivered without you getting undressed," says Jim Root, association chairman.


Get the details. Be aware of the spa's cancellation policy, and verify whether a tip or service charge is automatically added to the bill (10 to 15 percent is typical).


Select a treatment. A shoulder- and back-focused massage is a typical first-time experience. "If you haven't been to a spa before I wouldn't really recommend an Ayurvedic four-handed massage," says Ian Mackie, senior spa director at the Four Seasons Hotel Hampshire. "You want to build up to the more advanced treatments."


Communicate with your therapist. Do you want to feel invigorated after your massage, or more relaxed? Make your therapist aware of any physical conditions that might inhibit your enjoyment of the treatment. "You have the power to say, 'This is my first time,' " says Mr. Root. "It should be a customized, individualized experience that addresses your needs."


Allow extra time. "We recommend arriving early and using the sauna or steam room first because it relaxes the muscles and opens the pores," says Mr. Mackie. "It also allows you to calm down before your treatment. When the therapist meets you, you're already in the mode, setting the scene for a great massage."
Tell a Friend
•
Site Map
•
Print this Page
•
Email Us
•
Top