News from Around Banderas Bay | May 2008
Matosevic Wins Futures 8 Final In Thriller at Canto Del Sol

Bob Cohen - PVNN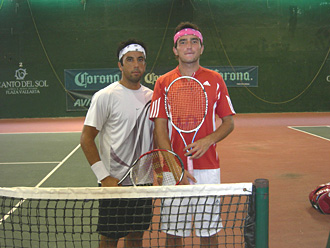 The finalists prior to their match. On the left Nima Roshan from the United States with Marinko Matosevic from Australia.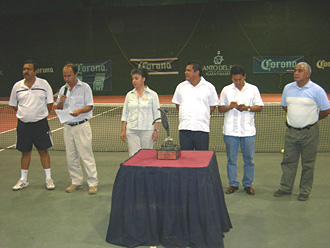 Dignitaries and those that were invaluable in the tournament. From left to right, Martin Parra, Director of Tennis at the Canto Del Sol, Javier Gaytano, President of Mexican Pro tennis, Veronica Alcantar, General Manager of the Canto Del Sol, Mayor of Puerto Vallarta, Javier Bravo Carbajal, Lic. Ramon Aguirre of the Mayor's staff and Cesar Macias, Director of Sports in Puerto Vallarta.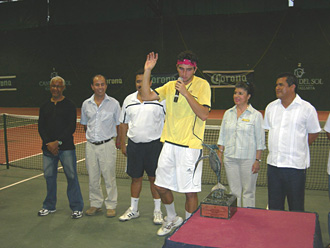 Tournament champion Marinko Matosevic accepting the trophy and thanking the crowd for their support. On the left is "Jimi" Cardona, the ITF (International Tennis Federation) Supervisor.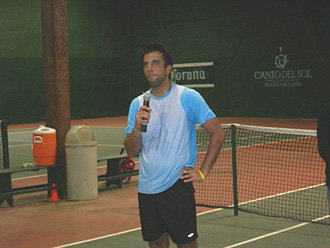 Runner-up Nimah Roshan thanking the crowd and tournament officials for their support in his first final ever on his 23rd birthday.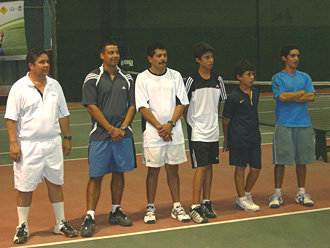 The invaluable guys that watched the lines, made crucial calls, including the ball boys. All are local, from left to right, Chuey Peña, Polo Torres, Miguel Herrera, Daniel Alarcon, Dago Alarcon and Sergio "Cacho" Martinez.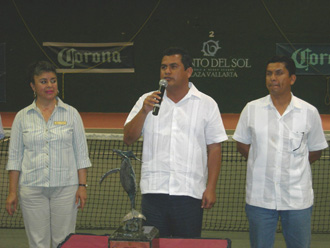 Mayor Javier Bravo had some kind words for the crowd, players, resort and ITF representatives as Veronica Alcantar and Ramon Aguirre looked on.

The ITF Futures tournaments finished it's five city, five tournament swing through Mexico on Saturday at the Canto Del Sol Tennis Club and the player that came up big to win a thrilling final was Australian 22 year old Marinko Matosevic. Matosevic seeded 3rd fought off a valiant comeback by the U.S. 5th seed Nima Roshan 6-3, 6-7 (10-8), 6-3.


The first set showed the contrast in styles of play as Roshan, who on his 23rd birthday played in his first professional final, served and volleyed and Matosevic stayed back at the baseline attempting to pass the American as he approached the net. There was only one service break in the opening set, which came with the Australian leading 3-2, and he served the set out, winning 6-3. In the set Roshan never scored more than one point on Matosevic's service games, while he labored while serving with most games going to deuce.


The crowd expected a two set match and Matosevic supported the crowd sentiment with a service break in the first game and again in the 5th game to go ahead 4-1; then held serve moving to within a game of the championship at 5-1. The American held serve to close to 5-2 and Matosevic appeared to win the match on an ace in the next game on "advantage in", hitting the ball a few courts down in victory. But the serve was called out and play continued and Nima took advantage of his second life, as he broke to close to 3-5, then held and broke serve again to tie the set at 5-5. The two held serve to force a 2nd set tiebreak.


It was now Roshan who was serving better and hitting crisp, precise volleys with the momentum swinging his way. He went up 5-1 in the tiebreak and 7 points wins a tiebreak as long as the winning margin is by two. He extended the lead to 6-2 with four (4) set points and Matosevic came back to win all four and added another to lead 7-6 with another match point. Roshan dug in and saved the point and another at 7-8, and proceeded to win the next three points to take the tiebreak 10-8 to even the match at a set each.


The crowd was thrilled to see a third set as the level of tennis was superb. The two stayed on serve until Matosevic broke in the 6th game, as in the opening set to lead 4-2, then held serve to move to 5-2. Roshan held serve at love as it appeared Matosevic was thinking about serving the match out on his serve, which is what he did to end the three set 2 hour, 45 minute final with a 6-3 final set.


The large crowd that included Mayor Javier Bravo, other dignitaries and the general public showed their appreciation of the excellent championship final. Both tired players took the microphone and thanked the crowd for their support and the venue for providing terrific playing conditions. Roshan spoke in Spanish, stating it was his first final as a pro and it was special on his 23rd birthday. Then the champion thanked everyone in English, just as gracious as his opponent.


I had the opportunity to speak with both finalists prior to their match and both were more than accommodating in allowing me to interview them. The champion, Marinko Matosevic was born in Croatia and after the war ended in 1998 when he was 10 years old. His family then decided to move to Australia. Croatia has had a turbulent history and was a part of the Communist Yugoslavian Republic until 1990 when they had their first free election. Croatia is now a democracy as many of the countries in that Eastern area of Europe. Marinko told me his goal was to reach the Top 100 in tennis ranking and at 6'4 and a little more muscle the youngster does have the opportunity to succeed. Tennis however is so competitive and at this level he needs to move well up in the ranking in the next 1-2 years.


Nima Roshan was born in Los Angeles, spent a number of years in Australia, then played college tennis in the U.S. and has only been playing professional tennis for two years now. He is currently living and playing out of Los Angeles. His grit and determination made him a crowd favorite, as he overcame a few match points in the semifinals to win and almost pulled off a big upset with his come from behind effort. We expect to hear more from Nima in the future and in this writer's opinion he will be in the winner's circle in the very near future.


Kudos go out to Canto Del Sol Tennis Director Martin Parra and his staff, the superb handling of the tournament by ITF officials and the people of Puerto Vallarta for their support and enthusiasm in hosting the most important tournament held here in a number of years. Negotiations, according to sources will be bringing the tournament back next year and perhaps at a higher level and prize purse.


Recapping the five tournaments held in the ITF Futures in Mexico is as follows:


Mexico 4 was played in Cordoba, Veracruz and 5th seed Nicholas Monroe from the U.S. defeated 7th seed Roman Borvanov 6-3, 6-3.


Mexico 5 was played in Guadalajara on clay and unseeded Victor Romero of Mexico defeated 4th seeded Marinko Matosevic 6-4, 6-2.


Mexico 6 was played in Celaya and 6th seeded Victor Romero repeated his victory, defeating unseeded Rafael Arevalo 7-5, 7-5.


Mexico 7 was played in Morelia and 4th seeded Marinko Matosevic defeated 3rd seeded Miguel Gallardo-Valles of Mexico 6-3, 4-6, 6-3.


And then came Mexico 8 in Puerto Vallarta.


With Matosevic winning two championships and one runner-up, the Australian earned the most points on the Mexico swing, followed by Mexican Victor Romero.
Tell a Friend
•
Site Map
•
Print this Page
•
Email Us
•
Top