News from Around Banderas Bay | May 2008
Paco Villanueva Wins Championship Belt at La Iguana

Bob Cohen - PVNN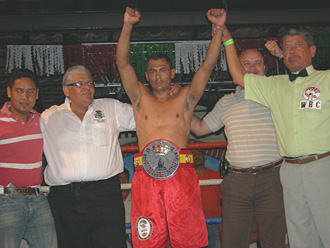 Paco Villanueva wearing his championship belt after his main event 1st round KO.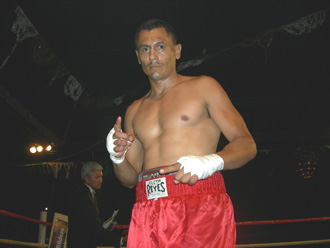 A confident Paco Villanueva just before the opening bell.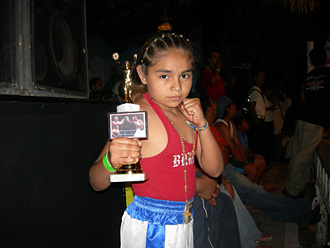 Listed as a boy in the program, 10 year old Katia La Conejtia of Guadalajara suprised everyone when she came out and let her hair down.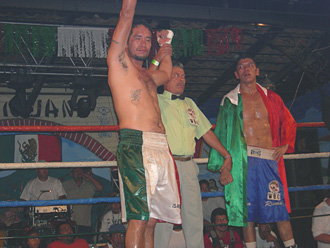 Daniel "El Yelapo" Lorenzo of Yelapa has his hand raised in victory ater a 10 round grueling professional fight.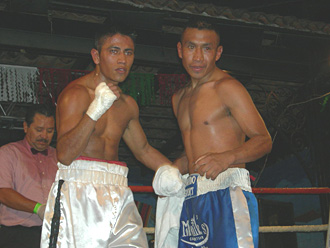 On the left Puerto Vallarta's El Chicharito Gonzalez after defeating Jose Mar Olivarez of Mexico City.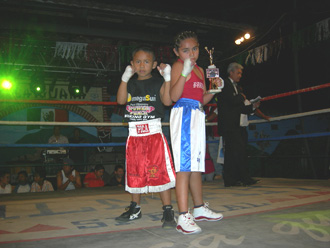 8 year old Juan "El Picachu" Becerra of Puerto vallarta after his fight against 10 year old Katia La Conjeta of Guadalajara. The crowd went wild when she let her hair down, as she was listed as a boy in the program.

In the main event at 1:45 in the morning, and on May 3rd, a day after the fight card began, Francisco Paco Villanueva, already a title holder added another belt to his collection with a first round knockout of Jesus Ortega of Mexico City at 2:39 of the round scheduled to go 12.


The two fighters were feeling each other out, landing a few punches when Paco landed a big right that sent his opponent to the canvas nearing the end of the 1st round. He was counted out and made no effort to get up. The belt was the then vacant super welterweight championship belt of all Hispanic countries and was held in Spain.


It was a similar finish to the last time he fought at the same venue, La Iguana Restaurant and Bar, located in downtown, when an unexpected powerful combination dropped his opponent in the 4th round. Paco at 33, who owns and is the professor at Power Punch Gym, now, has a record of 25-6 with 16 KOs.


Villanueva had a great night overall as his boxers won 9 of the 11 fights in the amateur division. It was midnight before the amateur bouts were finished and the four professional fights began. His two professional fighters were 1-1 before his sensational main event knockout.


The fight preceding the main event was a thriller that went the distance of 10 punishing rounds that saw both Daniel "El Yelapo" Lorenzo of Yelapa and Tomas Sierra of Mexico City stand toe to toe and throw punches nonstop in every round in the featherweight division. Lorenzo was the crowd favorite; in fact anyone seems to be when a Mexico City fighter is involved. Sitting at the ring apron this writer could see how hard the punches were, however neither fighter showed any sign of weakening. Lorenzo was awarded the victory in a close decision and moved his record to 14-3.


The other professional bouts had Power Punch Gym flyweight "El Chicharito" Gonzalez wining a unanimous decision over Jose Mar Olivarez from Mexico City. The one bout that Power Punch lost was the opening pro fight that Mexico City's Osvaldo Pacheco won a unanimous decision over Andres Oro Peza.


The final two amateur bouts were well fought and should have both winners going pro in the very near future. The main amateur event was won by Daniel "El Choco" Mendez in a very close split decision over Ivan "El Pinocho" Romo of Guadalajara. The action was nonstop and had the fighters not been wearing protective headgear, one could have been knocked out. In the co-main amateur event, Kiki "La Chiquita" Gonzalez defeated Israel "El Pelon" Jimenez of Guadalajara by TKO in the 3rd round as the referee made a wise decision to end the fight.


Other winners from Puerto Vallarta's Power Punch Gym were Kiki "El Gavilan" Palomera in a 2nd round TKO, Miguel "El Coco" Covarrubias, Salvador Basuco Arias, Juanito "El Zurdo" Ortega, Francisco Hernanadez and Jesϊs "El Canguro" Valeriano. Javier Pano and Jonathan Solis were the only two fighters that won outside of the home gym.


A thrill for the fans was when two youngsters came into the ring. Juan "El Picachu" Becerra an 8 year old fought what was written as El Conejito from Guadalajara in the 25 kilo category. The crowd was shocked El Conejito was actually "La Conejita", a girl from Guadalajara who sure did strut her stuff and at 10 was a superb young fighter. Katia (her real name) and Juan fought to a draw to the applause of the still shocked crowd.


A treat for the audience was having Mexico's version of Michael Buffer ("Let's Get Ready to Rumble"); Marlon Perez who was brought in from Mexico City as the ring announcer. Marlon is a true professional and handled every fight with superb ability and all efforts are being made to secure him for future events held at La Iguana.


La Iguana has proven to be a new but superb venue for boxing and we expect to see more bouts there. The Viejo Vallarta Association was sponsors and supporters of the fights, and with its central location everyone began to come as they closed their businesses for the evening. The venue was full and almost all stayed to the end and were able to see the early morning end with Villanueva's astounding knockout.


The main sponsors were El Torito Sports Bar owned by Felix Perez, Power Punch Promotions, La Iguana owner Gustavo Fong and KeBuena radio, who broadcasted the event live on 94.3 FM and 1110 AM. There were another 30 businesses that also sponsored the event.
Tell a Friend
•
Site Map
•
Print this Page
•
Email Us
•
Top