Americas & Beyond | May 2008
Eat Me Lures Becoming Popular in Fishing Circles

Henry Miller - Statesman Journal
go to original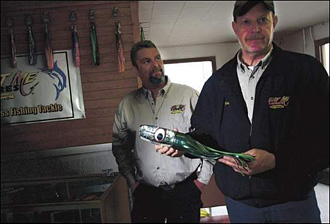 Employees at a Salem transmission shop have a side business in fishing lures. John Boyer (right) started Eat Me Lures two years ago, and Milt Zemanek, who managed the shop, is now production manager of the lure company. Boyer is holding the Big Bad Bobbie, among the world's largest marlin teasers. (Thomas Patterson/Statesman Journal)

It's not the only idea that ever poured out of the neck of a beer bottle.


But it might just be the biggest.


"Actually, we'd take like a Coke bottle, a beer bottle, and use that for a mold," said John Boyer, the owner of Eat Me Lures in Salem. "We used that, and we cut it in half."


"And if you look at this, you can see where it's kind of the shape of the neck of a beer bottle," he added, pointing to a lure on the top of a table.


From those humble first attempts, Boyer's lures have gained a wide reputation for catching tuna and marlin.


"That first year, in 2006, we maybe sold what, 100 lures?" Boyer asked rhetorically. "Right now, we're going to more than 100 a month."


A Navy brat, Boyer grew up chasing tuna off the Southern California coast with his father beginning at age 8.


And it's a passion that he never outgrew, bringing it with him when he moved to Oregon in 1975.


A1 Transmission in Salem, Boyer's auto-repair shop on Silverton Road NE, supported his fishing habit for decades.


Now, he's hoping the lure business will return the favor.


"If we can get enough lures made where we can support our fishing habit ..." Boyer said, his voice trailing off as he savored the possibilities, "then one day we'll be just strictly into the fishing industry."


And Milt Zemanek will be shifting gears, pardon the pun, right along with him.


"I was running the transmission shop, and then John got the lure business," Zemanek said. "I had done a lot of stuff in the past. I was a millwright for 10Πyears, so making molds and things of that nature isn't really that different than working in the transmission shop."


A tournament fishing buddy and angling instructor for "Western Outdoors" magazine in Baja California, Kit McNear, was the one who first broached the idea of making saltwater lures several years ago.


"He sent us one lure head, and he said it was the best marlin lure that he'd ever used over the years," Boyer said "But the guy who engineered it, designed it, was long dead. So he asked if we could design it."


Out came the Coke and beer bottles. It all came together when another tournament angler friend, Bob Watson of Oceanside, Calif., decided to pull the plug, so to speak, on his lure-making business, Boyer said.


"He'd make some of these lures, but it was kind of like a hobby out of his garage," he said. "So he called me and said he was going to clear all of this stuff out. So that's when I went down and picked it up."


The secret to their growing success is that they don't compromise, Boyer and Zemanek said.


Everything — with the exception of some of the smaller lead heads — is American-made, right down to the plastic skirts that come from Florida.


The body castings are poured in Salem and hand-shaped at A1 Transmissions.


And the rainbow-colored panels embedded in the plastic are pure abalone shell.


"That's mother of pearl. That's not laser paper," Zemanek said, holding up a lure to let the light catch the rainbow-colored sheet of shell through the clear plastic body.


"Just about everybody else will use laser paper, and you literally can't tell the difference. You couldn't tell."


"But we do ours 100 percent abalone tops and bottoms. It's a little bit that sets us apart."


Another thing is that on the bigger lures, the large black eyes move. They're doll's eyes, set in resin.


"It's really hard because you get cracking, you get bubbles," Boyer said about the heat generated by the curing resin of the lure bodies. "We've had a lot of guys come up and ask Milt, 'what's your secret?' "


Boyer grinned.


"I think it's because they're pouring down in Mexico and California where it's real hot. It's hard to patch up the cracks," he said. "Up here, I think our cooler weather's the big secret."


And then there's the custom work.


For tournaments or special orders, Eat Me Lures can embed a boat name, the tournament logo, even business cards or emblems in the lures.


The special orders, hand- crafting and domestic production makes the tuna and marlin lures that the company produces on the high end when it comes to price.


"Swim baits are about $1 apiece," Zemanek said about the soft rubber lures the company plans to crank out at the rate of a couple thousand per week. "And then the $5 or $6 range for some of the tuna heads."


"Then the $12 range all the way up to a couple of hundred dollar range."


At about $50, you're talking the Igor Sr., a chunky hunk of plastic with about a 16-inch plastic skirt.


About double that and you're on the top end, a custom-crafted Big Eddie at about $80. And then there's the $90 Big Bad Bobbie, a junior league football-sized, 3-pound behemoth with doll eyes the size of quarters.


"That's the biggest marlin teaser in the U.S., probably in the world," Boyer said, hefting the massive mound of plastic trailing an almost 2-foot skirt of plastic strands.


With most sport anglers, success trumps price, Boyer said. And saying it's made in America goes a long way to taking out the sting of the price.


"That's one thing that people like about it; they're made in the U.S.," Boyer said.


The No. 1 color combination is the Mexican Flag, a lure that sports a green, red and silver plastic skirt.


Then there's the Lolo.


"The reason for that is my daughter, Louren," Boyer said. "She's the one that designed this."


It's pink and white, and "I never run pink," he added.


In honor of Louren's return from a tour of Iraq with the Air Force, though, they put it on the end of the line during a tuna trip.


Boyer said it was mostly to humor her.


"I told Mel, 'run it for 10 minutes, then pull it out of the spread,' " he said about the lure. "That was the last time I ever said that."


"We went out there that day and we caught probably 60 percent of all of our tuna on the pink-and-white."


Now the Lolo color combination — sold as "Goatfish" — is available on all of Eat Me Lures' offerings. And it's a major seller.


As big marlin and tournament-winning tuna are landed on Eat Me Lures, word is getting out.


Boyer and Zemanek sold their entire inventory at the winter Sportsmen's Show in Portland, and came close to repeating at the massive Fred Hall Fishing Tackle and Boat Show in March in Long Beach, Calif.


And they sold every Lolo that they took with them.
Tell a Friend
•
Site Map
•
Print this Page
•
Email Us
•
Top