Entertainment | Restaurants & Dining | May 2008
El Torito - Not Your Average Sports Bar

Gary R. Beck - PVNN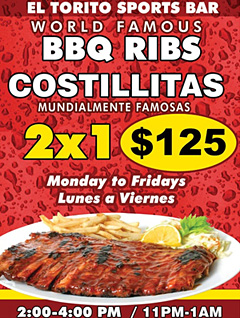 El Torito is located at Ignacio L. Vallarta 290 in Colonia Emiliano Zapata. For more information, call (322) 222-3784 or visit Torito.com

Over the years we have avoided El Torito whose doors opened in 1982 since we did not like the sports bar image nor any relation to the American fast food chain. Starting in the mid 80's, we started frequenting El Torito in Puerto Vallarta, which is not part of that restaurant chain.


The first floor is set up as a bar with TVs but if you go upstairs, there is a huge room with wooden floors, sturdy wood red tiled tables and cushioned chairs, huge tree trunks as columns and decorative colors of orange, red and green. The main draw back is the open airiness of a very busy street corner, while providing cool air at times, also allows the roar of traffic below.


On every visit we have ordered the same dishes time and again with various parties, and we always request extra plates for sharing the starters and entrees.


Seems we almost always need to start with a half kilo of "Peel Your Own" Shrimp. There are dozens of medium-sized crustaceans in an aluminum bucket filled with ice and water. As you retrieve, peel and dip into a spicy cocktail sauce, your fingers become cleaned from the cold water. The shrimp are sweet and plentiful. This we find is a great way to start a meal with friends. We also sampled the Chicken Wings and found them tender and tasty.


BBQ Pork Ribs are a very personal dish according to one's taste. We have found El Torito's to be consistently flavorful, succulent, meaty and coated with a wonderful sauce, one of the best versions around. A non-red meat lover opted for the BBQ chicken and it was moist and flavored with the same slightly tangy sauce.


On the most recent visit, five of us shared an order of each BBQ after the customary shrimp appetizer. The King Kong Burrito is a huge meal filled with a choice of chicken or beef. Add some salsa and one may just not be able to finish it, taking the rest home. We also shared Enchiladas Mole Negro and Carne Asada.


If you do not mind the roar of the crowd, come partake in the excitement of sports competitions such as the World Cup soccer, American football and basketball. Watch out for the Tequila-toting young lady who sells shots for quick pleasure.


Voted the Best Sports Bar in Puerto Vallarta by Vallarta Lifestyle's 2007 Reader's Choice Awards, El Torito is located at Ignacio L. Vallarta 290 in Colonia Emiliano Zapata. For more information, call (322) 222-3784 or visit Torito.com
---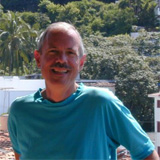 After 20 years in the San Francisco restaurant business, Gary R. Beck turned his attentions to cooking, dining out, creating recipes and exploring Puerto Vallarta's rich array of eateries. Famous for his restaurant guide, available online at CafePress.com or Lulu.com, Gary also writes restaurant reviews for Puerto Vallarta newspapers, Bay Area magazines, and now, a feature column for BanderasNews.com. Contact Gary at garyrbeck1(at)yahoo.com.
Click HERE for more articles by Gary R. Beck.
Tell a Friend
•
Site Map
•
Print this Page
•
Email Us
•
Top