Entertainment | Restaurants & Dining | May 2008
Getting to the Bottom of the Mysterious Jicama

Gloria Carr - Courier News Online
go to original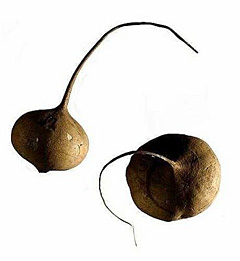 Jicama is the edible root of a Mexican vine and can be eaten raw in salads or cooked into dishes such as stir-fry. (Marina Makropoulos)

Each fruit cup was filled with vibrantly colored fruits such as watermelon and strawberries, signs of a welcome new season.


Against this backdrop of luscious fruit was a long, whitish stick that looked out of place.


The woman behind the counter at the Elgin Fresh Market on McLean Boulevard explained it was jicama. She asked if the visitor had ever tasted jicama and pulled out a sample. The woman behind the counter laughed at the grimace that followed.


An acquired taste, jicama, an edible tuberous root, actually is widely used in the kitchen.


Michael Zema, a culinary arts instructor at Elgin Community College, said jicama is growing in popularity. His students sometimes suggest using jicama in recipes served at the college's Spartan Terrace restaurant.


Jicama is one of those foods many may not know how to prepare. Well, here's the scoop on jicama:


History of jicama


The Encyclopedia of Foods: A Guide to Healthy Nutrition, compiled by Dole Food Company Inc., states it is a "legume native to Central America and Mexico." It adds that "jicama is a perennial vine that grows to the length of 20 feet or more and has compound leaves with pointed edges."


Where it comes from


It is primarily grown in Central America but is now being grown in southeast Asia, where it is a popular item in stir-fry and other Asian dishes.


Where to find it


Locally, many supermarkets and fresh markets carry jicama.


Appearance


It is a round, tan bulb and looks like a turnip. The outside is rough, similar to potato skin - although the jicama skin is inedible - but the inside is smooth and white, according to www.foodreference.com.


Taste


"The nice thing is it has some unique flavors. It's sweet and moist, yet crispy," Zema said. "The taste profile of jicama is almost like it has a celery taste to it; it obviously gives us some nice texture. It is a little bit sweet. It lends itself to picking up flavors."


Some experts say it tastes like an apple.


Use


The Web site, www.theworldwidegourmet.com, recommends eating it raw in salsa or in fruit salads with cantaloupe or honeydew melon. While the site says to add honey and lime, locally the tradition is to add sliced jicama with other fruit then sprinkle with chili, or chile, seasonings and lime.


"I enjoy doing salsa and using jicama in the salsa," Zema said. Jicama "gives it a refreshing flavor."


Citrus juices make a good accompaniment to jicama, Zema added.


Tidbits


Jicama goes by different names including yam bean, according to www.theworldwidegourmet.com. It also is called the Mexican potato, Chinese turnip and the Chinese potato, according to www.foodreference.com.


A warning: The root is fine to eat, but "the remainder of the jicama plant is very poisonous; the seed contains the toxin rotenone, which is used to poison insects and fish," according to the Encyclopedia of Foods.


Zema shared some of his salsa recipes that contain jicama as well as his method for preparing jicama chips:


Jicama salsa


2 cups jicama, peeled, diced small


1 tablespoon fresh citrus juice (such as lime, grapefruit, orange, pineapple)


1 tablespoon cilantro


Half an orange, peeled and diced


¼ cup pineapple, diced


¼ cup red bell pepper, diced


¼ cup green bell pepper, diced


¼ teaspoon kosher salt


¼ teaspoon black pepper


¼ teaspoon chili powder


Mix all ingredients together. Refrigerate for an hour to let flavors marry. A tip: You can add more citrus juice if the salsa is too dry. Ideally, the ingredients should have a good coating of citrus juice, according to Zema.


Corn salsa


2 cups of corn, roasted


½ cup jicama, peeled and diced


¼ cup cooked black beans


1/8 cup of shallots, minced


1 tablespoon cilantro, chopped fine


¼ teaspoon kosher salt


½ teaspoon ground black pepper Small jalapeno, seeded and finely chopped with membrane removed (optional)


Mix together, refrigerate for an hour.


Jicama chips


Peel jicama and slice very thinly.


Lay slices on a paper towel to draw out excess moisture.


Fill a frying pan or skillet with peanut oil, about a quarter of an inch from the top, and heat.


Fry jicama slices to a golden brown.


Remove from pan or skillet, drain on paper towel and pat off excess oil.


Sprinkle with your choice of toppings: Parmesan cheese, Cajun seasonings or Italian flavors.


Zema recommends serving the chips with ranch or blue cheese dressing.


"You can do this with any vegetable," he said. "More and more, vegetable chips are a healthier choice."
Tell a Friend
•
Site Map
•
Print this Page
•
Email Us
•
Top