Entertainment | Restaurants & Dining | May 2008
Maria Candelaría's Tamales Are To Die For!

Gary R. Beck - PVNN



Even nonbelievers may be swayed by the authentic flavors of Mexico at María Candelaria Tamales Artesanales, Guadalupe Sánchez #851 in downtown Puerto Vallarta.

Maria Candelaría's is arguably the foremost location for homemade tamales in Puerto Vallarta. On the front wall is a bulletin board and a couple from Georgia, USA wrote "We never liked tamales until we had Maria's and now we know what a good one tastes like." There are no truer words.


Upon entering you see a colorful cafe in front of the family house. Only five tables serve diners but the takeout business is quite brisk. Tamales may be ordered two ways: wrapped in banana leaf or dried corn husk. Around 18 varieties are featured as vegetarian, refried black beans and pork crackling [chicharrón.] Two favorites are the chopped pork leg meat in Guajillo sauce and chicken in Red Mole.


On a recent stopover, we enjoyed a fresh basil and mozzarella cheese and a chicken with vegetables and jalapeño. Both exceeded the expected image of color, presentation and taste. A bowl of spicy Chile sauce is served alongside...use caution!


For the unknowing, sweet tamales require a certain taste. Two fruit corn tamales are offered: strawberry and pineapple. The moist combination is accented with a slightly sweet fruit blend not filling. Each bite is fruity and slightly sweet with a pronounced corn flavor.


Some guests sampled the excellent fresh Atole rice drink but also offered surprisingly are espressos and cappuccinos. We left satiated and delighted and not very weak in the wallet, too. Even the nonbeliever may be swayed by the fine authentic tamales made here.


María Candelaria Tamales Artesanales is located at Guadalupe Sánchez no 851, in downtown Puerto Vallarta, Mexico. Tel: (322) 222-4603.
---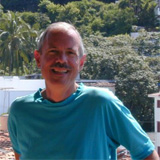 After 20 years in the San Francisco restaurant business, Gary R. Beck turned his attentions to cooking, dining out, creating recipes and exploring Puerto Vallarta's rich array of eateries. Famous for his restaurant guide, available online at CafePress.com or Lulu.com, Gary also writes restaurant reviews for Puerto Vallarta newspapers, Bay Area magazines, and now, a feature column for BanderasNews.com. Contact Gary at garyrbeck1(at)yahoo.com.
Click HERE for more articles by Gary R. Beck.
Tell a Friend
•
Site Map
•
Print this Page
•
Email Us
•
Top