Entertainment | Restaurants & Dining | May 2008
Trio Restaurant: Quality Times Three

Gary R. Beck - PVNN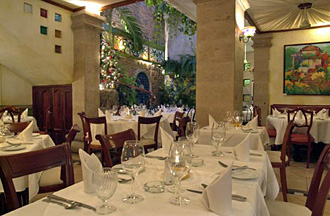 Located at Guerrero #264 in downtown Puerto Vallarta, Trio is open daily from 6-11:30 pm. For reservations call (322) 222-2196 or visit triopv.com.

Offering international cuisine served by friendly and attentive waiters, Trio has been called a culinary gem, and one of Puerto Vallarta's favorite gourmet restaurants.


Since 1997, owners/chefs Bernhard Güth and Ulf Herniksson have run this formal spot popular with those who rave of the 5 Star Diamond Award Mediterranean haute cuisine. Dress well to fit in with the upscale crowd! The interior is both elegant yet informal and comfortable. It is this blend of ease and great food which brings clientele back again and again.


On this occasion, first we sampled a couple appetizers. Thinly sliced beef carpaccio was dressed with balsamic vinegar and fresh Parmesan shavings. The acidity was a little strong but the meat quality shone through.


Enjoyed roundly was the Lebanese salad composed of baked beets, parsley and marinated goat cheese. It was tossed with a cold creamy vinaigrette. A delightful combination of unexpected flavors.


Followed was a good starter portion of risotto with garlic shrimp, sweet peas, Parmesan and chile oil. Tangy yet soothing. Our taste buds jumped with the fine mixture of many flavors of these three options.


Sea bass was the daily fish and it was filleted, sliced and crusted with chopped black olive, grilled and served with an Italian vegetable medley and a light saffron cream sauce. Veal raviolis were finished with a fresh thyme sauce and accompanied by seasonal vegetables including asparagus on this occasion. Tender, almost boneless mushroom-stuffed quail was paired with lovely al dente spinach gnocchi topped with a port wine sauce. All combined for a smooth, rich dish.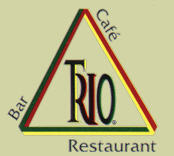 Fresh fruit sorbet is a personal weakness and tonight's was mango and passion fruit accompanied by marinated blueberries. It was coated with a thin, light syrup. Caramelized apple strudel paired with rich vanilla ice cream, a union made in Heaven. Their crème brulée is correctly sugary crisp on top and creamy inside.


When an occasion is upon you or friends are in the mood to be pampered, follow the cobblestones to this spot, reservation in hand, and hunger inside. You should be pleasantly surprised as always are we.


Located at Guerrero #264 in downtown Puerto Vallarta, Trio is open daily from 6-11:30 pm. For reservations call 52 (322) 222-2196 or visit triopv.com.
---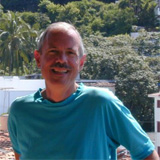 After 20 years in the San Francisco restaurant business, Gary R. Beck turned his attentions to cooking, dining out, creating recipes and exploring Puerto Vallarta's rich array of eateries. Famous for his restaurant guide, available online at CafePress.com or Lulu.com, Gary also writes restaurant reviews for Puerto Vallarta newspapers, Bay Area magazines, and now, a feature column for BanderasNews.com. Contact Gary at garyrbeck1(at)yahoo.com.
Click HERE for more articles by Gary R. Beck.
Tell a Friend
•
Site Map
•
Print this Page
•
Email Us
•
Top