News from Around Banderas Bay | June 2008
Two Flippers Up for Sea Lion Kids Program

Laura Gelezunas - PVNN
Sea lions are one of the ocean's most fascinating creatures, and Vallarta Adventures new Sea Lion Kids program at Las Caletas gives kids ages 6-12 the chance to learn more about these amazing, energetic, and playful marine mammals in Puerto Vallarta, Mexico.


Click HERE for more Vallarta Adventure's videos.

There's an addition to the already exciting and action packed day at Las Caletas, a day excursion offered by Vallarta Adventures Tour Company. The new Sea Lion Adventure has the kids squealing with delight.


Known for their intelligence, playfulness and noisy barking, sea lions are fin-footed marine mammals and they show off their talents whenever they can.


"It was just so cool that he could paint a painting, do you know how many sea lion's can paint a painting?" exclaims Johnny Stephens, who is flippin' out, "That was just incredible he painted a big boat, a submarine and he even painted a little sailboat." Johnny is referring to Monico, a budding artist who also happens to be a sea lion. And the kids even get to keep the work of art.


This is just part of the brand new kid's program featured during the day trip to Las Caletas. Designed for 6 to 12 year olds, the sea lion adventure is a bucket of fun and interaction with these amazing and energetic animals. And no one even has to get in the water.


"I thought the sea lion was very friendly, I didn't know very much about them until now," says Jordan Morehead, who now loves sea lions, "It was when we got to feed them, that was the highlight for me, it was just very exciting."


"A big part of our program is to help the kids understand the environment sea lions live in, it needs to be kept clean so they can help out with that," says Johnny Madigan, sea lion trainer, "We want the kids to understand and learn a good deal about these fascinating creatures."


Johnny passes on all kinds of interesting sea lion information during the adventure. "We are going to show you his teeth, open up and say ah! Check his teeth out they have 36 teeth, WOW! Look at those chompers right there. They have two sets of teeth their entire lifetime, they have baby teeth and then adult teeth. Everyone, including the sea lion, show me your smiles!"


Hugs, kisses and smiles are all part of the hands on experience. It is amazing but the kids cuddle up to the sea lion like it's a big dog, even though Monico weighs around 350 pounds.


"It was awesome because I am an animal lover, so it's my first time ever touching and playing with a sea lion," says Mariah Roy, a new sea lion fanatic. Her advice to other kids? "Don't be scared because they are really playful and they are really nice and there's no reason to be afraid of them."


Dancing kids and a sea lion kick up their flippers and feet during their stay at one of the few havens in the world where you have the opportunity to play with a sea lion in a truly natural habitat. This is an experience that will be remembered for a lifetime.


For more information or to make a reservation for the Las Caletas Day Excursion, visit Vallarta-Adventures.com or call 1-888-303-2653 toll free from the U.S. or Canada.
---
¡Dos Aletas de Aprobación!
Laura Gelezunas - PVNN


Existe una nueva atracción en Las Caletas que está cautivando a todos los niños. Tiene el nombre de Sea Lion Adventure y es la nueva creación de Vallarta Adventures para un tour que ya de por sí tiene una gran cantidad de fantásticas actividades.


La elección de los Lobos Marinos es muy acertada, puesto que son inteligentes, juguetones, ruidosos - hay que escuchar sus "ladridos," pero sobre todo tienen una gran cantidad de talentos y que gustan de mostrarlos cada vez que pueden.


"Fue padrísimo como pintaron en la paleta, ¡jamás me imagine que un Lobo Marino fuera capaz de eso!" exclama Johnny Stephens - todavía emocionado, "No puedo creer como es que son capaces de dibujar un bote grande, un submarino e incluso un pequeño barco." Refiriéndose a Monico, un artista, que es un precioso Lobo Marino. No necesito platicarles sobre la reacción de todos los niños con su trabajo, simplemente en este momento todavía puedo ver sus expresiones de emoción en su rostro.


Esto es solamente una parte del nuevo programa de actividades para los niños en Las Caletas. Pensado para niños entre 6 y 12 años, es una aventura llena de diversión e interactividad con estas preciosas criaturas llenas de carisma y energía. Y lo mejor de todo, no es necesario entrar al agua para convivir con ellos, así que no se preocupe por la seguridad de sus pequeños.


"El Lobo Marino fue muy amigable, no conocía mucho de ellos hasta el día de hoy," dice Jordan Morehead, ahora un gran fanático de esta especie, "El mejor momento, fue cuando nos dejaron alimentarlos, realmente muy divertido."


"Una gran parte del programa consiste en orientar a los niños, para que comprendan la importancia del medio ambiente en que viven los Lobos Marinos, necesita mantenerse limpio y ellos deben ayudar a que así se conserve," comenta Johnny Madigan, Entrenador de Lobos Marinos, "Queremos que los pequeños entiendan y aprendan más sobre estas fascinantes criaturas."


Johnny está encargado de dar constantemente información durante la aventura. "Ahora les mostraremos sus dientes, abre la boca y di ¡ah! Observen, tienen 36 piezas en total, ¡WOW! Miren esas muelas tan grandes; ellos tienen en total 2 cambios de dientes para toda su vida, los que tienen cuando son pequeños y otros cuando son adultos. Todos, incluso los Lobos Marinos, ¡enseñen sus dientes!"


Abrazos, besos y sonrisas, son todos parte de la experiencia. Es sorprendente como los niños adoptan rapidamente a los Lobos Marinos como si fuese un perro grande, incluso a Monico con un peso de alrededor de 125 Kg. "Fue muy sorprendente, porque aunque soy un amante de los animales, es la primera vez que tengo la oportunidad de tocar y jugar con ellos." Dice Mariah Roy, una nueva fanática de los Lobos Marinos y este es su consejo para otros niños, "No tengan miedo, porque ellos son muy juguetones y muy amistosos, no hay razón para temerles."


Para más información o para hacer una reservación para Excursión a Las Caletas, visite Vallarta-Adventures.com o llame al teléfono (322) 297-1212 ext. 3.
---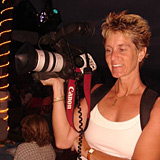 After having spent 10 years in the world of US broadcast news, Laura Gelezunas decided to unleash her skills on Puerto Vallarta by opening Video Diva Productions, a full-service, professional digital video company. Whether you're interested in a sales video, WEBmercial, music video, feature story, documentary, or corporate event video coverage, she has the experience, equipment and talent to coordinate a professional production. For more information, visit her website at VideoDivaProductions.com.
Tell a Friend
•
Site Map
•
Print this Page
•
Email Us
•
Top