News from Around Banderas Bay | July 2008
Canadian Golfer Shoots Record Breaking 58 at El Tigre Golf Course

Bob Cohen - PVNN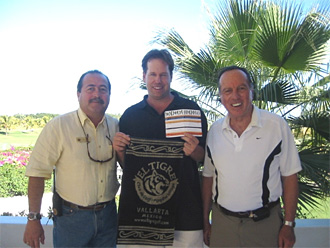 El Tigre Director Jesus Carmona (L), Michael Emmett (C) the record holder, and his playing partner, Peter Schreter.

I hadn't heard anything about it, but just a week ago I saw good friends Jesus Carmona, Director of El Tigre Golf Course and Country Club and head golf professional Francisco Salazar. We chatted about what was new at El Tigre and in general, when Jesus mentioned about a golfer shooting a record shattering 58 earlier in the year.


I almost fell out of my chair, knowing that the best competitive round ever shot by a professional golfer was a 59, a record shared by Al Geiberger and matched by David Duval.


El Tigre, located in Nuevo Vallarta, Mexico is not just a regular golf course; its rating is one of the highest in Latin America. The best score ever recorded there was a 64 in the 2007 Canadian Open played at El Tigre, prior to the 58 shot by Michael Emmett of Ontario, Canada. Many professional tournaments have been played there and a round of 14 under par is virtually unthinkable.


Following is an article written by a Canadian newspaper about the story along with an authentic copy of the scorecard that was forwarded to me. A truly amazing day for any golfer and a great story for any fan!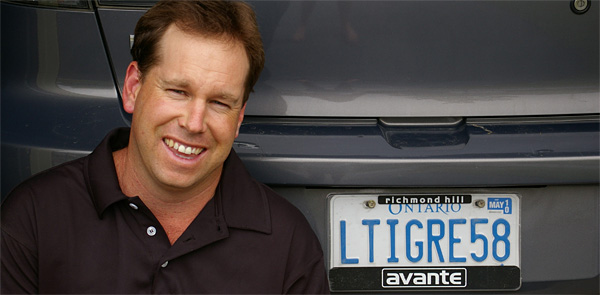 ---
The 58 That Almost Wasn't
Lorne Rubenstein - The Globe and Mail
go to original
March 5, 2008


All golfers dream of a career round, but few achieve one so extraordinary that it truly qualifies. On Feb. 17, Michael Emmett, a tennis professional at the Mayfair Parkway Racquet Club in Markham, Ont., did.


It was Tiger-like, on a course called El Tigre in Nuevo Vallarta, Mexico. Emmett shot 58 on a 7,239-yard course that has staged a Canadian Tour event.


Emmett, 40, is a plus-two handicap and former No.ƒ|1-ranked Canadian junior tennis player. He was on holiday, which meant 18 rounds in 10 days. He played the back, or black, tees while shooting 14-under par on the course, which has a rating of 74.5 and a slope of 133.


"I know there will be people who will doubt it," Emmett said the other day. "But it was 100-per-cent legitimate. There wasn't one putt that didn't go in. We played by the rules."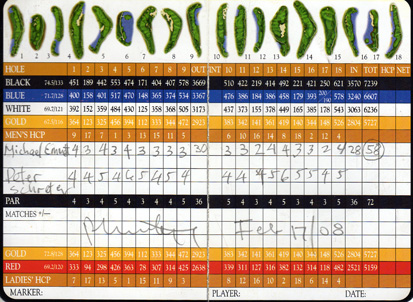 Emmett's playing companion, Peter Schreter, whom he met on the trip, confirmed the score yesterday. Jesus Carmona, the club's director of golf, made sure the scorecard was copied and photos taken.


As for Schreter, a developer who lives in Montreal, he was in Nuevo Vallarta for pleasure and business. He's building some homes on the club's property.


"I was stunned," Schreter said. "I'd played with Michael the day before when he shot a mere 71, and I was already quite impressed. When he hit his first booming tee shot, I said to him, 'You're a scratch golfer, aren't you?'ƒ|"


Emmett is actually better than a scratch golfer, as his handicap attests. But he hasn't played much competitive golf, except for city and provincial amateur championships. He's been playing golf only since he was 25, and now, he said, "I live, breathe and eat golf."


The weird thing about his off-the-charts round is he wasn't that keen on playing that day. He had an early afternoon flight to catch. He hadn't packed or checked out. He'd already played 17 rounds. Then there were the 21 people who had somehow booked the 7:30 a.m. starting time, the first available. Overbooking doesn't happen just for flights.


"I asked why I was doing this to myself," Emmett recalled. "But I knew I was coming back to four feet of snow."


Emmett and Schreter were allowed to go out before everybody else. But Emmett still wasn't into the game, and hit a series of bad shots the first three holes. He got away with pars. He was close to packing it in, but then came his second shot on the 553-yard, par-five fourth hole. He had 247 yards to the green, with water in front. It wasn't a shot he would try in tournament conditions, but he needed something to fire himself up — or to send him packing.


Over the ball, Emmett didn't have the positive thoughts that sports psychologists claim are crucial for excellence. He told himself he'd leave if he didn't hit a perfect shot. He did hit a perfect shot, and made a 25-foot putt to eagle the hole.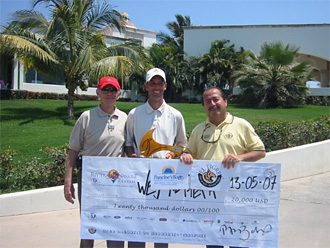 Wes Hefernan (C) held the old record of 64.

He was two under. Nice, but it hardly looked as though he would go 12 under on the final 14 holes. Before long, he was feeling tingles.


Emmett shot 62 last July at Emerald Hills, his home course in Stouffville, Ont., even while missing putts inside 10 feet on the last two holes. He'd had six chances to break 30 for nine holes there last year, but could never birdie the last hole of the nine. He said he's always had trouble finishing off his good rounds in style, and that breaking 30 has been a goal.


But breaking 60? Or breaking 59, considered golf's magical score? Come on.


Emmett was holing everything that surreal Sunday. He shot 30 on the front side, and was six under for the back nine and 12 under for the round standing on the 17th tee.


The 17th is a par-three, and was playing 250 yards. There's water all down the left side. Emmett hit his tee shot four feet from the hole and made the birdie putt. He just needed par on the last hole for 59. The 18th is a 621-yard par-five.


Emmett made a 15-foot birdie putt to finish like a Tiger — the one and only Tiger — and shoot 58. He took 21 putts. He was eight under on the five par-fives, and only — "only" — six under the other 13 holes.


"I can't imagine anybody putting as well as I did," Emmett said. "I'm not good enough for this. I felt like it wasn't me."


For one day, it was. For one day, Emmett beat the Tiger. More than two weeks later, he remains stunned by his out-of-body experience. Who wouldn't be?
Tell a Friend
•
Site Map
•
Print this Page
•
Email Us
•
Top