Americas & Beyond | July 2008
Lens On Democracy Video Contest

yvo.overseasvotefoundation.org





18 in '08 Trailer


Richard Dreyfuss on being an American

Youth Vote Overseas and 18 in '08 are excited to announce our first joint YouTube contest, "Lens on Democracy." We're asking young Americans in the U.S. and around the world to share their opinions on American democracy today.


This is your chance to give your vote a voice. Enter the "Lens on Democracy" video contest, sponsored by Youth Vote Overseas and 18 in '08, and tell the world what you think about American democracy.


What does it mean to be a citizen? How does our democratic system affect the issues you care about? For those living abroad, we especially want to know how living outside the U.S. influenced your views on the American democratic system.


This contest has two categories: one for young Americans (18-29) living in the United States and one for those living abroad. For Americans living overseas, we would like to know what perspectives you've gained from living abroad have added to your opinion.


A panel of judges from 18 in '08 and Overseas Vote Foundation will choose one winning video from each category. Both videos will be displayed on both the YVO and 18 in '08 websites.


Videos will be judged according to strength and clarity of the message, creativity, and presentation. Both YVO and 18 in '08 are nonpartisan organizations, and videos with an overtly partisan message will not be accepted.


Upload your video to the Lens on Democracy YouTube group, then send the following information to video@overseasvotefoundation.org or video@18in08.com by 11:59 PM PST on October 19, 2008: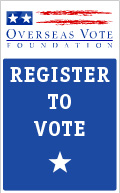 Name
Age
Address
Phone Number
Email address
YouTube Link
Category – U.S. citizen living in the U.S. or living outside the U.S.


Videos can consist of entirely original material or can be mash-ups, and should be under 3 minutes in length.


Please read the contest terms and conditions carefully. They can be found at yvo.overseasvotefoundation.org. All YouTube terms and conditions apply.

Youth Vote Overseas is an initiative of Overseas Vote Foundation, a nonprofit, nonpartisan 501(c)(3) public charity.
Tell a Friend
•
Site Map
•
Print this Page
•
Email Us
•
Top