Entertainment | Restaurants & Dining | July 2008
The Irreverent Chef: Chihuahua Cheese Comes From Where?

Liana Turner - PVNN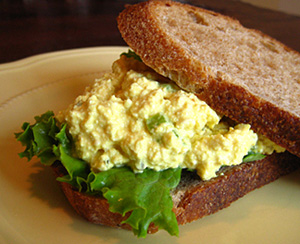 I had forgotten how good egg salad can be. As soon as I got my relish home I whipped some up.

Puerto Vallarta - Everyone here knows about Chihuahua cheese. It's a soft, mild, off-white, easily melted cheese that comes from Chihuahua, right? (I am talking about the state of Chihuahua in Northern Mexico, not the little dogs. Can you imagine how many Chihuahuas it would take? Oh, never mind...)


Anyway, I started wondering about this when I saw in the news that Greek cheese makers were trying to stop any non-Greek cheese from being called Feta. This has to do with appellations. An appellation is a product name / place designation.


For instance, it is illegal (or in some places only unethical) to call your sparkling wine Champagne, unless it has been made by the Champagne method in the Champagne region of France. I think we all get the idea. There are hundreds, maybe thousands of such "appellations," for all kinds of products... wines, cured meats, vinegars, and of course, cheeses.


I should know better by now than to make any logical assumptions, but for many years I have been thinking that Chihuahua cheese had to be made in Chihuahua. Silly me. What my curiosity got me was a big bursted bubble. I hope you are all as shocked as I was. Here's what I found:


These results are from a quick perusal in one local supermarket. This is what I found when I put on my drugstore reading glasses and read the really fine print on nine different packages of "Chihuahua Cheese."


Five of the nine were actually made in Mexico. They were Caperucita, made in Nuevo Leon (two states away from Chihuahua); Gallo Negro, made in San Luis de Potosi (three states away); Nestle, made somewhere in Mexico (my glasses were not strong enough for me to find out what part.) Only two of the Chihuahua Cheeses appeared to be made in Chihuahua. They were Montebello and Campestre. Hurray for those two!


Now for the real shockers: Esmeralda is made in Argentina. Uruguay is the country of origin for both El Ciervo and LaLa Chihuahua Cheeses. At least people speak Spanish in those countries. You'll never guess where Noche Buena Chihuahua Cheese comes from... why, it's New Zealand! Don't get me wrong. I have been to New Zealand. I loved it there. The people were very nice, and everything was quite clean, but I still don't think they have any business making "our" cheese. Now I guess there will have to be a taste test. Another project...


This Week's Exciting Grocery News


Found at WalMart: Heinz Sweet Pickle Relish, only $19.50 pesos for a 12.7 oz. squeeze bottle. Sweet relish is necessary for good tuna salad, egg salad and classic potato salad. For years I have been sweetening dill pickles as a substitute. It worked, but it's not quite the same.


I had forgotten how good egg salad can be. As soon as I got my relish home I whipped some up.

Old Fashioned Egg Salad

• Boiled eggs, chopped (Put eggs into a saucepan with cold water. Bring to a boil on high heat. When the water boils, turn heat to low and set a timer for 12 minutes. When the timer goes off, remove the eggs from heat and rinse with cold water and cover with ice. They will be perfect, with no green ring around the yolk, and will peel easily.)


• Celery, diced
• Red onion, diced
• Sweet relish, just a little to taste
• Mayonnaise, just enough to moisten everything
• Fresh ground pepper
• Salt, very little or none. Mayonnaise is salty


Mix everything together and enjoy between two pieces of bread with a lettuce leaf. So simple and so good!


The Irreverent Chef, a.k.a. Liana Turner, is the chef and owner of Paradise Bakery and Catering. Serving the "Best Cinnamon Rolls in Vallarta," along with delicious sandwiches, salads, main dishes and yummy sweet treats every day but Sunday, and providing all styles of catering services, from pre-prepared meals to-go for informal gatherings to full service elegance for dinners, cocktail parties, wedding receptions and special events, Paradise Bakery & Catering is located at Sierra Aconcagua 299, Prolongacion Brasil, Colonia Lazaro Cardenas, Puerto Vallarta. For more information, call (322) 222-5133 or visit VallartaCatering.com.

Click HERE for more articles by The Irreverent Chef
Tell a Friend
•
Site Map
•
Print this Page
•
Email Us
•
Top