Entertainment | Restaurants & Dining | July 2008
The Irreverent Chef: Party Time!

Liana Turner - PVNN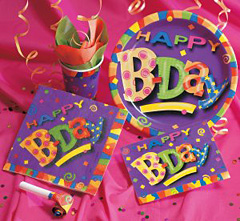 You can let some birthdays pass quietly, but the "milestones" warrant some kind of festivities...

I like birthdays. They celebrate life, friends and survival. With my 50th birthday approaching quickly, I decided that I should do something. Some birthdays I don't mind letting pass quietly, but the "milestones" warrant some kind of festivities, and 50 is definitely a milestone. So, about four days before the event, I started planning. I have a hard time planning my own parties, but I can plan the hell out of someone else's!


So, with such a short notice, I decided to look into some internet invitation sites. I chose evite.com. It is free, easy, and they have several designs to choose from, and options for colors and style, etc. You type in the party information and then type in the email addresses of who you want to invite, and evite does the rest.


The program works pretty well, but I did have to redo the addresses three times, because they disappeared when I went to other pages trying to choose certain options, so I would suggest getting all your email addresses together (with a comma between each one) and save the whole list somewhere where you can easily retrieve it.


Evite keeps track of the guests... those who answer yes, those who will be there in spirit (no,) and those who are just not sure yet (maybe.) They will add guests if the invitee will be bringing someone else with them, and they will send you an email every time someone replies. This is a great way to keep track of exactly how many people to expect.


For a casual party it is a great way to go. There are some advertisements on the site, but they aren't too annoying.


You can even make changes in the invitation after it has been sent, and evite will notify all invitees. I did use that feature, as my original plan was to have a very small dinner party at home, and I wanted to cook for everyone.


A wise friend said, "Oh no, No, NO! You will not be cooking for this party. Choose a restaurant and we will all go." I had to agree, especially when I remembered that I don't have a maid right now. Having a party at home would be a foolish thing under the circumstances. So, I easily updated the invitation.


Vallarta's Partyland


For your own parties, don't forget about Partyland. They are very well stocked with just about anything you might need for a festive celebration. There are disposables with nearly every possible theme (more for children, but some adult and non-age specific too.) They stock all kinds of party favors, balloons, gift wrap, invitations, seasonal and holiday items, napkins, plates, cups, banners, etc... If you're not in the mood for a party, this place will put you in the mood!


If piñatas are a part of your festivities you'll want to go upstairs, as they have everything up there that you might ever think of stuffing into a piñata. Don't tell any children that I said this, but piñatas don't have to be filled with candy. Some other ideas: coins, small party favors, fruits (like tangerines,) hair clips, marbles, etc...


I had been going to Partyland for over a year before I realized that they even had an upstairs. No one ever said anything to me about it. So don't be shy. Just head up the stairs.


They also have some very creative balloon arrangements, and they will go on premises to do more elaborate balloon work.


Partyland is located at Fluvial Vallarta # 235, Tel. 223-2645.


The Irreverent Chef, a.k.a. Liana Turner, is the chef and owner of Paradise Bakery and Catering. Serving the "Best Cinnamon Rolls in Vallarta," along with delicious sandwiches, salads, main dishes and yummy sweet treats every day but Sunday, and providing all styles of catering services, from pre-prepared meals to-go for informal gatherings to full service elegance for dinners, cocktail parties, wedding receptions and special events, Paradise Bakery & Catering is located at Sierra Aconcagua 299, Prolongacion Brasil, Colonia Lazaro Cardenas, Puerto Vallarta. For more information, call (322) 222-5133 or visit VallartaCatering.com.

Click HERE for more articles by The Irreverent Chef
Tell a Friend
•
Site Map
•
Print this Page
•
Email Us
•
Top