Entertainment | Restaurants & Dining | July 2008
Treehouse Bar & Grill 3rd Anniversary

Lori Lorenzen - PVNN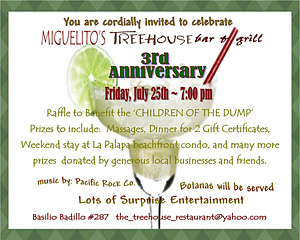 Click image to enlarge

On July 25th, Treehouse Bar & Grill is celebrating their 3rd Anniversary by throwing a party to benefit Children of the Dump. For more information, call (322) 223-1263.

On Friday, July 25th, Treehouse (Miguelito's) Bar & Grill, Basilio Badillo #287, is celebrating their Third Anniversary by throwing a party to benefit the Children of the Dump's School of Champions, which offers free morning and afternoon classes in math, English and computers to underprivileged children, grades 3-6.


They are currently in the process of raising money for additional classrooms and expanding the program to include grades 7-9. With many of the children in Puerto Vallarta not finishing 6th grade, this program is crucial to the education of Puerto Vallarta's future work force.


So come on out to Treehouse Bar & Grill on Friday, July 25th at 7 pm for their Third Anniversary celebration. You'll have a great time, while supporting a good cause!


There will be a lot of exciting entertainment as well as a raffle for over $15,000 pesos in prizes and gift certificates that have been generously donated by more than 50 local businesses, including:


Apaches, Zushi Time, Barrio Sur, Archie's Wok, La Piazzetta, Sama Martini Lounge, Roberto's, The Coffee Cup, Michel Trattoria, Kit Kat, Cilantro's, Back Alley Bistro; a 75 minute massage from Victoria Grand Spa, teeth cleaning from Big Sonrisa, beautiful silver earrings from Cassandra Shaw, Green Fees for 2 from Flamingo's Golf Course, and a weekend stay in a La Palapa beachfront condo and much, much more.


A Big Thank You to my friend, Taniel Chemsian from Timothy Fuller & Associates for helping me with so many of these donations from the generous business throughout Puerto Vallarta.


Treehouse Bar & Grill is located at Basilio Badillo #287 on the south side of Puerto Vallarta. For more information, call (322) 223-1263.
---

The Children of the Dump was founded in 1998, originally as Feed the Children Vallarta. Through private donations, the program feeds more than 2,300 children daily, operates nine day care centers and an after-school program for grades 3 through 6; teaching them English, math and computers. The goal of the Children of the Dump is to ensure education through grade nine and to educate the children of Puerto Vallarta in the skills necessary to rise above poverty. To learn more about Children of the Dump's programs, click HERE or visit ChildrenOfTheDump.org.
Tell a Friend
•
Site Map
•
Print this Page
•
Email Us
•
Top