Health & Beauty | August 2008
Top Transformation

Mark Baker - The Register-Guard
go to original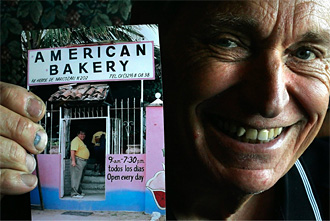 Jim Rova holds a photograph taken in Mexico when he was at his heaviest weight of 276 pounds. The diagnosis of diabetes, plus cancer and a heart attack, convinced him to lose weight. (Brian Davies/The Register-Guard)

Jim Rova is one of the biggest losers in the world — so much so that he had to have his wedding ring re-sized. Twice.


That's what happens when you lose 101 pounds in 22 months.


The 67-year-old Eugene man has been recognized by TOPS, Take Off Pounds Sensibly, as its international Men's Greatest Improvement Contest winner for 2007 for men age 50 and older.


The category is not for the most pounds lost — that award, called the International King, went to Joel Marsh of Randolph, Maine, who lost a whopping 172 pounds from his 357-pound frame. This honor goes to the "best example of appearance due to weight loss," says Beth Maniero, a spokeswoman with TOPS in Milwaukee, Wis. "Greatest Improvement" winners are judged on submitted photographs, Maniero said.


Regardless of the category, Rova's remarkable transformation is impressive, especially for a guy who didn't want to join what he expected to be "some fat old ladies' club" at the beginning of this journey.


"That's what I thought it was," Rova says.


After attending a meeting at a local TOPS chapter in February 2005, which his wife had already attended, Rova soon discovered that the 60-year-old nonprofit weight-loss organization not only is for men, too, but that it consists of many caring people who just might be able to help him with a longtime problem.


A problem that not only resulted in his ballooning to 300 pounds at one point, but that contributed to his developing Type 2 diabetes, prostate cancer, sleep apnea and, finally, a heart attack in 2004.


"People don't realize how devastating excess weight can be," says Rova, who came home from that first meeting at the Valley River Assembly of God, in which he weighed in (a meeting tradition) at 276 pounds, and wrote down a goal — 175 pounds by December 2006 — and put it on his mirror.


It's still there today.


And, yes, he hit that goal and has kept the weight off — thanks to the TOPS maintenance program, KOPS. That stands for Keeping Off Pounds Sensibly, a program many TOPS members practice for the rest of their lives after their initial weight loss, Rova says.


"They're my heroes," the 5-foot-9 Rova says of fellow group members who have kept weight off for decades. The "support group" aspect of TOPS is crucial to his and other members' success, he says.


While obesity has become an American epidemic during the past quarter-century, a study released last year by the Centers for Disease Control and Prevention said that cases have leveled off since reaching record numbers at the turn of the century. Still, the study said 34 percent of Americans 20 and older were obese in 2006. That's more than 72 million adults, according to the study, which also said Americans ages 40 to 59 have the highest obesity prevalence, about 40 percent.


Rova was in his late 40s when he began to put on weight — fast. That's also when he became much less active, he says. A tennis player in college, he had always participated in some form of exercise. But then he stopped, despite maintaining the same diet: eating whatever he wanted.


Heavy, greasy breakfasts, fast-food lunches, snacks, pizza, pasta and lots and lots of bread. "Bread was my downfall," Rova says, showing a 1998 photograph of himself standing in the doorway of a Mexican bakery in Puerto Vallarta when his waist was 52 inches, 20 more than it is today.


Not that losing the equivalent of a seventh-grader in weight doesn't have its drawbacks.


"I had to get rid of all of my clothes," says Rova, who now leads the meetings for his TOPS chapter of 18 members. "Including all my shoes." Yes, he even lost weight in his feet.


But you can't just do it by changing what you eat, says Rova, who today eats five small meals a day and whatever he wants, in moderation, on Sundays. You also have to exercise.


He began by walking just a quarter-mile a day. Then a half-mile. Then a mile. And he kept on walking, "until I could run," Rova says. Now, he runs six miles three days a week, lifts weights three days a week, takes a martial arts class and is waterskiing again, something he loved to do as a younger man. And he resumed playing tennis.


"The best part of losing the weight is not having to take the pills," Rova says. The more obese he got, the more medication he found doctors prescribing for his diabetes and cancer. His cancer is gone now, and his doctor took him off all medications in 2006 and told him he was no longer diabetic.


Now he plans to publish a book locally next spring about his experience and that of other TOPS members across the nation.


All this for a man who says he would no longer be here if not for the program begun by a Milwaukee housewife and her friends in 1948 who were trying to lose a few pounds after the holidays.


"No, I wouldn't be," Rova says. "TOPS is my lifesaver."
Tell a Friend
•
Site Map
•
Print this Page
•
Email Us
•
Top