News from Around Banderas Bay | August 2008
Explore Vallarta Aboard the Ultimate 4X4 Adventure

Laura Gelezunas - PVNN

It's big, it's powerful and it goes where no other all-terrain vehicle dares. It is the automotive legend, the Unimog. Here's the breakdown of its name, UNIversal-MOtor-Gerδt, in short UNIMOG, (gerat = machine in German.)


Hard-to-reach destinations are scaled easily and Vallarta Adventures Tour Company has used this unique form of client transport since 1995.


"Our clients say the ride in this vehicle is a breathtaking experience," says Manuel Campos, Unimog Expert and Tour Guide, "The Unimog is a vehicle with a lot of power and a lot of capacity to go through all kinds of terrain."


"It's something really different, and no other Mexican tour company offers this kind of unique transport to venues," says Juan Carlos Gil, Unimog Master, "Our clients cant' wait to ride in it."


Germany's, Mercedes-Benz, launched the Unimog immediately after the end of World War II, 1945. Developers ambitiously sought to redefine the drive system and the term "utility" regarding four-wheeled vehicles.


The design concept combines an agricultural tractor, implement carrier, and delivery truck, like a pickup. The result is a distinctive all-wheel-drive vehicle with very high cross-country mobility. The distance between the left and right wheels needed to be 1270mm (50 inches) in order to straddle two rows of potatoes. It was so popular the company could not fill all the orders.


Farmers, fire fighters, loggers, rescue teams, construction companies, railroads and anyone looking for an alternative to trailer dependent machinery like back hoes and light bulldozers, bought a Unimog.


"The German and the Swiss armies mainly use them for transporting either personnel or towing things," says Manuel, "The Unimog can pull up to five tons and have a capacity of 1500 kilos in the back for long, extended periods of time."


Military troops with Unimogs can be found from the high Arctic to the Sahara. They include the United Nations, NATO, the USA, France, Switzerland, Australia, Africa, and Germany, plus Vallarta Adventures.


It is perfect vehicle for shuttling clients to various off-road destinations around the Bay of Banderas. But the Unimog's journey doesn't start in Vallarta.


"They are imported from Switzerland or Germany, are loaded on to a ship and head across the Atlantic and land in Vera Cruz," says Juan, "From there they are driven or put on to trucks for the journey to Puerto Vallarta."


Vallarta Adventures owns 39 Unimogs and has ten full-time mechanics and maintenance men. The engines have been rebuilt from the early 1960s models to the 1992 versions. They have six huge cylinders, 110 horsepower, have a top speed of 60 miles per hour and run on gasoline.


"It's a little bit hard to find the parts because the engines are old," says Carlos, "But we have good mechanics and they maintain and repair them."


For over 60 years, the Unimog design concept has not changed. It is one of the most capable all-terrain vehicles in the world and you can experience what few other civilians brave.


If getting off the beaten path and a little adventure sounds appealing to you, climb aboard one of Vallarta Adventures' ultimate 'go-anywhere' four-wheel-drive vehicles - the UNIMOG - for an exciting off-road voyage of discovery on the Sierra Madre Jeep Safari.


For more information about Vallarta Adventures' Sierra Madre Jeep Safari, visit Vallarta-Adventures.com or call (888) 303-2653 toll free from the U.S. or Canada.
---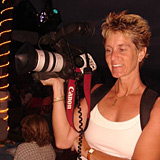 After having spent 10 years in the world of US broadcast news, Laura Gelezunas decided to unleash her skills on Puerto Vallarta by opening Video Diva Productions, a full-service, professional digital video company. Whether you're interested in a sales video, WEBmercial, music video, feature story, documentary, or corporate event video coverage, she has the experience, equipment and talent to coordinate a professional production. For more information, visit her website at VideoDivaProductions.com.
Tell a Friend
•
Site Map
•
Print this Page
•
Email Us
•
Top