Americas & Beyond | August 2008
Accountant May Hold Clues in Andrew Luster Rape Case

Steve Hart - Press Democrat
go to original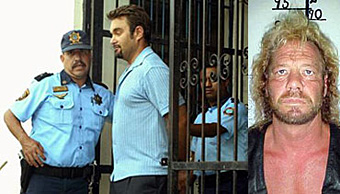 Andrew Luster (L) and Duane Chapman

A rape victim trying to collect a $19 million judgment from Max Factor cosmetic heir Andrew Luster is taking her case against the convicted rapist to Sonoma County courts, charging that a Petaluma accountant knows the whereabouts of Luster's assets.


Luster, 44, is serving 124 years in state prison after he was convicted in 2003 of drugging and sexually assaulting three women at his beachfront home in Ventura County.


Luster, the great-grandson of Hollywood makeup mogul Max Factor, vanished during his trial and was captured in Mexico by TV bounty hunter Duane "Dog" Chapman.


Later, a Ventura County judge ordered Luster to pay $19 million in damages to "Shawna Doe," whom he'd drugged and raped while videotaping the attack.


Her real name wasn't used in court because she was a victim of sexual assault.


So far, the 28-year-old Oxnard woman hasn't been able to collect on the judgment because Luster declared bankruptcy in 2004.


Earlier this month, her attorneys asked a Sonoma County judge to intervene in the case. They said Petaluma accountant Winifred Riggs helped Luster's family move his assets after his arrest.


They sought the court's permission to question Riggs about Luster's share of the Factor fortune.


Doe "wishes to conduct Ms. Riggs' examination because we understand she has information regarding (Luster's) assets and liabilities, including funds which may be owed to him," according to court papers.


Riggs, the sister of former Rep. Frank Riggs, R-Windsor, didn't return calls seeking comment on the case. Superior Court Judge Robert Boyd has ordered her to appear in his courtroom Nov. 10 to answer questions about Luster's finances.


"People of means have ways of layering their assets," said Barry Novack, a Beverly Hills attorney who represents Doe. "We have to start peeling back the layers."


Factor, a Russian wigmaker who immigrated to the United States in 1908, built his Hollywood cosmetic line into an international brand. In 1991, Max Factor was sold to Procter & Gamble for $1.5 billion.


Luster lived on the proceeds of a trust fund and spent his time surfing and partying around Mussel Shoals, a beach community between Ventura and Santa Barbara, according to prosecutors. During his civil trial, Novack estimated Luster's worth at $20 million.


In the late 1990s, authorities said, Luster preyed on women by slipping them a date-rape drug, GHB. During his criminal trial, prosecutors said he raped three women while they were unconscious in his home.


Luster made videos of the attacks, which authorities recovered and showed as evidence at his trial.


Luster's attorneys claimed the sex was consensual.


He was free on $1 million bond during his criminal trial when he disappeared in January 2003. The trial continued, and he was convicted in absentia on 86 counts of sexual assault.


Luster was captured five months later in Puerto Vallarta, Mexico, where he was living under an assumed name. He was returned to California and is serving his sentence at Mule Creek State Prison in Ione.


Luster couldn't be reached for comment through the Department of Corrections.

This story includes information from News Researcher Teresa Meikle and the Associated Press. You can reach Staff Writer Steve Hart at steve.hart(at)pressdemocrat.com.
Tell a Friend
•
Site Map
•
Print this Page
•
Email Us
•
Top