Business News | August 2008
Treasury Targets Mexico Drug Cartel Associate

David Lawder - Reuters
go to original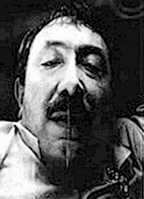 Rigoberto Gaxiola Medina
Born Sept. 27, 1950, in Sinaloa.
Arrested on Sept. 11, 2003, in Mexico.
Indicted in the United States on drug kingpin charges Feb. 18, 2004.

Washington - The U.S. Treasury said on Tuesday it blacklisted 14 Mexican companies and 17 people it said were tied to a drug kingpin associated with the fractured Sinaloa cartel in Mexico.


The firms and individuals added to the Treasury's list of "specially designated narcotics traffickers" are part of a financial support network for the imprisoned Rigoberto Gaxiola Medina, who headed a drug trafficking organization that has transported thousands of tons of marijuana into the United States, the Treasury said in a statement.


It said Gaxiola's organization functions as a "vital component" of the Sinaloa cartel and the organization of its reputed leader, Joaquin "Chapo" Guzman Loera, considered by police to be Mexico's most-wanted man.


Guzman's gang is waging a bloody turf war with rivals over control of the Sinaloa cartel.


The Treasury's actions ban Americans from doing business with the blacklisted firms and individuals and order a freeze on any assets they may have under U.S. jurisdiction.


"We are sanctioning Rigoberto Gaxiola Medina's network of companies and associates to support and advance Mexican authorities' important efforts against this criminal organization," said Adam Szubin, director of the Treasury's Office of Foreign Assets Control.


Gaxiola, arrested in 2003 by Mexican police, and his organization built and operated a network of underground tunnels to move marijuana and cash between Mexico and the United States, the Treasury said.


The designations include key Gaxiola associates who also are imprisoned as was well as members of his family, including his wife and children.


The companies blacklisted in the Mexican states of Sonora, Sinaloa and Jalisco include four mining firms, Minera Rio Presidio SA de CV, Minera La Castellana y Anexas SA de CV, Copa de Plata SA de CV and Compania Minera Del Rio Cianury SA de CV. They also include a car dealership and a private gym, the Treasury said.


(Editing by Bill Trott)
Tell a Friend
•
Site Map
•
Print this Page
•
Email Us
•
Top