Entertainment | Restaurants & Dining | August 2008
Seafood Delicacies at El Barracuda

Gary R. Beck - PVNN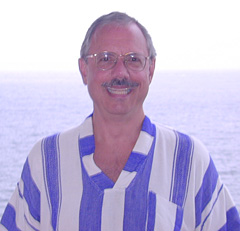 BanderasNews food writer and Puerto Vallarta restaurant reviewer Gary R. Beck, samples the seafood at El Barracuda

Owners Fernando and Carlos of Fajita Republic have veered in cuisine at their new restaurant, El Barracuda, where they offer a proverbial table of seafood delicacies, all carefully prepared with the freshest fish and shellfish found each morning.


Sporting a vista of beachcombers and surf, sea birds and sunsets, El Barracuda sits on the Bahía de Banderas right at Paraguay, where you can enjoy a cooling breeze, even on some of Vallarta's hottest summer days.


Upon seating, we breathed deeply, taking in the sea air and the calming atmosphere. Soon a menu board appeared. Although the menu is limited, we were immediately intrigued by the various choices not seen often, if at all, in Puerto Vallarta and around the Bay.


Our waiter/manager steered us into various choices for sharing. Their specialty is seafood and that is all that is offered except a steak. The portions were huge and we over-ordered a bit, but to-go boxes were gladly supplied later.


A couple of bowls of a spicy and smooth guacamole appeared to whet our appetites. Knowing that this is a customary starter, we dipped and sampled. Much to our delight, this version stood out immediately from many of the others in its piquancy from lime and spiciness from the chile.


Tacos followed, filled with Baja Shrimp, Shrimp al Pastor, Arrachera with Chistorra, and Fresh Fish of the Day. Both a good chipotle and habañero salsa are served on the side. Then it was time to order our main dishes.


We opted to share several entrees. The all-around favorite was the Dynamite Seafood, composed as a casserole of octopus, mahi mahi and shrimp in a secret sauce. Extra sauce was scooped up with totopos. Fish Fillet Barracuda was a tilapia fillet with garlic, butter, mushrooms, green pepper and veggies all sealed in foil papillote and opened table side. Sweet, moist and flavorful, the dish was an instant hit.


Another specialty is the Shrimp al Pastor Taco. We shared several and added them to our repeat ordering list. Ajillo Octopus Tacos are also very popular. Aguachile, seen often locally, is remarkable here, again enjoyed with totopos utensils.


Another highlight was the Peruvian Ceviche with fish chunks, onion, corn and avocado. It was my first experience with this delightful regional dish. Ceviche Barracuda is composed of fresh octopus, fish, shrimp and scallop marinated in lime juice, red onion, carrot and escabeche juice, the latter lending a nice piquant flavor.


Regulars come in often for the Shrimp Burrito. "Grande" is the best word to describe it - in addition to very tasty. Many chunks of shrimp are mixed with flavorings and sealed in a large flour tortilla, accompanied by a sweet pickle and chipotle sauce.


Huge Molcajetes in volcanic rock cookery are perfect for sharing. The combo contained shrimp, octopus, Angus steak and shrimp, or a total seafood one is available. Hot in temperature but mild in spiciness, it was delicious wrapped in tortillas.


Also on the menu are tostadas [good spicy octopus piquin], Seafood Cocktails and Wood Fired Arrachera. As we departed with our boxes, all of us exclaimed that indeed we would return and tell our friends. El Barracuda is a breezy calming oasis where tasty and unusual seafood dishes may be enjoyed.


Open Tuesday through Sunday from 2-10 pm, El Barracuda is located at Paraguay 1292 at Nicaragua next to the Buenaventura Hotel in downtown Puerto Vallarta. Closed Monday. No Credit Cards. For more information, call (322) 222-4034.
---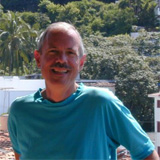 After 20 years in the San Francisco restaurant business, Gary R. Beck turned his attentions to cooking, dining out, creating recipes and exploring Puerto Vallarta's rich array of eateries. Famous for his restaurant guide, available online at CafePress.com or Lulu.com, Gary also writes restaurant reviews for Puerto Vallarta newspapers, Bay Area magazines, and now, a feature column for BanderasNews.com. Contact Gary at garyrbeck1(at)yahoo.com.
Click HERE for more articles by Gary R. Beck.
Tell a Friend
•
Site Map
•
Print this Page
•
Email Us
•
Top