Entertainment | Restaurants & Dining | August 2008
Espressions: Casual Dining in Bucerías

Gary R. Beck - PVNN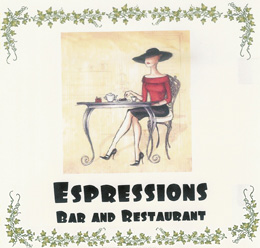 Open from 4-10 pm every Tuesday through Saturday, Espressions Café is located at Agustín Melgar 265 in Bucerías. For more information, call (329) 298-0749.

Mike and Dayna Leake from London, England, have been presenting International dishes at Espressions Cafe since 2001, when they transformed part of their Bucerías home into a casual yet intimate neighborhood restaurant.


Espressions Cafe offers exciting appetizers, fresh, original salads, tasty wraps and sandwiches, flame grilled steaks, Country Fried Chicken or Steak and mouth watering desserts, which you can enjoy either on the shady veranda or on the patio surrounded by Bougainvillea and gentle ocean breezes. A small indoor bar is especially valuable for waiting patrons.


On our first visit, we sampled Artichoke Dip served with crispy tortilla chips. It was creamy, hot and full-flavored. Habanero Honey Chicken Bites were cooled by the ranch dipping sauce. These two starters were delicious and ample for four diners.


Everyone ordered the Fish and Chips Special, reminiscent of the British specialty. The batter was thick, yet crunchy, and the fresh local fish fillets juicy, thick and sweet. A healthy portion was accompanied with fresh-cut fries. Due to its success, they are considering opening the restaurant on Mondays with a limited menu.


We returned a couple nights later on the promise that Mike would make his famous Cottage Pie, a Shepherd's Pie made with beef, not lamb. The meaty rich filling of Arrechera, carrots and onion was piled high in an individual casserole topped with mashed potatoes, then finished in the oven. Also offered from 6 pm nightly are a dish of the day and a pasta on a rotating basis. Many dishes are available as a vegetarian option.


Our dinner was completed with a frozen Peanut Butter Pie and Key Lime Pie - both homemade, and delicious. Mochas, lattes and soda drinks with ice cream are also available. San Sebastian coffee beans are sold at $45 pesos for 1/4 kg. Soothing and suitable for quiet dining, Antonio Marquez performs 7:30 pm several nights each week, call first.


Open from 4-10 pm every Tuesday through Saturday, Espressions Café is located at Agustín Melgar 265 on the corner of Carmen Serdán in Bucerías, Nayarit. No CC. For more information, call (329) 298-0749, email the.leakes@gmail.com, or visit espressionscafe.com
---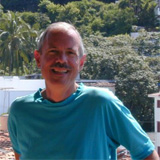 After 20 years in the San Francisco restaurant business, Gary R. Beck turned his attentions to cooking, dining out, creating recipes and exploring Puerto Vallarta's rich array of eateries. Famous for his restaurant guide, available online at CafePress.com or Lulu.com, Gary also writes restaurant reviews for Puerto Vallarta newspapers, Bay Area magazines, and now, a feature column for BanderasNews.com. Contact Gary at garyrbeck1(at)yahoo.com.
Click HERE for more articles by Gary R. Beck.
Tell a Friend
•
Site Map
•
Print this Page
•
Email Us
•
Top