Entertainment | Restaurants & Dining | August 2008
The Irreverent Chef: Lettuce... Iceberg is IN Again

Liana Turner - PVNN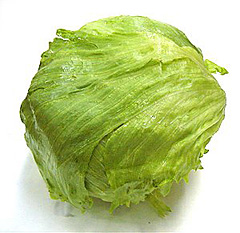 Iceberg has been given a bad reputation. It is said to have no nutritional value, which is not quite true. It contains enough vitamins and fiber to be a worthwhile food.

I have to admit right now that I have been a lettuce snob. I have turned up my nose at iceberg, curly leaf, and even on occasion, romaine. We all have stages that we go through, and one of mine was the "baby mix" stage.


Yes, there was a time when I could only see goodness in a mélange of gourmet lettuces of several different colors, and maybe even some herbs and a few edible flowers thrown in. At the time, it was new and different, and not everyone was using it. Here in Vallarta many people still don't use it, and I'm sure they have their reasons.


I still love the baby mix or spring mix for many salads, but it is not quite right for everything. It is more fragile than the classic lettuces, and unless it is super fresh, it tends to wilt easily. Its colors are stunning, but there are times in a salad maker's life when they just want to keep it uncomplicated, or to have a simple background for other colorful ingredients to shine against.


Also, flavor is an issue. Many of the gourmet lettuces, like radicchio and arugula have very strong flavors of their own, and would be too much competition for a strongly flavored salad such as Caesar, or could overwhelm a lightly flavored one.


Some time last year, I had dinner at a friend's house. He prepared a really special meal, and just before serving the salad, he confessed to a deep affection for iceberg lettuce. I don't complain when anyone else cooks for me (unless I'm paying for it.) It is just a delight to NOT be the one who has slaved all day over a meal for a change. To be served a meal that has been handmade with love in fine company... relaxing, talking... what could be better? Certainly, there is nothing to complain about.


I probably had not eaten iceberg for at least ten years (oh, except for the occasional "excuse for a salad" that shows up on Mexican food plates if I was very hungry.) When I was growing up it was the only kind of lettuce that existed in my world, but now that I was older and more sophisticated, I had moved on.


Well, let me tell you, that iceberg salad was really enjoyable. He had made a nice tangy and creamy dressing, and there were succulent little cherry tomatoes and sweet red onion. The salad was a delight. The lettuce itself was thick, watery, crunchy, satisfying, and brought back memories of a simpler time. I will never be a lettuce snob again. Thank you, M!


Iceberg has been given a bad reputation by the lettuce gangs. They have said it has no nutritional value, which is not quite true. Sure, it has less than the darker and greener varieties, but that doesn't mean that it doesn't deserve to be put in your mouth. It still contains enough vitamins and fiber to be a worthwhile food.


Salad Dressings


Speaking of salads, I have had a craving for REAL Bleu Cheese dressing lately. Yes, there are a few brands available in some stores, but I just haven't found one with that authentic bleu cheese flavor. So, I did what I always do when I can't find some food item that I want... I made it myself, and while I was at it I decided to make some for you too. Fresh, handmade salad dressings, both vinaigrettes and creamy style, will be available at Paradise Bakery & Catering.


I am starting out this week with the True Bleu Cheese and Tripleberry Vinaigrette. All dressings will be made with the finest ingredients, and all natural (of course.) Look for more varieties coming soon, including some non-fat dressings. You don't have to lose flavor when you lose the fat!


The Irreverent Chef, a.k.a. Liana Turner, is the chef and owner of Paradise Bakery and Catering. Serving the "Best Cinnamon Rolls in Vallarta," along with delicious sandwiches, salads, main dishes and yummy sweet treats every day but Sunday, and providing all styles of catering services, from pre-prepared meals to-go for informal gatherings to full service elegance for dinners, cocktail parties, wedding receptions and special events, Paradise Bakery & Catering is located at Sierra Aconcagua 299, Prolongacion Brasil, Colonia Lazaro Cardenas, Puerto Vallarta. For more information, call (322) 222-5133 or visit VallartaCatering.com.

Click HERE for more articles by The Irreverent Chef
Tell a Friend
•
Site Map
•
Print this Page
•
Email Us
•
Top