Entertainment | Restaurants & Dining | August 2008
The Irreverent Chef: "No Cook" Cooking

Liana Turner - PVNN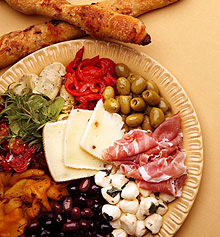 Antipasto is one of my favorite dishes at any time of year, in any kind of weather.

We are now approaching the home stretch of summer. It's hot and steamy, and standing in front of a flaming stove doesn't seem very appealing. The thought of turning on an oven gives some of us nervous fits.


It reminds me of a game that my children play in which they ask each other "What would you rather do?" Then they try to come up with progressively more disgusting choices as the game progresses. In the spirit of that game... there are times when I would rather stick my left pinky in a tank of piranhas than turn on the oven.


There are many things we can prepare without creating extra heat in the kitchen. Here are a few suggestions.


Salads are an obvious choice, and just the thing on a hot day. A salad can also be made into a meal by adding favorite toppings, such as leftover chicken, whatever you can find in the fridge or in cans, boiled eggs (I like to boil up a bunch all at once and keep them around for quick snacks. Boiled eggs last for several days in refrigeration.) One of the most refreshing and simple salads ever is this:


Cucumber Mint Salad
Peel a cucumber and cut into thin slices. Add 1/2 of a red onion, also sliced thin. Mix about 1/3 cup Rice Vinegar with salt, fresh ground pepper, a pinch of sugar and a tablespoon of fresh chopped mint. Pour the vinegar over the cucumber and onion slices. Yummm!


Canned Tuna is good to have around. It is a quick and easy protein source that can be added to sandwiches and salads, or all on its own, loaded up with tomatoes, celery, onion, capers, etc...


Canned Garbanzo Beans are also a nice addition to a salad, or you can whip up some hummus in about a minute. Just put a can of beans (drained) in your blender or food processor with some fresh or roasted garlic, juice of one lime (or two,) a little olive oil, salt and pepper, and a sprig of parsley. If the mixture is too thick to blend, you can add a little water. Use as a spread on pita triangles or any bread.


Antipasto
Now we're talkin'! This is one of my favorite dishes at any time of year, in any kind of weather. Arrange on a big platter any combination of the following:


Sliced meats, such as salami and mortadella, tuna, sliced cheese like provolone, some fresh mozzarella, Kalamata and green olives, marinated mushrooms, roasted red and yellow peppers, pepperoncini, artichoke hearts, anchovies, baby corn, fresh tomato. Sprinkle with some good balsamic vinegar, olive oil and fresh black pepper. Garnish with fresh and fragrant basil leaves and serve with a chewy Italian bread.


And For Dessert... Mango Milkshakes
Just combine peeled and cut mango with vanilla ice cream and a little milk in the blender, and whip it up. Milkshakes are traditionally super-sized, but they can be served in smaller glasses as a lighter dessert. If your mango tree has gone dry... any fruit will do.


The Irreverent Chef, a.k.a. Liana Turner, is the chef and owner of Paradise Bakery and Catering. Serving the "Best Cinnamon Rolls in Vallarta," along with delicious sandwiches, salads, main dishes and yummy sweet treats every day but Sunday, and providing all styles of catering services, from pre-prepared meals to-go for informal gatherings to full service elegance for dinners, cocktail parties, wedding receptions and special events, Paradise Bakery & Catering is located at Sierra Aconcagua 299, Prolongacion Brasil, Colonia Lazaro Cardenas, Puerto Vallarta. For more information, call (322) 222-5133 or visit VallartaCatering.com.

Click HERE for more articles by The Irreverent Chef
Tell a Friend
•
Site Map
•
Print this Page
•
Email Us
•
Top