Entertainment | Restaurants & Dining | August 2008
Collector Obsessed by Tequila

Jeremy Schwartz - Cox News Service
go to original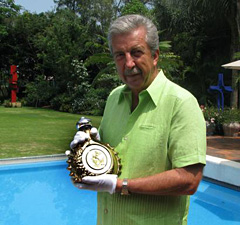 Ricardo Ampudia shows off his latest addition: a bottle made of pure gold and worth $150,000. (Jeremy Schwartz/Cox News Service)

Tepoztlan, Mexico — Ricardo Ampudia cradles the bottle of tequila like a baby. It is, after all, a rare "presidential" tequila - a bottle commissioned by former Mexican leader Jose Lopez Portillo when he was elected in 1976.


"It's exceptional," Ampudia tells a gathering of friends touring his collection. "It's what he would serve at the presidential dinner table."


Before you can study the bottle's intricate inscription, Ampudia is once again darting around his vast cavern, which contains one of the world's largest tequila collections.


His eyes land on what may be his most unusual piece: an amber-colored tequila in a bottle shaped like a rifle and measuring nearly three feet long. Close are what look like ceramic figures of the great revolutionary hero Pancho Villa, and strangely enough, U.S. President Theodore Roosevelt. They are both tequila bottles, their sombreros opening up like bottle caps.


But Ampudia is quickly on to his favorite. He speaks in reverential tones.


"This is the Don Maximiliano Reserva Emperedor. It was so expensive that they had to stop making it," he says. "It's a wondrous thing."


An official ranking is hard to come by, but Ampudia's collection of 3,600 bottles and more than 500 different brands is among the world's biggest.


Ampudia's obsession with tequila began in earnest 14 years ago when he bought his first collection of 40 bottles. At the time he was the deputy tourism minister in the administration of former president Carlos Salinas (He also served as consul in Houston during the negotiation of NAFTA).


"I decided to collect tequila because it's a representation of my country, of Mexico," said Ampudia, now a vice president with the real estate firm CB Richard Ellis.


He moved his growing collection into a home he owns in the enchanting town of Tepoztlan, a small pueblo near Mexico City ringed by reddish cliffs and an ancient temple where Aztecs worshipped tequila's predecessor, the milky libation pulque. Many claim the town, in Morelos state, emanates a palpable energy and it has drawn a number of New Age visitors, mostly from the United States.


The room holding Ampudia's collection sits directly under Tepoztlan's famous cliffs and gives off its own energy. Bottles line the glass-enclosed walls, spill across a pool table and invade every available nook.


Ampudia's family has been enlisted in the hunt for new tequilas, setting aside time every vacation to look for them. The most fruitful searches come in the small towns of tequila-producing country, the four Mexican states of Guanajuato, Tamauilpas, Nayarit and most importantly Jalisco, tequila's ancestral homeland.


Ampudia's bottles chart the history of tequila in Mexico, from when it was the drink of the poor campesinos, disdained by an upper class that preferred whiskey and scotch, to its rise as a high-end spirit.


In a crude ceramic jug sits Ampudia's oldest bottle, the 103-year-old El Tequileno, one of the first commercially produced tequilas. Ampudia was given the bottle by a tequila factory worker in Arenal, Jalisco, who said it was an inheritance from his grandfather.


Many of Ampudia's bottles are works of art themselves. Some have gorgeous, hand-painted designs while others feature etchings of Mexican poems. There are bottles of pure obsidian, bottles with sand from Los Cabos, and a bottle with the tail of a rattlesnake inside.


"Every one you find has something that grabs you," says Ampudia's son Leandro, the director of a public relations and marketing educational institute.


As Ampudia continues his tour, suddenly his eyes light up. "Come! The big bottle has just arrived!"


Ampudia and his guests rush outside, where Fernando Altamirano, the CEO of the Tequila Ley .925 company is fitting white cotton gloves over his hands. From an elaborate box, he extracts an oval-shaped bottle, blinding in the afternoon sun. It is made of pure gold, poured over hand-blown glass containing carefully selected ultra-aged tequila. The bottle took a year to make and is worth $150,000. Altamirano presents the gift to Ampudia, who can't pick it up until he dons the protective gloves.


Altamirano's company deals exclusively in high end bottles, and holds the Guinness World Record for most expensive bottle - a $225,000 bottle of platinum and white gold. Another bottle, made of diamonds and valued at $1 million, is for sale.


Altamirano knows that many well-heeled lovers of tequila come to look at his friend's collection. The bottle will get a lot of exposure.


"No one else has this bottle," Altamirano says. "It's an original."


Ampudia's son Leandro puts the gloves, looking a little nervous. Dropping a $150,000 bottle would bring a grim end to the festive afternoon.


Luckily the bottle is handled without mishap and placed carefully back into its box. Ampudia sighs with relief and marks the occasion with a sip of fine tequila.
Tell a Friend
•
Site Map
•
Print this Page
•
Email Us
•
Top