News from Around Banderas Bay | September 2008
Dolphin Adventures: It's A Boy!

Laura Gelezunas - PVNN

Proud dolphin mother, Karina, takes her newborn son for a belly ride at the Dolphin Adventure Center in Nuevo Vallarta.
Vallarta Adventures is celebrating the arrival of the newest member of their family - a male Pacific bottlenose dolphin that was born at their Dolphin Center in Nuevo Vallarta on August 15th, 2008.


Click HERE for more Vallarta Adventure's videos.

The already swimming baby dolphin boy was born on August 15th, 2008 at 5:30 am. He is a Pacific Bottlenose dolphin and a great addition to the Vallarta Adventures family.


"We are very happy, it's our 13th baby that's born at Dolphin Adventures," says Dr. Paola Smolensky DVM, "Karina is the mother and this is her second baby so we can call here a very experienced and further, an excellent mother."


Karina and baby are carefully monitored by the animal care staff during the entire pregnancy with examinations, blood tests and sonograms performed on a regular basis. All the necessary information ensures a successful birth.


"It was a pretty easy birth, the gestation period is 12 months," says Paola, "The baby started lactating about two hours later and the baby will nurse from 1 1/2 to 2 years, it depends on the attachment to the mother."


The staff vets and trainers enjoy a personal relationship with these gentle animals. They know the dolphin's personality and really want her to be stress free.


"The last week of her pregnancy, Karina was a little bit uncomfortable with her belly because her belly was very, very big," says Paola, "We were trying to touch her all the time, feed her whatever she likes and wanted to make her comfortable before birth."


Stringent data continues to be recorded even with baby swimming freely.


"After the baby is born we start monitoring nursing and breathing, all the time, there is a person taking counts when the dolphin is breathing and the times when the dolphin goes to nurse. During the first five days the baby will nurse about every 15-20 minutes and then tapers off."


Baby and mother benefit greatly from the dedicated staff.


"After birth the good thing is that they always know we are going to take care of them, we're going to feed them, and they are going to be kept in a safe pool," says Paola, "The dolphins are very confident with us and know that we will watch over them."


You can check out the new baby, any day during business hours, at the Dolphin Adventure Center in Nuevo Vallarta.


Vallarta Adventures offers a full range of educational and interactive dolphin programs designed for dolphin lovers of all ages and abilities. For more information, visit Vallarta-Adventures.com or call 1-888-303-2653 toll-free from the U.S. and Canada.
---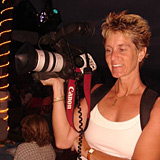 After having spent 10 years in the world of US broadcast news, Laura Gelezunas decided to unleash her skills on Puerto Vallarta by opening Video Diva Productions, a full-service, professional digital video company. Whether you're interested in a sales video, WEBmercial, music video, feature story, documentary, or corporate event video coverage, she has the experience, equipment and talent to coordinate a professional production. For more information, visit her website at VideoDivaProductions.com.
Tell a Friend
•
Site Map
•
Print this Page
•
Email Us
•
Top