News from Around Banderas Bay | September 2008
Vallarta's Traditional Baile del Rebozo

Bay Vallarta
go to original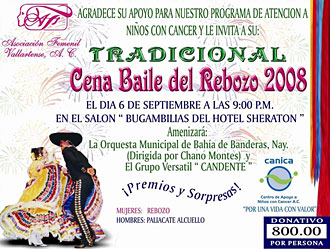 Baile del Rebozo (Rebozo Ball) will be held on September 6 at 9 pm at the Sheraton Hotel to raise money for CANICA Support Shelter.

For 23 years, the traditional Baile del Rebozo (Rebozo Ball) has been one of the most popular events among Vallarta high society. Members of some of Vallarta's most notable families attend to support noble causes such as CANICA Support Shelter, run by the Asociación Femenil Vallartense (Vallarta Women's Association.)


"Rebozos," or Shawls in all colors and textures imaginable, traditional Mexican garments for men and women, are commonly worn to this dinner-dance full of surprises, which kicks off the Fiestas Patrias (September's Patriotic Celebrations) in Puerto Vallarta.


This year, the Ball will be held on September 6 at 9:00 pm in the Buganvilias ballroom at the Sheraton Hotel. We invite you to attend, women wearing a shawl and men a neck scarf.


One of the highlights of the evening is when women compete for several prizes by dancing and showing off the beauty of these garments. The dance will be complemented by the sound of the Banderas Bay Municipal Orchestra from Nayarit, along with the versatile group "Candente." Approximately 500 people are expected to attend.


All funds raised will be donated to the Support Center for Children with Cancer CANICA, which currently cares for eleven children suffering from this disease.


CANICA is the main assistance program supported by the Vallarta Women's Association that provides economic support for these children to receive treatments in Guadalajara, such as radiation treatment, psychological support, therapies, transplants and prostheses.


The association has cooperative agreements with bus lines, which provide substantial discounts as well as shelters in Guadalajara. On special days, such as Christmas and birthdays, CANICA organizes get-togethers and parties to make the life of these children happier.


Baile del Rebozo (Rebozo Ball) is a true Puerto Vallarta tradition, and, in addition to guaranteeing fun, it is also the ideal opportunity to meet with friends and help a noble cause.


Baile del Rebozo / The Rebozo Ball
September 6th, 9 pm
Buganvillas Room at the Sheraton Hotel in the Puerto Vallarta Hotel Zone
Price: $800 pesos per person
Information & Tickets: asociacionfemenil(at)yahoo.com.mx or 044 (322) 888-0014.
Tell a Friend
•
Site Map
•
Print this Page
•
Email Us
•
Top