News from Around Banderas Bay | September 2008
Mr. Gay Puerto Vallarta 2008 to Be Selected

Paul Crist - PVNN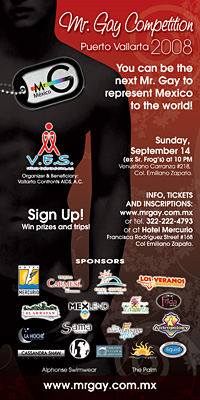 Click image to enlarge

On September 14, 2008, the Gay community of Puerto Vallarta will come together to select Mr. Gay Puerto Vallarta 2008.

On September 14, 2008, the Gay community of Puerto Vallarta will come together to select Mr. Gay Puerto Vallarta 2008. The event is being organized by, and will benefit local non-profit Vallarta Enfrenta el SIDA, A.C. (VES) (Vallarta Confronts AIDS in English.)


Similar local competitions are being held in cities in more than 20 countries, and are preliminary to selecting national Mr. Gay 2008 representatives. National winners will travel to Hollywood, California in February 2009 to compete for the title of Mr. Gay International. This is the second year that Puerto Vallarta has hosted a Mr. Gay event.


The concept for the Mr. Gay competitions originated in 2004, in order to advance the concept of international equal rights by confirming the essential nature and contributions of gay men to a healthy society where "gay" is not a stereotype.


The mission is to honor and train national winners to be spokesmen for equality and the international Gay, Lesbian, Bisexual, and Transgender community. Winners at each level compete based on physical attractiveness, as with any competition of this nature, but they must also demonstrate intelligence, responsibility, an awareness of current issues, and community involvement. The ability to thoughtfully articulate opinions on a range of topics is an essential part of the selection process.


The winner of Mr Gay Mexico 2007, Juan Jose Velasco Michel of Colima, is a 33-year-old architect and partner in two separate businesses. He is also President of a non-profit youth development organization, exercises regularly, and speaks Spanish and English. He was selected from among 17 contestants from across Mexico at the Mr. Gay Mexico Competition held in Guadalajara in December 2007.


Contestants for the Mr. Gay Puerto Vallarta Competition are now being sought. Candidates should be at least 18 years old, and should embody the ideals of the competition. They should be openly Gay, and available to travel if selected as a winner.


Prizes include $5,000 pesos for First Place, as well as travel, clothing, jewelry, cruises, bar and restaurant certificates, and more. Second and Third Place winners will receive $2,000 and $1,000 pesos respectively, as well as other prizes. Those interested in competing should subscribe before September 10th.


The event will begin at 9 pm, on Sunday September 14th, at the former Sr. Frog's Club, Calle Venustiano Carranza #218, Colonia Emiliano Zapata. Mistress of ceremonies will be popular Mexican actress Alejandra Bogue, currently seen on her two Telehit programs, Guau and Que Show con La Bogue. She performed as "La Tesorito" for several years on the popular Televisa program Desde Gayola. The program lineup also includes other surprises. An After-party will be held from 3 AM at Club Paco's Ranch, on Calle Ignacio Vallarta.


For more information, tickets, or to inscribe as a contestant, contact either the Vallarta Enfrenta el SIDA office at (322) 223-0535, or Hotel Mercurio at (322) 222-4793. Online inscriptions for contestants are available at MrGay.com.mx. Tickets are $100 pesos, available in advance or at the door at the same price. For more information about Vallarta Enfrenta el SIDA, visit VallartaEnfrentaSida.org.
---

Puerto Vallarta's HIV/AIDS non-profit organization, Vallarta Enfrenta el SIDA, and CAPASITS, work together to provide high-quality medical care, counseling and psychological support, education and prevention programs, and outreach to at-risk communities in the Banderas Bay area. For information, assistance, or to volunteer or donate, please visit VallartaEnfrentaSida.org. To learn more about VES, click HERE.
---
Se Acerca Mr. Gay Puerto Vallarta 2008
Paul Crist - PVNN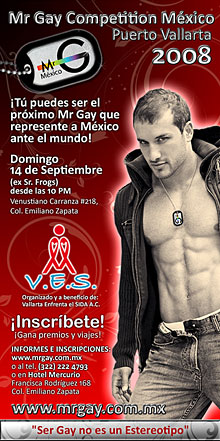 El próximo 14 de septiembre de 2008, la comunidad Gay se reunirá para realizar el certamen Mr. Gay Puerto Vallarta 2008. El evento es organizado y será a beneficio de la organización local no lucrativa, Vallarta enfrenta el SIDA, A.C. (VES).


Competencias similares se han llevado a cabo de forma local en más de 20 países. El evento en Puerto Vallarta es preeliminar a Mr. Gay México 2008. Y los ganadores de cada país viajarán a Hollywood, California en febrero de 2009 para competir por el título de Mr. Gay Internacional. Este es el segundo año que Puerto Vallarta lleva a cabo esta competencia.


El concepto de la competencia de Mr. Gay nace en 2004, con el fin de crear un avance en los derechos humanos internacionales, al confirmar la esencia de la naturaleza y contribución de los hombres gay a una sociedad sana en donde ser "Gay" no es un estereotipo. La misión es honrar y capacitar a los ganadores para que sean los voceros internacionales de la comunidad de gay, lesbianas, bisexuales y transgeneros.


Los participantes en todos los niveles compiten por sus atributos físicos, como cualquier otro concurso de esta naturaleza, pero deben también demostrar inteligencia, responsabilidad, conciencia sobre temas actuales y participación en la comunidad. La habilidad de articular opiniones de forma amplia en variedad de temas es también parte esencial del proceso de selección.


El ganador de Mr. Gay México 2007, Juan José Velasco Michel, de Colima; es un arquitecto de 33 años de edad y socio de dos negocios distintos. Es también el presidente de una organización juvenil no lucrativa, hace ejercicio con regularidad y habla ingles y español. Fue seleccionado de entre 17 participantes de todo México en la competencia que se llevó a cabo en Guadalajara en diciembre del 2007.


Ahora están abiertas las suscripciones para buscar al próximo Mr. Gay Puerto Vallarta 2008. Los candidatos deben tener por lo menos 18 años de edad y deben representar a los ideales de la competencia. Deben ser gay abiertamente y con disponibilidad de viajar en caso de ser seleccionados ganadores.


Los premios incluyen $5,000 pesos al ganador, segundo y tercer lugar recibirán $2,000 y $1,000 pesos respectivamente, así como otros premios. Aquellos interesados en competir deberán suscribirse, antes del 10 de septiembre.


El evento comenzará a las 9:00 pm del domingo 14 de septiembre en donde antes estaba el Sr. Frogs; Calle Venustiano Carranza #218, Colonia Emiliano Zapata. La maestra de ceremonias será la popular actriz mexicana Alejandra Bogue, actualmente conductora de dos programas de televisión llamados "Guau" y "Que show con la Bogue" en Telehit. Anteriormente representaba a "La Tesorito" en el famoso programa "Desde Gayola." El desarrollo del evento incluirá otras sorpresas.


Habrá un "After Party" a las 3:00 am en el club "Paco's Ranch" ubicado a la vuelta del evento sobre la calle Ignacio L. Vallarta.


Para más información, venta de boletos o suscribir a un concursante, comunícate a las oficinas de Vallarta Enfrenta el SIDA, A.C. al (322) 223-0535, o en Hotel Mercurio al (322) 222-4793. Pueden suscribirse en línea también en mrgay.com.mx. Los boletos están disponibles desde antes y el día del evento en taquilla a $100.00 pesos.


Para información adicional sobre Vallarta Enfrenta el SIDA, A.C. puedes entrar a vallartaenfrentasida.org.
Tell a Friend
•
Site Map
•
Print this Page
•
Email Us
•
Top