Americas & Beyond | September 2008
Lucha Libre Racing Helps Mexican Children

Michael Emery - luchalibreracing.com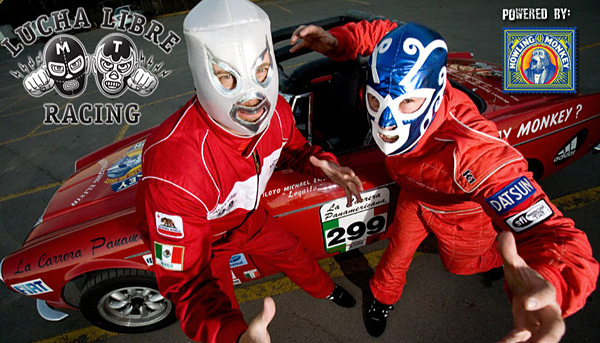 Help Lucha Libre Racing bring school supplies to rural Mexican children:
A $100 USD contribution gets your name on the car and outfits 8 children
A $25 USD contribution gets you a coveted LLR T-shirt and outfits one child
A $5 USD contribution gets you a LLR sticker and buys pencils for one child
Send your contributions via PayPal to michael(at)luchalibreracing.com.
Unique advertising opportunity for Mexico tourism and real estate businesses

San Francisco, CA — A local San Francisco race team, Lucha Libre Racing, will travel to Mexico to race the world famous La Carrera Panamericana while delivering school supplies to rural children. Their vintage Datsun Roadster is available for complete and partial advertising sponsorship. More than 80,000 spectators in Mexico will view the race and the car. After the race, the car will travel the western U.S. for 8-10 months and be displayed at fairs, expos, and car shows for another 40,000 U.S. spectators.


Artist Joe Brubaker and photographer Michael Emery team up to race in Mexico's largest car race, La Carrera Panamericana. Racing for 6 days through the heart of Colonial Mexico the duo will go pedal-to-the-metal for 2000 miles while their support team donates school supplies to impoverished communities along the race route. Race spectators line the streets and roads along each day's race route. Each day's races end in the central plaza of a designated Mexican city while the cars are displayed and viewed by 1000's of visitors throughout the afternoon and evening.


The race will start in the sweltering jungles of Tuxla Gutierrez, Chiapas on October 24th. Then continues to Oaxaca, Mexico City, San Luis Potosi, and Aguascalientes.


Day 5 begins at 8300 feet in the beautiful Silver mining city, Zacatecas. The racing here is fast and treacherous. Many race-ending mistakes happen on "La Bufa" the spectacular bluff where Pancho Villa had his first great victory.


October 30th, the final day, brings 325 miles of flat-out-engine-wrecking-straight-a-ways and fast sweeping turns, down through the cacti, back to sea level and the border in Nuevo Laredo.


One hundred vintage race cars from Europe and the Americas will take on the 2008 Mexican Road Race. The fastest teams will drive 50+ year-old American Iron at speeds over 170 mph. The Lucha Libre Racing 1967 Datsun Roadster will do a little over half that. In 2006, Emery was the first driver to contest La Carrera in a Datsun. He had the least amount of experience, the least amount of horsepower and he finished in last place. Although he soundly beat the 19 cars that crashed or blew their motors.


This year, in addition to the challenge of driving the race, the team is raising money to deliver school supplies to rural Mexican children. They will also attend a charity car show and fund raiser in San Miguel de Allende benefiting Feed the Children. Before entering Mexico, they will kick off their journey with a stop in Los Angeles for the largest Japanese car show in the US on October 12th. Also, the Lucha Libre Racing team will sell t-shirts and stickers to help raise money.


This is an excellent opportunity to promote your company or destination throughout Mexico and the US. We invite all businesses to advertise on this classic car and been seen by 1000's of spectators. Rates begin at only $100 USD for smaller ads or more for a complete fender or hood. Join our team and be seen!


For additional information including advertising details, contact Michael Emery in the U.S. at (415) 728-6960 or send an email to michael(at)luchalibreracing.com. Information can also be accessed at LuchaLibreRacing.com.
Tell a Friend
•
Site Map
•
Print this Page
•
Email Us
•
Top