Entertainment | Restaurants & Dining | September 2008
Eating Well in San Miguel - for Less (Part 3)

Jan Baumgartner - opednews.com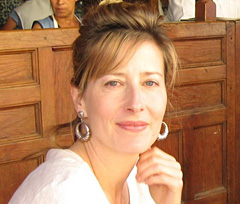 Jan Baumgartner

Calles Hernandez Macías, Jesus, Umarán, Cuadrante


La BuenaVida (Hernández Macías #72, 152-2211)
Bakery. Outrageously delicious breads from French to wholegrain, tender and flaky with a perfect crust. The sourdough gets a thumbs up, and being raised on sourdough in the San Francisco Bay Area, that is big snaps. Wonderful crackers, breadsticks, cookies, donuts, muffins and rolls. Their breadsticks and parmesan crackers are light and crisp and perfect dippers for a homemade guacamole. A few of their products can be found in local stores including Bonanza, Espino's and Natura natural foods.


Mama Mía's (Umaran #8, 152-2063, $$)
Fun, lively place with yummy pizzas and attentive service. Their grande margaritas are served in vessels in which you could bob for apples, but while thick on taste, are a tad thin on tequila. Don't let the punchbowl size fool you. I've enjoyed some good live jazz during my pizza capers, however, later in the eve it takes on a nightclub flavor with an energetic dance scene. Live music can range from rock to salsa to just about everything in between.


Romano's (Hernández Macías #93, 152-7454, no credit cards, $$)
Great Italian food, wood burning pizza oven, huge portions, lovely rooftop dining terraza. This is one of the places where the food is so good and in such grand scale, you'll be tempted to eat the whole thing. Go ahead, nobody's looking - they're too busy licking their own plates. Begin with one of their crisp salads or the prosciutto and melon. Move onto the ultimate comfort food in the form of one of their pasta dishes, preferably their savory, cheesy lasagna. You won't have room for dessert, but have it anyway - they are massive and equally as sinful on taste and texture. You will be reminded that there is indeed a fine line between pleasure and pain. But there is nothing quite like mama's lasagna and homemade chocolate cake to make you feel warm and fuzzy, and that pleasure will far outweigh the extra poundage you drag out the door and along the cobbles. Just don't fall off the curb as you'll have a hard time getting up.


El Gallo (Hernández Macías #97, 152-7482, $$)
New Mexican restaurant from the owner of Nirvana. Excellent food, service and ambience. Lovely, intimate dining rooms, romantic soft lighting. The tortilla soup is truly delicious with a rich and heady chicken broth, hint of citrus and covered with thin, crispy tortilla sticks. Their flan drapes across your tongue like cool satin, and yet oddly enough what I remember with equal fondness, are their mojitos. These bad boys are so refreshing and bossy the mint leaves almost jump out of the glass, slapping you on both cheeks while shouting olé! They go down far too easy, so beware. They are cocktail perfection and if you've had enough margaritas for awhile, treat yourself to a mojito, especially on a sultry evening. Ideal meal - mojito, tortilla sopa, flan, mojito?


El Buen Café (Jesús #23 at Cuadrante, 152-5807, $)
Diminutive and cozy café offering up creative dishes that are both healthy and oh so good. Their daily lunch special of salmon with a Thai twist was delicious, brilliant flavors and satisfying, as were the creamy mushroom and cheese quesadillas. Freshly squeezed fresh fruit and veggie smoothies, airy homemade desserts like tres leches cake that is delicate and light without being overly sweet. Small deli area and corner laden with natural food items. The owner, Kris Rudolph, also offers cooking classes.


El Ten Ten Pie (Cuna de Allende #21 at Cuadrante, 152-7189, no credit cards, $)
Great outdoor café right on the corner but not overwhelmed with traffic or noise. Perfect stop for a bit of people watching and grabbing a quick bite. Enjoy an ice cold limonada or cerveza; good selection of "small bites" that will satiate and tide you over until your next big meal. Great tacos and quesadillas.


Calles Zacateros, Codo, Ancha San Antonio, Calle Nueva


La Cava Delicatessen (Zacateros #42-A near Tenerías, 152-1549)
Wonderful selection of imported foods. If you are throwing a cocktail party or just need a fix of a French cheese, stop in and enjoy. Vast assortment of cheeses including perfectly aged Brie, roasted turkey breast, prosciutto, smoked Norwegian salmon, olives. Dried pastas and hard to find condiments. Not cheap but excellent quality and otherwise hard to find items.


Espino's (Grocery store, Codo #36, a little jag of a street that turns into Ancha San Antonio, 152-1009)
A gem of a neighborhood grocery store. Beer, wine, spirits. Deli counter, fresh eggs and homemade breads, some from La Buena Vida, small fresh fruit and vegetable section, canned and frozen foods, yogurts, ice cream, cookies, chips, nuts, dried goods, olive oil, soy sauce, laundry detergent, soap, herbs, spices - the basics. Fresh produce is sold on their front steps by an outside vendor, pay him directly. The produce is beautiful, cheap, and hard to pass up. Make sure you disinfect all produce you buy at markets. Liquid disinfectant is available inside Espino's in their produce section. If you're diligent in disinfecting all of your fruits and vegetables, you shouldn't have any problems. In nearly half a year in town and doing much of my own meal preparation, never a grumble or ache to be had. Friendly, family-run business. Make sure to tip the bagger - it is customary and greatly appreciated.


La Palapa (Calle Nueva #8, next to Espino's, $)
A handful or so outdoor tables shaded beneath a large beer tent. Super casual - stop in for cheap grilled tacos - fish, shrimp, beef or chicken, burgers too. Nothing fancy but good flavor and they hit the spot. Nice variety of condiments, tasty salsa. Cold soft drinks and beer, no coffee. Homemade carrot cake wraps up the menu.


Natura (formerly Bee Natural, Calle Nueva #7, across from La Palapa, 154-8629)
Organic store offering a multitude of fabulous items - a veritable mini Whole Foods stocked inside one tiny room. Get excited. If organic, delicious, healthy foods get your motor running, zoom-zoom. Owner Jorge Catalán, one of three owners, has done marvels in finding some of the best locally grown organic produce and meats, and a mouth dribbling selection of scrumptious prepared foods from local chefs and companies; A la Carte, el Capricho and Comida d'Alicia.


Foods to go include wonderful soups such as white beet, tangy carrot, and chicken broth. Marinated salads of beans and lentils, Asian noodles, potato salad, cheesecake that is more savory than sweet and garnished with a sprig of fresh rosemary that gently infuses without being overbearing, slices of rich chocolate torte, brownies that dreams are made of, yogurts, garlic/herb goat cheeses, large round knots of Oaxacan cheese, luscious mangoes and papayas, tofu, crunchy flax seed cookies and nut bars, whole organic chickens, turkey cutlets, frozen grain breads and dense, decadent loaves of cocoa bread, pastas, pre-washed, disinfected and bagged mixed greens from mesclun to arugula to baby spinach.


Small assortment of natural skin and bath products from soaps to moisturizers to shampoo. Organic dog food, soy milk, herb teas, mosquito repellant, honey suckers, crackers, eggs - more fun than a barrel of monkeys. If the above gets you half as excited as it does me, you'll need a cold shower. Jorge is personable, outgoing with an ever-ready smile, whereas alter ego, his full-time employee with his quiet, brooding, smoky-eyed reserve and soft spoken demeanor is rather disarming. Hands down, my favorite store and though not particularly cheap, for superior quality and taste, they are worth every peso. You'll walk away feeling so unnaturally healthy, you'll need to stop for ice cream or warm, sugar dusted churros. Conversely, if you bought the cheesecake and briefly inhaled the smoky eyes, you might need to relax with a good cigarette.


Hecho en México (Ancha San Antonio #8, near the Instituto, 154-6383, $$)
Friendly service, extensive menu, consistently good food, large portions, separate bar area. You can do it any way you like here - super cheap or lay it on. Their starters, soups and salads are delicious and hearty; the chicken vegetable soup is like mom's homemade and for about 4.50, eats like a meal. The fish is quite good, always fresh, the salmon dinner particularly flavorful. The side dishes are memorable; the steamed veggies are perfectly done, the jicama and coleslaw salads are crunchy, refreshing, and wholesome. Good enchiladas, fajitas, and steaks.


But so much for the yahta, yahta, yahta. Did I mention the brownie? If your mother ever told you never to eat anything larger than your head, ignore her. Besides, did she mean as an infant or an adult? This brownie covers a plate like a room-size area rug. It is so rich, so dense, so sinfully drizzled in warm caramel and topped with a melting pool of vanilla ice cream, you might find yourself blushing. Most reasonable diners will order one brownie, extra forks and share. However, I say, be unreasonable, if not selfish. You can walk it off in two days time as it will take a full 48 to digest. If you've watched National Geographic and often wondered what it would feel like to be a large African snake that has just swallowed whole a baby warthog, now is your chance.


Bariloche (no address but worth the hunt, Ancha San Antonio, across from Hecho's, $$)
This little jewel is a real find. I stumbled in quite by accident and became a repeat customer. I'm not even sure if there's a sign but near their door is a sign for a yoga studio, so keep a look out. Beautiful Colonial courtyard dining, intimate, reasonably priced, lovely menu selection, to die for beef from Argentina.


Steaks are grilled in front of you, perfectly tender and juicy, served with a bowl of chimichurri sauce that you'll want to spoon across your steak, dip your rolls into, and drizzle on your salad or rice or potato. This Argentinian herb condiment usually served with steak is pure tango for the tongue, bursting at the seams with flavor - a mix of parsley and/or cilantro, garlic, olive oil and vinegar, herbs and spices. For tongues that prefer waltz to tango, go for the chicken and stuffed zucchini blossom entrée, moist, subtle flavors that soothe the buds rather than excite. The owners are friendly and the service, attentive. On our first visit, one of the owners insisted we have a second glass of wine - on the house. Subsequent visits were capped with "treats" of espresso. No guarantee you'll get a freebie, but for fantastic service, food, atmosphere and most of all, the steak and chimichurri sauce, hunt this place down. Just don't slip into the yoga studio and order up a T-bone.


Rica Comida (Salida de Celaya #34, Ancha San Antonio turns into Salida, $)
As teeny holes-in-the wall go, this is the holiest. This pint-sized lunch café has a handful of tables and a counter - the open kitchen is behind the counter. Walk up and order your comida from the lunch menu sprawled on the wall board. Rickety chairs, plastic table cloths, don't dress for the occasion. This is real homestyle Mexican fare and some of the best in town. For about 3 bucks, you'll get a platter of food that might be the only meal you need all day. Their enchiladas, rice and beans are as good as it gets. No bells, no whistles, just a wallop of taste. Excellent salsas. Aqua frescas, sodas.


Enjoy!
---
A native Californian, Jan Baumgartner is a freelance writer currently living in Maine. Her background includes scriptwriting, comedy writing for the Northern California Emmy Awards, and travel writing for The New York Times. She has worked as a grant writer for the non-profit sector in the fields of academia, AIDS, and wildlife conservation and anti-poaching for NGO's in the U.S. and Africa. Her articles and essays have appeared in numerous online and print publications in the U.S. and internationally, including the NYT, Bangor Daily News, SCOOP New Zealand, Wolf Moon Journal, Media for Freedom Nepal, and Banderas News in Mexico. She's finishing a memoir about her husband's death from ALS and how travels in Africa became one of her greatest sources of inspiration and hope. She is a Managing Editor for OpEdNews.
Tell a Friend
•
Site Map
•
Print this Page
•
Email Us
•
Top