Entertainment | Restaurants & Dining | September 2008
Plan Now for Your Holiday Events in Puerto Vallarta

Liana Turner - PVNN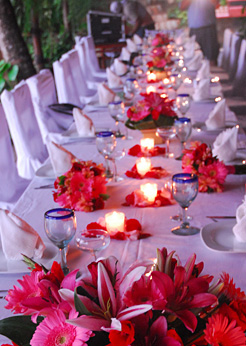 Call Paradise Bakery & Catering at (322) 222-5133 or visit VallartaCatering.com to start planning your holiday events and parties in Puerto Vallarta NOW!

Okay, this is the countdown to the end of summer. I am SO ready. I enjoy the storms, the lush green hillsides and the water that flows in the streets like an impromptu river. I love the quiet and being able to find a parking space now and then. I love summer... for about the first month.


By now, I am ready for it to be done. Every year that I stay in Puerto Vallarta for the entire summer, by the end of August, I am planning my escape for next year and lamenting not planning for it this year.


I look forward to being able to get out of the shower and dry myself, and remain dry long enough to get some clothes on. I look forward to driving in my car without the gas-slurping air conditioning turned on.


I look forward to being able to hang around the house with clothes on and have the curtains open. I look forward to being able to exercise during daylight hours without getting heat stroke. I look forward to my clients returning from the north and all of us settling back into the busy life for the upcoming season.

Plan Now For Holiday Events

Speaking of busy... now is the time to plan for your holiday events, especially the big ones, like Thanksgiving, Christmas and New Year's Eve. Many caterers, venues and equipment rental places will be booked in advance. Don't miss your chance to get your first choice, or take the chance of missing out completely.


It always sounds like a fun and simple thing to throw a party, but things can easily get out of hand. If your event starts to grow beyond your control, don't hesitate to hire a professional coordinator or caterer. You will be glad you did. You will be able to enjoy your party and know that the details will be taken care of. You will have quality time to spend with your guests, and that is the most important part of any event. After all, it is for THEM. A professional caterer will help you to make your event a success without all the stress.


Here are some of the questions that your caterer or event coordinator will need to have answered to assist you in the planning of a successful event.


• Where will the event be held?
If it is in a common area, such as a condo pool or party room, be sure to book well in advance. The caterer/coordinator will need to see the place well before the event.


• How many people will attend?
Be sure to include yourself, your family and anyone else who will be eating in the guest count.

• Confirm the date and time.

• What is the style of the event? Is there A Theme?
Casual, semi-formal, formal, full luxury, picnic, brunch, etc...


• What is the style of service?
Cocktails and appetizers? Appetizers (served or buffet) and a served meal? A buffet meal? Special stations? (carving, candy, sandwiches, omelettes, crepes, etc.)


• What will be on the menu?
You can be very specific about what you want, or let your coordinator and chef present you with a suggested menu. Would you like to have Mexican food? Gourmet? Casual American Style? Other Ethnic Foods?


• Bar
Will you have national drinks or top shelf liquor? Economical wines or only the best?


• Rental Equipment?
Do you already have or will you need to rent: Glasses, cutlery, tables, chairs, linens, tents, casual seating, beer coolers, chafing dishes, etc... Rental equipment will most often be delivered one day in advance and picked up the day after the event. Confirm the schedule to avoid confusion.


• What About Decorations?
Candles, special fabric draping, special table coverings, flowers, etc...


• Music?
Your own stereo, DJ, live music... Mariachis, a trio, a solo guitar, violin, flute, or a full-blown band, etc...


• Any Extra Entertainment or Services?
Fireworks, cigar-roller, fire dancers, photographer, videographer, games, etc...


The Irreverent Chef, a.k.a. Liana Turner, is the chef and owner of Paradise Bakery and Catering. Serving the "Best Cinnamon Rolls in Vallarta," along with delicious sandwiches, salads, main dishes and yummy sweet treats every day but Sunday, and providing all styles of catering services, from pre-prepared meals to-go for informal gatherings to full service elegance for dinners, cocktail parties, wedding receptions and special events, Paradise Bakery & Catering is located at Sierra Aconcagua 299, Prolongacion Brasil, Colonia Lazaro Cardenas, Puerto Vallarta. For more information, call (322) 222-5133 or visit VallartaCatering.com.

Click HERE for more articles by The Irreverent Chef
Tell a Friend
•
Site Map
•
Print this Page
•
Email Us
•
Top