News from Around Banderas Bay | October 2008
Hook the Cure Fishing Tournament Nets $450,000 for Cystic Fibrosis Patient Care and Research

Gary Green - PVNN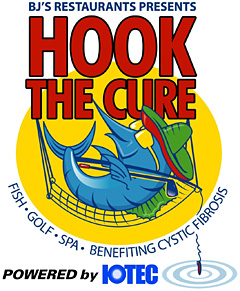 The nearly sold-out tournament took place in Puerto Vallarta on Oct. 24th and 25th and reeled in a whopping $450,000 NET for the Cystic Fibrosis Foundation.

October 29, 2008 - Puerto Vallarta Mexico was the destination for anglers and golfers who participated in this year's BJ's Restaurants Hook the Cure Tournament powered by IOTEC. The nearly sold-out tournament took place on Oct. 24th and 25th and reeled in a whopping $450,000 NET for the Cystic Fibrosis Foundation.


The Redbone Tournament Series brought two dozen boats and 30 teams. The competition started on Friday morning as anglers met early at the docks and eagerly awaited the strike of six marking the start of the catch and release competition. The event culminated on Saturday with the official tournament results at Charter Dreams.


Weekend festivities included a pre-tournament Mexican fiesta at Villa Premiere Hotel and Spa hosted by baseball hall of famer Wade Boggs; live entertainment by Los Bambinos; golf at Vista Vallarta's challenging Nicklaus course; a lively dockside weigh-in party with food and beverage provided by Andale Restaurant and Sol; relaxing spa packages for the spouses; and an awards gala and auction, sponsored by American Airlines and hosted by Los Angeles radio personality Shawn Parr. For those that just wanted to relax, Villa Premiere's world-class spa was just a few steps away. Puerto Vallarta rental agency, PVRPV, provided volunteers for the festivities.


As excited spectators and sponsors filled the Marina, most boats made it in by five in anticipation of the results. Just one large fish is all that separated the top 10 teams. Winners of the official IGFA-sanctioned event included overall champions, Craig Halverson and John Carver whose hard work was rewarded with a 2009 IGFA Offshore World Championship entry in Cabo San Lucas.


Bob Pernecky and Len Pieroni captured the coveted Most Released Billfish award while Joe and Bob Lombardo edged out the second place team by a mere four ounces for the Dorado Division honors. The Dorado action was wide open and anglers also battled big marlin, sailfish and tuna. On land, up at Vista Vallarta Club de Golf, Joe Epson was crowned as Mens Champion while Helen Zieman captured the Womens Champion accolades.


According to Bob Huston and Jeff Jennison, 2008 event chairmen, $1 million NET was generated for cystic fibrosis patient care, research and education since the tournaments inception just three years ago.


Cystic fibrosis is a genetic disease affecting approximately 40,000 people in the United States and Mexico. A defect in the CF gene causes the body to produce abnormally thick, sticky mucus that leads to chronic, life-threatening lung infections and impairs digestion.


When the Cystic Fibrosis Foundation was established in 1955, few children lived to even attend elementary school. Today because of research and care supported by the CF Foundation with money raised through donations from families, corporations and foundations the median predicted age for people with CF is nearly 37 years.


In addition to BJ's Restaurants and IOTEC, additional financial support was provided by AON Foundation, O'Connell Landscape, Watson Land Company, Norm Wilson & Sons, Sunrise Rotary, KTLA-TV and The William Close Family.


Plans are underway for the Fourth Annual Hook the Cure slated for November 5-8, 2009.


Information about the ultimate fishing, golf and spa adventure benefiting the Cystic Fibrosis Foundation is available at HookTheCure.org or by contacting Gary Green, Cystic Fibrosis Foundation's Director of Corporate Development, at (714) 494-4623 or through email at ggreen(at)cff.org.
Tell a Friend
•
Site Map
•
Print this Page
•
Email Us
•
Top