News from Around Banderas Bay | October 2008
Mexican IKF Title Fights in Puerto Vallarta October 31st

Bob Cohen - PVNN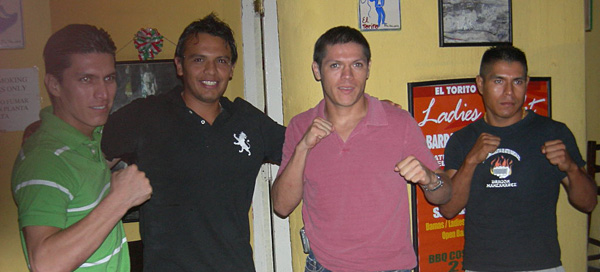 From left to right, Carlos Solorio, promoter Felix Reno Perez Ponce, Cesar Palomera and Gregorio Gabriel. All the fighters will be in the championship bouts.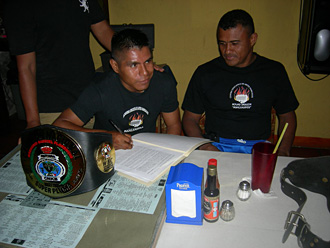 On the left Gregorio "Dragonsito" Gabriel is signing his contract for his championship fight with his maanger and also a champion, Santiago "Dragon" Manzanarez.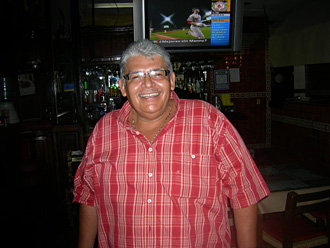 Felix Perez, owner of El Torito Sports Bar and Restaurant is the IKF representative in Mexico and the authorizing body for this fight card.

The IKF (International Kick Boxing Association), represented in Mexico by Felix Perez has announced a Triple Main Event Muay Thai fight card scheduled for Friday, October 31st at the Plaza De Toros La Paloma. This was the site of a huge event almost 4 years ago held by the IKF at the same venue that saw Puerto Vallarta fighters win world championships and Mexican championships.


At stake at this event are three Mexican Muay Thai belts announced by Ketzal Productions Director General Felix Reno Perez Ponce at a recent press conference. The triple main event has Puerto Vallarta's Cesar "El Mego" Palomera, already a belt holder in the welterweight division, moving up in weight to attempt to capture the vacant super welterweight title against Jose Francisco "La Sombra" Ramos of Mexico City. Palomera, fighting out of Sityodtong Gym, enters the bout with a record of 9-1.


Also a champion with a CNKB title, Puerto Vallarta's Gregorio "Dragonsito" Gabriel (11-1) of Dragon Manzanarez Gym will battle for the IKF featherweight title against veteran Eduardo Santos Moreno of Mexico City in the second of the main events.


In the third main event Carlos "El Metralleta" Solorio, owner and maestro of Lanna Gym in Puerto Vallarta Hill fight Ricardo Neftali "Jerry" Garcia of Irapuato, Mexico for the vacant super lightweight IKF title. Solorio is 20-7 and Garcia comes into the bout with a record of 11-2.


The undercard will have four other professional fights and each features a fighter from Puerto Vallarta. Hugo Solorio of Vallarta will battle Daniel "El Pony" Villegas Ruiz of Mexico City in the featherweight division. Pedro "El Kick" Camberos of Puerto Vallarta will fight Ismael "La Piedra" Gomez of Mexico City in the welterweight division. Two fighters making their professional debuts will fight in the middleweight class, as Josue Ruelas of Vallarta is pitted against Candelario Torres Reyes of Mexico City.


Two women's fighters will battle in the lightweight division as both fight their second career bouts. Following in her Dad's footsteps is Yajaira "La Princesita" Manzanarez, who was a dominating success in her first fight, facing Wendy Peña; both of Puerto Vallarta. Yajaira is the daughter of Santiago "Dragon" Manzanarez, who won a world title belt at the same venue four years ago and is recovering from a leg injury.


The fights begin at 7:00 PM on Friday, October 31st. Tickets are priced at $130 pesos presale and $160 pesos at the door. Tickets are available at El Torito Sports Bar and Restaurant at 222-3784. Tickets are also available at Dragon Manzanarez Gym and Lanna Gym.
Tell a Friend
•
Site Map
•
Print this Page
•
Email Us
•
Top