News Around the Republic of Mexico | October 2008
18 Police Injured in Clashes as Mexicans Mark '68 Massacre

Agence France-Presse
go to original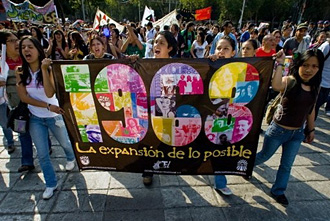 Students hold a banner reading "1968, The expansion of the possible", as they take part in a march during the anniversary of the massacre of Tlatelolco, in Mexico City. (AFP)

Mexico City - Mexican authorities said 18 police were injured and 20 people arrested as marchers marked the anniversary of a bloody student massacre in 1968.


Thursday's confrontation with police in the country's capital came as an estimated 30,000 people rallied in honor of students killed 40 years ago by Mexican security forces, demanding justice for victims.


"We have 18 police officers wounded, not seriously," said Police chief Manuel Mondragon.


"Twenty people were arrested, all precisely identified by video surveillance systems," secretary of the city municipality, Jose Angel Avila, told a press conference.


Clashes erupted near the main Zocalo square when students tried to paint graffiti on a city building wall, and police moved to arrest them, a witness said.


The march recalled the notorious 1968 massacre in Tlatelolco when Mexican security forces killed between 44 and 300 protesters, 10 days ahead of the Mexican Olympic Games , and hastily erased evidence of the crime.


Shouting "October 2 is not forgotten," protesters set off from the Square of Three Cultures where the massacre took place and from the capital's Chapultepec park to meet for a rally in the main Zocalo square.


"I'm here to denounce the most despicable act committed in Mexico ," said 26-year-old Aarceli Bernal, in Tlatelolco, where students drew chalk figures on the ground covered with blood stains and doves in the place of hearts to represent those killed.


In one corner of the square, an altar covered in candles showed newspaper images of the massacre in which soldiers stood ready to fire. In other pictures frightened people were running and dead students lay in improvised morgues.


Forty years on, the details of the massacre remain unclear, with no perpetrators prosecuted and impunity in Mexico widespread.


Some of Thursday's protesters called for punishment for those responsible for the 1968 massacre, while others criticized the current government of President Felipe Calderon .


Amnesty International appealed to Calderon on Thursday to finally establish the truth about the massacre and said the failure to confront the clampdown on some 8,000 students and workers had left a "deep scar" in Mexican society.


At the end of August, in some of the biggest demonstrations in recent years, hundreds of thousands demonstrated in Mexico City and across the country against growing insecurity and reports of corrupt police.
Tell a Friend
•
Site Map
•
Print this Page
•
Email Us
•
Top