Americas & Beyond | October 2008
Threepeat for Big Oh at 2008 Super Slam

Rick Alvarez - intlbillfishtourns.com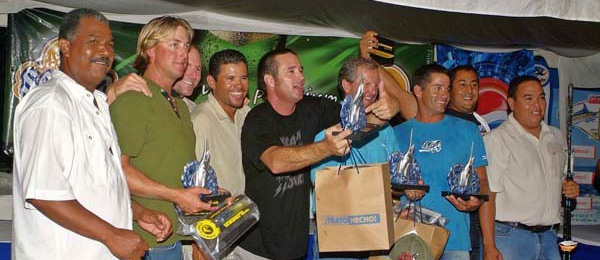 The Big Oh fishing team held the lead over the other 22 teams at the 2008 Venezuelan Super Slam.

After having won the 2007 Venezuelan International Super Slam, and the 14th annual International La Guaira Billfish Shootout in April of this year, Florida Team Big Oh, completed the "trifecta" at this year's Super Slam held September 25th thru 29th to benefit Fundacion Amigos del Niño con Cancer (Friends of Children with Cancer Foundation or FANCC.)


Having started out the third and final day of competition in second place behind local team Someday Lady, Team Big Oh staged a major comeback in the afternoon hours pulling away from the other 27 tournament fleet boats to regain the lead which they had held at the end of day one.


"We knew Someday Lady had located a body of fish on day two because they had done exceptionally well, so we tried the area where they had fished and the strategy paid off," said Big Oh's Captain Ronnie Fields who additionally had a very personal family feud going with his brother David and his dad Alan competing aboard Hatterascal and Rude Awakening respectively.


"We were poised to lock up the victory in the morning hours of the last day with a grand slam but whitey had eluded us so we went and released another sail and a blue in the afternoon to secure the top spot on the leader board," added a very happy Grey Ingram, owner of Big Oh.


The final totals were Big Oh with 3,300 points, Someday Lady with 2,600 and Iliza from Aruba with 2,500 points. In the individual angler category were Nicaraguan born Miami resident Mauricio Escobar, fishing aboard Guarimba as the tournament's top angler with 1,900 points – followed by another member of the Fields Clan, Big Oh's Jimmy Fields, with 1,560 points and Iliza's Rafael Rojas with 1,320 points.


Top Lady angler was Venezuelan Glenda Vivas fishing aboard Not For Rent, who received an elegant fine crystal trophy in the shape of a blue marlin and the 'hard luck story' went to the team representing one of the Super Slam's most important sponsors, Viking Yachts, lead by company president Pat Healey, fishing aboard the recently released Viking 60' factory boat.


A total of 152 billfish were released during the three day event by the 28 tournament boats with 27 blues, 68 whites and 47 sails. Three grand slams were registered.


Very special thanks go to Diplomatico Rum and Solera Premium Beer for keeping participants in good spirits throughout the week.


The Super Slam 2008 Photo Gallery will soon be up on the IntlBillfishTourns.comwebsite, along with this story and final scoreboard. Mark you calendars for the upcoming 15th Anniversary Edition of the International La Guaira Billfish Shootout set for March 9th thru 15th 2009. You won't want to miss this fabulous event!
Tell a Friend
•
Site Map
•
Print this Page
•
Email Us
•
Top