Entertainment | Restaurants & Dining | October 2008
Rich 'Anejo' Tequila Takes the Lowly Margarita to Higher Plane

John Mariani - Bloomberg
go to original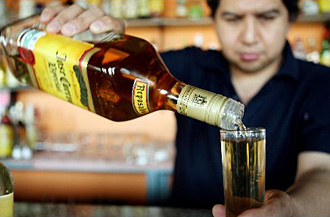 Bartender Octavio pours a glass of Jose Cuervo tequila at his bar in Mexico City. (Susana Gonzalez/Bloomberg News)

I have long been a believer that the better the booze, the better it should be left out of a cocktail, because the other ingredients cancel out the subtleties of flavor in expensive spirits like $60 vodka, $100 single-malt Scotch or $400 Cognac.


Which is why, when ordering a margarita, I have always been content with using low-priced blanco (white) tequila rather than the premium anejo (aged). I was recently buoyed in this belief when Silvana Salcido Esparza, chef-owner of the Barrio Cafe in Phoenix, insisted that "the agave fruit's true essence is best expressed in a blanco tequila, and the orange liqueur, lime juice and salt in a margarita will compromise the flavor of anejos."


She should know: Barrio Cafe carries 250 different tequilas, and her point seemed perfectly convincing as I sipped her superlative blanco-based margarita with her freshly made guacamole with pomegranate seeds.


Then last week I enjoyed a margarita made with an anejo tequila, Cabo Uno, and I was struck by how much better the cocktail was than with any blanco I'd ever had. The drink became far more complex in flavors, with that identifiable smokiness of an anejo and the richness of a distillation made from 100 percent blue agave. (Mexican regulations allow a spirit to be called tequila if it is made from at least 51 percent agave-derived sugar, which is usually what blancos are.)


Blue Weber Agave


Cabo Uno ($250) is the top-of-the-line anejo made by Cabo Wabo, owned since 1996 by rock 'n' roll singer Sammy Hagar. The company makes a full line of tequilas, though the Cabo Uno is made from 100 percent Blue Weber agave and aged in white oak barrels for 38 months, with each bottle signed and numbered.


It is, to be sure, made for sipping, not knocking back with a lick of salt on your forearm. Yet I found it made one great margarita, with the fresh juice of one lime, an ounce of Cointreau and a light rim of sea salt.


This Mexican epiphany forced me, for journalistic purposes, to try a range of premium anejos now on the market as certain tequila brands, like Chinaco, El Tesoro and Patron have gained cult status. Longtime producers like Jose Cuervo, Don Julio, Sauza and others also have introduced a range of small-batch, very expensive tequilas for a connoisseur's market.


I certainly agree that these are tequilas to be savored, just as you might a fine Cognac or single-malt Scotch. But because they are considerably lighter in body than those two spirits, with distinctive, delicate notes of light oak, caramel and nuttiness, many premium anejos are absolutely wonderful in margaritas.


Plenty of Heat


Don Julio Real (once only available in Mexico) is quite pale in color, with an apple aroma, very smooth, elegant and well rounded; you might even serve it straight as an aperitif. Still, at $350, you may want to think about Don Julio 1942 ($125), which has more brawn and a long, heated finish, with good vanilla- caramel notes. It's a very good anejo indeed.


Some anejos I tasted bore remarkable resemblance to whiskies: triple distilled Milagro Anejo ($95) was warm, with a rich, sweet undertone and medium heat rather than the sting of less refined tequilas.


El Tesoro de Don Felipe Anejo ($50) is aged "two to three years," yet it is quite pale. Both the nose and the follow- through have distinct, very likeable black-pepper notes, which I found added another dimension to a margarita.


In some ways the most impressive, though the least typical, anejo was the Jose Cuervo Reserva de la Familia ($115), introduced in 1995 on the company's 200th anniversary. Each year it comes in a wooden box designed by a well-known Mexican artist.


This is a tequila I would definitely not shake into a margarita. The amber color goes deeper than any others I sampled, and the pleasant bite is far more like a briary Scotch whisky from Islay. It is truly a tequila to be enjoyed after dinner, preferably while listening to Diana Krall croon "Besame Mucho."


One more thing: If you do specify an anejo in a margarita, don't order a frozen one. The pulverized ice dilutes any of the virtues an anejo brings to the drink, and you end up with more slush than flavor.

John Mariani writes on wine and spirits for Bloomberg News. To contact the writer of this column: John Mariani at john(at)johnmariani.com.
Tell a Friend
•
Site Map
•
Print this Page
•
Email Us
•
Top