Entertainment | Restaurants & Dining | October 2008
Coco is Back with an October 14 Opening!

Polly G. Vicars - PVNN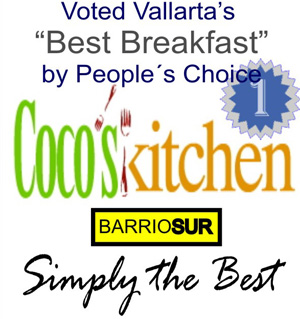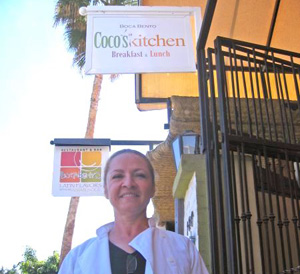 Coco in front of Boca Bento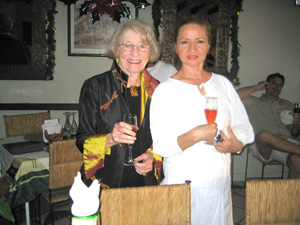 Coco with Nellie Ambrose of PV and Walnut Creek, CA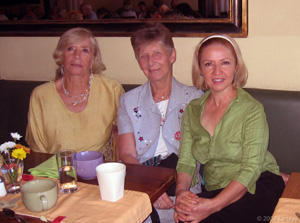 Author Inge Lokos, Becas member Lanaya Dix with Coco at last year's Becas Breakfast

I and many friends and neighbors have asked, "What happened to Coco's Kitchen that used to be at Boca Bento?" Well, now I have the answer to that question. Coco, her lovely daughter Vanessa and their great staff will be opening on Tuesday, October 14 at Barrio Sur, Calle Pulpito 122 (the former site of Hank and Conrad's Chili's.) They will be serving their delicious and moderately priced breakfasts and lunches from 8 am to 3 pm daily.


Coco is well know and loved by Vallarta's "Eaters." She comes from a long line of restaurateurs and has rightly earned a fabulous reputation for serving innovative, delectable, reasonably prices meals with a friendly smile and a desire to please. Her grand opening will feature a $49 peso breakfast of pancakes or French toast with two eggs, ham and bacon. Wow! You can't beat that.


Last year, Becas Vallarta held one of our fabulous breakfasts with Coco at Boca Bento, which, by the way, is re-opening in Mismaloya at Casa Iguana Resort (left of Barcelo) as "Boca Bento Latin Grill & Bar." Their new address is Avenida 5 de Mayo 455, Col. Guadalupe Sanchez, Mismaloya. Give them a call at 228-0186 for more information. You won't want to miss their grand opening.


By popular demand, this year Becas Vallarta's first Breakfast will be at the new Coco's Kitchen at Barrio Sur on Wednesday, November 12, 2008 at 9:30 am. The ticket price will be the same as last year, $150 pesos per person, and will have to be bought in advance.


We will have a great raffle and a few lovely silent auction items to add to the fabulous breakfast Coco will serve. Of course I have tickets to sell and it isn't too early to buy yours. I'll have them with me on opening day at Coco's Kitchen on October 14 or you can call me at 223-1371 if you miss me there. Ya'll come! Ya Hear!

---

Polly G. Vicars and her husband of 57 years, Hubert (a.k.a. "Husband") retired to Puerto Vallarta in 1988 and soon became active members of several charitable organizations. Polly is the author of "Tales of Retirement in Paradise: Life in Puerto Vallarta, Mexico" [a sell-out!] and "More Tales of Retirement in Puerto Vallarta and Around the World." Proceeds from the sale of her books go to the America-Mexico Foundation, a scholarship foundation that is their passion.

Click HERE for more articles by Polly Vicars, or click HERE to learn more about Becas Vallarta and the America-Mexico Foundation.
Tell a Friend
•
Site Map
•
Print this Page
•
Email Us
•
Top