Entertainment | Restaurants & Dining | October 2008
The Irreverent Chef: Fried Green Potatoes

Liana Turner - PVNN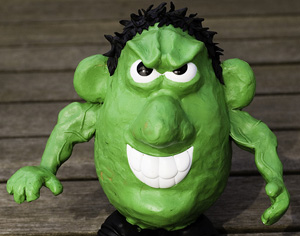 A 200 lb person would have to eat two full pounds of completely green potatoes in one day to take in a toxic level of solanine.

A few years ago, I was working in a restaurant on the beach in Yelapa. One day I noticed that one of the cooks was cutting potatoes to make French fries. I was alarmed because the potatoes had green spots.


I had always heard that because potatoes are a member of the nightshade family, that any green parts of the tuber (that's the potato) or plant were extremely poisonous. I don't know why I always believe these things. In this case, I guess it was because I had read and heard it so many times, I just assumed that it was true.


I told the cook that I didn't want her to use those green potatoes because they were poisonous and would make our customers sick.


"No they won't," she insisted. "We eat them all the time."


I said, "Oh, really?" and she said, "Yes, and I will prove it to you."


She then took all of the green parts of all the potatoes, made herself some French fries, and ate every one of them. I kept her under close observation for the next few hours, but there was no sign of sickness at all.


"Okay, I guess I could be wrong", I thought, and told her I would really like to see her first thing in the morning. I still did not really believe that she would live through the night. The next day she was still fine. She had cheated death and sickness. Just lucky? Not really. After a little investigating, here's what I found:


The green parts of potatoes, such as sprouts and skin, do indeed contain a toxin called solanine, which is a toxin to be taken seriously in high concentrations, but it turns out that a 200 lb person would have to eat two full pounds of completely green potatoes in one day to take in a toxic level of solanine. That's a lot of French fries. If you were to eat that many you might expect to experience abdominal pain, nausea, diarrhea, vomiting, confusion, etc. It seems to me one might experience those things if they ate two whole pounds of anything.


One of the reasons that we can get away with eating green potatoes is that newer varieties are genetically tweaked to produce less solanine. Lucky for us. Science is on our side.


The best way to keep your potatoes from turning green is to keep them in the dark in a cool place, and remove green spots and sprouts before cooking, but there is no need to be fanatical about it.


The Irreverent Chef, a.k.a. Liana Turner, is the chef and owner of Paradise Bakery and Catering. Serving the "Best Cinnamon Rolls in Vallarta," along with delicious sandwiches, salads, main dishes and yummy sweet treats every day but Sunday, and providing all styles of catering services, from pre-prepared meals to-go for informal gatherings to full service elegance for dinners, cocktail parties, wedding receptions and special events, Paradise Bakery & Catering is located at Sierra Aconcagua 299, Prolongacion Brasil, Colonia Lazaro Cardenas, Puerto Vallarta. For more information, call (322) 222-5133 or visit VallartaCatering.com.

Click HERE for more articles by The Irreverent Chef
Tell a Friend
•
Site Map
•
Print this Page
•
Email Us
•
Top