Entertainment | Restaurants & Dining | October 2008
Eggs: Out of the Chicken Into the Fridge?

Liana Turner - PVNN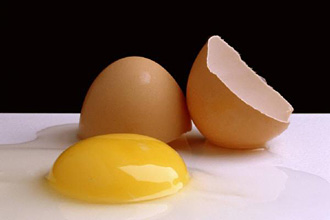 Our eggs here in Mexico might not be the prettiest, but I believe they could win any taste test.

Eggs really are an amazing food. They can thicken sauces just by being cooked. They can bind with oil to make mayonnaise and several other great concoctions. They can take on air and turn into a foamy meringue delight. They can combine with chocolate to make a lovely mousse.


They can be eaten about 4000 or so different ways, in liquid or solid form, or something in between. As a chef I love eggs, as long as I don't think too much about what they really are or where they really come from.


The question for today is: "Do eggs really need to be refrigerated?"


The answer is "Yes" ... and "No".


Eggs come out of the "chute" with a protective coating, and as long as they are not washed, they don't need to be refrigerated. Of course, it also depends on what you want to do with your eggs. For fried or poached eggs, cold is better. The cold eggs hold together better and the yolks don't break as easily as room temperature eggs.


For all baking purposes, eggs should be at room temperature. This also applies to eggs that are to be used for sauces such as mayonnaise or Caesar salad dressing. For hard boiled eggs, it is better to use unrefrigerated eggs that are more than a few days old. The really fresh eggs don't release the membrane so easily and they are more troublesome to peel after cooking.


Some of the eggs that we see here in Mexico are not very aesthetically pleasing. Well, the truth is that some of them are sold covered with poop and feathers.


Although this might assault out delicate sensibilities, it is best to leave them the way they are until just before using them. As soon as they are washed, they lose their coating and become susceptible to spoilage.


Some of us Norteamericanos seem to be obsessed with appearance even to the point of neglecting what is inside. This is evidenced by alarming plastic surgery rates - and still people are unhappy.


Looking perfect on the outside isn't indicative of what's on the inside, with people or with eggs. The ugly ones can be washed off with plain water right before using, or disinfected with Microdyn, I suppose, if someone is really paranoid about that kind of thing.


There is an exception to the non-refrigeration guideline: Summer. If you don't have a constantly air conditioned home, I would recommend refrigerating all eggs in the really warm months, when the heat can be extreme. At other times, normal room temperature is just fine.


Also, I am not sure what they do to process eggs in the United States and other countries. They could very well be washing them, so to be safe, they should be refrigerated.


Our eggs here in Mexico might not be the prettiest, but I believe they could win any taste test. It really is what's on the inside that counts!


The Irreverent Chef, a.k.a. Liana Turner, is the chef and owner of Paradise Bakery and Catering. Serving the "Best Cinnamon Rolls in Vallarta," along with delicious sandwiches, salads, main dishes and yummy sweet treats every day but Sunday, and providing all styles of catering services, from pre-prepared meals to-go for informal gatherings to full service elegance for dinners, cocktail parties, wedding receptions and special events, Paradise Bakery & Catering is located at Sierra Aconcagua 299, Prolongacion Brasil, Colonia Lazaro Cardenas, Puerto Vallarta. For more information, call (322) 222-5133 or visit VallartaCatering.com.


Click HERE for more articles by The Irreverent Chef.
Tell a Friend
•
Site Map
•
Print this Page
•
Email Us
•
Top