Entertainment | Restaurants & Dining | October 2008
What to Look for in a Tequila Bar

Nani Mathews - Atlanta Restaurant Examiner
go to original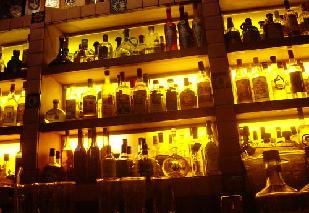 Another threatening tequila bar.

Almost every Mexican restaurant and taqueria boasts of an extensive collection of tequilas, but with so many to choose from, where do you start?


It'd be nice if the bar would let you taste a few before you decide, but the unlikelihood of that happening is pretty high. So, I'm here to give you "soon-to-be-tequila-connoisseurs" some helpful hints on navigating a tequila bar.


First, it should be made very clear, the worm in the bottle is not a sign of a tequila's authenticity. In fact, the worm in the bottle is in attribute mostly found in Mezcal and shouldn't be what you look for in tequila.


Then what should you look for? "Hecho en Mexico" which translates, "made in Mexico." It's very important to the experience to give credit to the country that knows how to make it best.


Second, tequila is at its finest when it is made from 100% agave or blue agave. Any variation that has additives or other ingredients is not worth trying. Agave is a type of plant that grows predominately in Mexico, so stick with the theme and only try these.


Third, pick your poison. For the less adventurous it would be wise to try blancas, or white tequilas. One of the more popular, and made even more so by rapper T.I., is Patron, or Patron Silver. The blancas have been filtered several times and have had less time to age. The younger a tequila, the less punch it has.


For the more avid tequila drinker, try a reposado. This is my personal favorite because it's got a nice pungent tequila flavor but it still has a clean finish. The reposado is one of the more popular tequilas in Mexico. When I was there this summer I asked the locals and it seemed to be the favorite of the three types.


The third is añejo, or "old." The añejo is the darkest and oldest of the three types, and it carries the boldest flavors. Añejos have aged for many years and often mimic the flavors of the oak barrels that they are stored in. Expect a strong agave and oak taste in this type.


As for the brands to look for, keep an eye out for the following:


1) Corralejo (in the blue bottle), this is the reposado. It was the favorite among the men I talked to in Cozumel.


2) Don Julio, this is an easier find in the states and it has a good reputation in Mexico.


3) Any kind of "creme of tequila" or "liqueur of tequila." These are sweeter variations and some claim that they are the "absinthe of Mexico."
Tell a Friend
•
Site Map
•
Print this Page
•
Email Us
•
Top