Health & Beauty | November 2008
A Very Busy Nine Days For V.E.S.

Ed Thomas - PVNN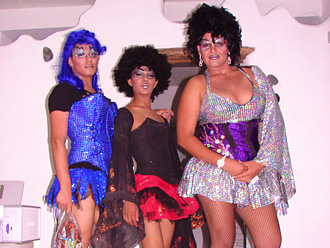 For more information about HIV, testing, counseling, and risk reduction, please visit VallartaEnfrentaSida.org or call their offices at (322) 223-0535.

The guys and gals at V.E.S. recently had a very busy week. It started off on Halloween with the "Chica's VES" team handing out condoms at several of Vallarta's most popular nightclubs. The team had a great time doing it, as fun and protection were the main objectives of the night.


But that was just the beginning of a very busy nine days for the Vallarta Enfrenta el SIDA team as they continue their fight against the HIV epidemic in the Banderas Bay region.


Sunday, November 2nd - Colonia Buenos Aires


The mobile detection unit set up camp in Colonia Buenos Aires along with Dr Galileo and Miriam, a psychologist from CAPASITS and also the lovely Mrs. Galileo who is a wonderful volunteer.


The team arrived at about 9 am and started setting up at the main plaza across from the river. By 10 am they were ready to start testing and were talking to every passerby about HIV and the need to be tested. They also informed everyone they met about the services that are available to them at CAPASITS (Centro Ambulatorio para la Prevencion y la Atencion del VIH/Sida e Infecciones de Transmision Sexual), which is located at the rear of the Regional Hospital.


Fifty eight people were tested, which proves that all the hard work and educating the VES team does during the week, including radio interviews and press conferences along with the condom distribution and fliers that are being left in the bars, hotels, coffee shops, hospitals, etc., are having a positive effect on the community.


People are really starting to come out and get tested. There is no one group or age bracket that is dominating the testing, instead it seems to be people of all ages, male and female. Hopefully by next week we will be printing a breakdown of the stats from all the health fair - mobile detection sites that will be a real eye-opener.


All in all it was a successful day the only problem the team confronted was they got a ride out there with all the equipment and testing materials, but Pepe, who drove them out there, forgot to tell them it was a one-way ride. Luckily 2 1/2 hours after the testing stopped they got picked up by Hugo, a volunteer who was working at his job that day but came out after work to pick the guys up. As my friend back in Boston says: "jokes by God." Soon that problem will be resolved, as help is on the way.


Saturday, November 8th - Barrio Santa Maria


Busy, busy day as the mobile unit along with Dr Galileo and his better half were non-stop. We arrived in Barrio Santa Maria at 9 am to start setting up for a 10 am start, and by 9:45 Dr Galileo had already tested 2 people. We never turn anyone away - whether they are early and we're not finished setting up, or whether we are folding up our last table and were scheduled to end 2 hours earlier - anyone wanting a test gets one.


We blocked off the back parking lot of the old Regional Hospital and set up the tents with tables and chairs for testing. We also blocked one entrance with the information table, where we were very busy giving condoms and information as Saturdays are always busy days there because of the tianges, or the flea market as we call it.


People were very receptive to what we were doing and all the taco stands in the area were gracious enough to let us put up posters and information. The community is really pulling together to combat the silence that surrounds people affected and infected with HIV.


All in all it was a very successful day. Sixty-five tests were performed, and we even had a ride back to the office! The only casualty of the day is I came out looking like a lobster (lobsta - as we say back home). With all the running around I forgot that I'm Irish and the sun and I don't get along. It's called the curse of the Irish ... can't drink, can't sit in the sun ... some day I'll learn.


Til next week, have a great time, you're in Paradise. But please be safe and think first!
---

Puerto Vallarta's HIV/AIDS non-profit organization, Vallarta Enfrenta el SIDA, and CAPASITS, work together to provide high-quality medical care, counseling and psychological support, education and prevention programs, and outreach to at-risk communities in the Banderas Bay area. For information, assistance, or to volunteer or donate, please visit VallartaEnfrentaSida.org. To learn more about VES, click HERE.
Tell a Friend
•
Site Map
•
Print this Page
•
Email Us
•
Top