News from Around Banderas Bay | November 2008
Hurrah! Los Bambinos are Back!

Polly G. Vicars - PVNN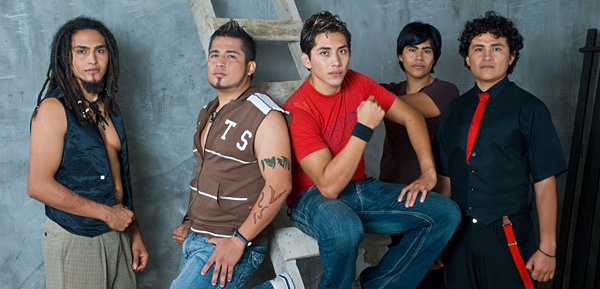 Monday, November 24 at 8:00 pm is opening night for Los Bambinos a.k.a. Metamorsa at the Santa Barbara Theater. Call 223-2048 to reserve your tickets TODAY!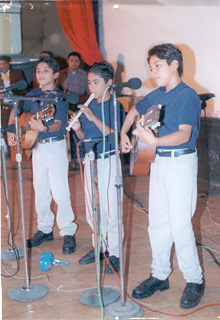 Lazzaro, Immer and Giorgio playing in their elementary school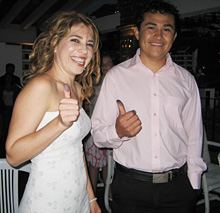 Carlos and his bride Yoanne

Monday, November 24 at 8:00 pm will be opening night for Los Bambinos at the Santa Barbara Theater. This twice voted Best Musical Group by the Vallarta Lifestyles Reader's Choice Awards is preparing a program that really rocks!


Their regular fans will be surprised to hear their innovative interpretations of well know tunes in both English and Spanish, as well as five songs written and performed by Los Bambinos in their Metamorsa guise.


This group of four brothers, Carlos, Lazzaro, Immer and Giorgio Morales and their cousin, Luis Leana Salinas, began picking and singing as tiny tots. Carlos, the eldest of the boys began his musical career first.


Carlos told me that when he was quite young an uncle came to visit and when he left he forgot his guitar, as well as a song book. Carlos, a curious kid, sat down with the guitar and the book and proceeded to teach himself three songs. Having moved to Puerto Vallarta from Morelos he was especially fascinated with the custom of singers getting on public busses to sing a few tunes and take up a collection. So one day, armed with his guitar and his repertoire of three songs, he jumped on a crowded bus, picked his guitar, sang his songs, collected his tips and a musical career was launched.


Meanwhile at home, in his own time, each of the brothers picked up uncle's guitar and began to pick and sing. As time passed, Papá Morelos saw that the three younger boys had not only mastered the guitar, they sang together like angels. He decided they should try to be troubadours by going around to the restaurants and singing, a local custom. Carlos related to me that he was on his way to sing at one of his favorite places when he spied his siblings, guitars in hand, timidly standing in the street, trying to get up their nerve to go in to sing. He took them by the hand, they went into the restaurant and sang and played to much applause and plenty of tips.


That was the beginning of their group. Husband and I hired them for parties on the beach and in our condo. Our friends who had heard them at our place began calling them for gigs as they continued to sing in restaurants. They cut a CD Fiesta Music from Puerto Vallarta in 2003 which was a great hit and soon completely sold out. About that time cousin Luis Alberto Leana Salinas arrived for a visit, started singing with his cousins and never returned to his native Morelos. With cousin Luis they cut another CD Los Bambinos Salute the Beatles in 2005, which also sold out.


Much has happened to them since that last CD. Carlos graduated from the University of Guadalajara, CUC, married the beautiful Yoanne, entered law school which he has almost completed and continues as the leader of the group. Lazzaro and Immer are both at the university of Guadalajara CUC and will graduate in the near future, Lazzaro in accounting and Immer in business administration. Giorgio and Luis are studying music and all are writing songs.


Los Bambinos will introduce their new CD Imaginar for sale after Monday's opening show. This incredible CD features music written and performed by Los Bambinos in their professional name of Metamorsa and produced by Blaine Selkirk. Some of the songs are Latin melodies, some are pop rock, some in Spanish and some in English. All are fantastic!


Los Bambinos will be performing every Monday night at the Santa Barbara during the high season. Tickets are the same price as last year, $220 pesos per person. They can be bought at the box office of the Santa Barbara Theater at Calle Olas Altas 351 or reserved at 223-2048. Better hurry to get yours as Los Bambinos always perform to a sold out crowd! See you there!
---

Polly G. Vicars and her husband of 57 years, Hubert (a.k.a. "Husband") retired to Puerto Vallarta in 1988 and soon became active members of several charitable organizations. Polly is the author of "Tales of Retirement in Paradise: Life in Puerto Vallarta, Mexico" [a sell-out!] and "More Tales of Retirement in Puerto Vallarta and Around the World." Proceeds from the sale of her books go to the America-Mexico Foundation, a scholarship foundation that is their passion.

Click HERE for more articles by Polly Vicars, or click HERE to learn more about Becas Vallarta and the America-Mexico Foundation.
Tell a Friend
•
Site Map
•
Print this Page
•
Email Us
•
Top