News from Around Banderas Bay | November 2008
Not Too Many Cooks in Coco's Kitchen

Polly G. Vicars - PVNN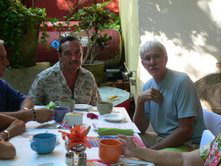 Conrad and Hank of Chile's fame, enjoyed being served in their former locale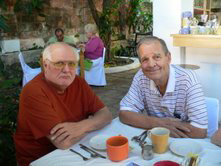 Linda Wirth's husband Terry with Husband, AKA Hubert Vicars, enjoying the coffee and good fellowship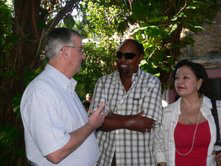 Jerry Lafferty and Bill Clark talking Navy League while Norma looks on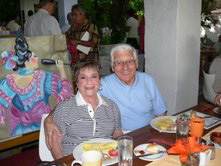 Long time Becas supporters and recent arrivals JoAnn and Rello Cristea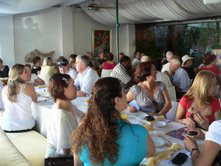 What fun all the Becas loyalists had at this first breakfast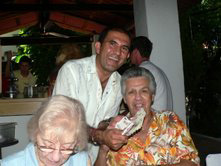 Smiling Salesmen Cheo and Lenny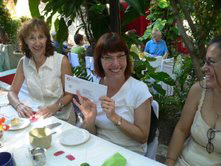 Linda Hobden, lucky winner of The River Café's three course dinner with wine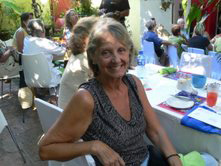 Sandra Cesca won a night at the luxurious Casa Isabel - and a t-shirt to boot!

Coco had just the right number of cooks in her kitchen on Wednesday, November 12, 2008 for the first Becas Breakfast of the season. Almost 150 hungry Vallartenses came out to enjoy Coco's delicious breakfast and to support Becas nearly 300 scholarship students.


There were lots of hugs and smiles as the newly returned six-monthers greeted each other and us full timers. Soon folks settled in at tables and Coco's staff was in immediate attendance serving coffee, juice and sweet rolls as well as taking orders for either Spanish Omelets or French Toast. The deliciously prepared food came quickly, came hot and came with broad smiles from the wait staff.


Meanwhile, Becas Patrons Lenny Ambrose, Alfredo Franco and Vickie Jensen were everywhere selling raffle tickets and urging folks to bid on the silent auction for an amazing array of donated prizes from Vallarta's generous businesses, patrons and artisans. We had prizes from Ada Colorina, Archi's Wok, Banana Cantina, Barrio Sur, Botanical Gardens, Casa Isabel, Cassandra Shaw Jewelry, Coco's Kitchen-Barrio Sur, Daiquiri Dicks, Época Restaurant, Heidi Snowden, June Rosen Lopez Jewelry, La Piazetta Ristorante, La Palapa Restaurant, Lucy's CuCu Cabańa, Marcelo Mico Pilates, Mayo Warren, Memo's The Pancake House, Ocean Friendly Tours, The River Café, and Xocodiva Artisan Chocolates. Sincere thanks to all of them, and I hope you will join Husband and me in supporting these businesses that so willingly support Becas Vallarta.


I had urged Husband to buy lots of raffle tickets since I had gotten most of the prizes I knew how great they were. When it came time to draw numbers, our faithful helper Cheo, through with his ticket-taking duties, came to help with the raffle, as did the ever helpful Lenny Ambrose and Richard Bendix.


At the end of the season last year Los Bambinos and Blaine Selkirk donated a microphone and portable speaker to Becas to use for just such occasions as today. Husband plugged it in (He is an Electrical Engineer, you know), we tested it and were so proud to be ready to use our new equipment before the first guests arrived.


Then Murphy's Law kicked in and the electricity went out in the whole restaurant! So instead of being able to call the raffle numbers on our new speaker system, we established a relay. Cheo pulled the ticket, told Lenny and Richard the winning numbers and they in turn used their strong voices in different areas of the restaurant to relay the winning numbers to the guests. It all worked out and winners were genuinely thrilled with their prizes, as was I when Husband won for me the Bromiliad donated by Bob at the Botanical Gardens.


But I never did get to welcome the group at the beginning or thank them at the end. So I hope they will read this in the local papers or online on BanderasNews - "Welcome to Coco's Kitchen and Thank You for supporting Becas by coming and participating in our raffle and auction."


Everyone mark your calendars for the next breakfast at The River Café on Wednesday, December 10, 2008 at 9:30 am. Ticket prices remain the same, $150 pesos and must be purchased in advance. All Becas members have tickets to sell or just call me at 223-1371 or e-mail me at phvicars(at)gmail.com.


While you have your calendars out, mark Wednesday, January 14 for breakfast at Daiquiri Dick's, Wednesday, February 11 for breakfast at El Dorado, Thursday, March 5, 2009 for the Becas Ball at The Westin Hotel and Spa and Wednesday, April 8 for breakfast at La Palapa Restaurant.


It is not too early to buy your tickets for the Becas Ball. They are the same price as last year, $850 pesos per person or $8500 pesos for a table for 10. Call Mary Borkus at 222-8203 or Elinor Prawer at 221-5032 for reservations and information.


After every Becas event I am moved by the incredible enthusiasm and cooperation we get from everyone in this true paradise by the sea. It is so heartwarming to know that while having a wonderful time together we are also making a difference in the lives of these great young people that so welcome us into their country and their hearts. So let's keep on keeping on changing lives through education. See ya'll at The River Café!

---

Polly G. Vicars and her husband of 57 years, Hubert (a.k.a. "Husband") retired to Puerto Vallarta in 1988 and soon became active members of several charitable organizations. Polly is the author of "Tales of Retirement in Paradise: Life in Puerto Vallarta, Mexico" [a sell-out!] and "More Tales of Retirement in Puerto Vallarta and Around the World." Proceeds from the sale of her books go to the America-Mexico Foundation, a scholarship foundation that is their passion.

Click HERE for more articles by Polly Vicars, or click HERE to learn more about Becas Vallarta and the America-Mexico Foundation.
Tell a Friend
•
Site Map
•
Print this Page
•
Email Us
•
Top