News from Around Banderas Bay | November 2008
Bruno Rodríguez Wins Copa Pacifico Vallarta In Thriller at Canto Del Sol

Bob Cohen - PVNN

Before the crowd dispersed, a group photo with the champion, the staff, sponsors and the ball boys that made life easier for the players.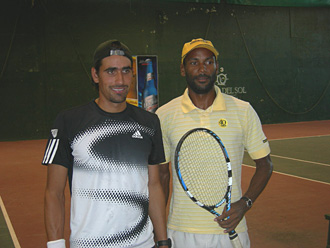 Prior to the final, on the left Bruno Rodriguez with Lazaro Navarro.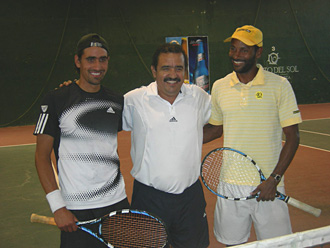 Canto Del Sol Tennis Director Martin Parra in the middle with the two finalists after the final.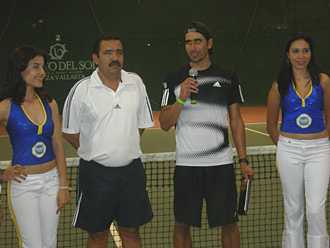 A smiling Bruno Rodriguez thanking the crowd after his victory with Martin Parra and the Pacifico girls on hand.

Bruno Rodriguez, seeded 2nd out of Queretaro, Mexico, defeated unseeded Cuban born Lazaro Navarro in a battle of big hitters Saturday afternoon and three hours after the start, the two were blasting shots in the three set final. Rodriguez, the crowd favorite dropped the first set in a tiebreak 6-7 and came back to win the final two sets, both at 6-4 for the championship.


It was clearly not a match of finesse as the two traded powerful and well placed forehands behind their strong serves. The first set saw each player hold serve until Bruno broke Lazaro at 4-4 to go up 5-4 and serving for the first set. Navarro came right back and broke serve and the set went to a tiebreak. Navarro ran off a 6-3 lead but Rodriguez fought back to 6-5, when Navarro blasted a big serve that closed out the opening set.


The second set was a chess match that was played a bit better by Rodriguez and both players held serve again until Bruno broke Lazaro while ahead 5-4 to take the set 6-4 and evened up the match. Navarro had far more aces and generally won his service games with more ease and a few that saw him win games at love. Rodriguez put himself in advantageous positions with his serve but it wasn't as dominating and he had to work the court to utilize position and hit winners or caused unforced errors with well placed shots.


The final set followed script exactly as Bruno went up 5-4, with each player holding serve. The younger Mexican should have had an advantage due to the 12 year age difference, but the extremely deliberate and sometimes annoying Navarro was extremely strong throughout after playing over five hours Friday and three hours during the Saturday final. Bruno to the delight of the Mexican crowd broke the Navarro serve again at 5-4 to capture the title.


Analyzing the match, Navarro won more points, had far more aces, but also had far more unforced errors. Apparent to most of the knowledgeable spectators was that Navarro tried too hard to continue to hit hard backhands off good serves and dumped many into the net or hit some long. He was better when he played more controlled tennis on his backhand side until he could play to his strong forehand. Rodriguez had better overall racquet control and utilized some strategic drop shots and successfully passed Navarro when he came to the net often enough to make a difference.


The 3rd Annual Copa Pacifico Vallarta completed a busy day late Friday night that saw two rounds played in one day and the finals were determined at 10:00 PM when 2nd seeded Bruno Rodriguez defeated 3rd seeded Victor Romero in a three set thriller, 3-6, 6-3, 6-4. Rodriguez joined unseeded Lazaro Navarro who defeated 4th seed Carlos Palencia in straight sets, 6-4, 7-5. Defending champion Juan Elizondo played in another large tournament and of course didn't have the opportunity to defend his crown.


Navarro, the oldest player in the tournament at 34 defeated top ranked Miguel Gallardo in a 3 hour, 20 minute afternoon battle, 6-7, 7-5, 6-3 to advance to the semifinals. Navarro is no stranger to the Canto Del Sol, where he has enjoyed success in tournaments in prior years. His opponent Bruno Rodriguez at only 22 easily won his quarterfinal afternoon match over Javier Becerra 6-3, 6-2.


Another superb tournament was played at the Canto Del Sol Tennis Club under the supervision of Tennis Director Martin Parra and his well trained staff of professionals. Pacifico was the main sponsor for the third year and all indications are that the $50,000 peso tournament will be back next year. Congratulations to the champion Bruno Rodriguez as well as finalist Lazaro Navarro who played a great final for the large crowd in attendance.
Tell a Friend
•
Site Map
•
Print this Page
•
Email Us
•
Top