News from Around Banderas Bay | November 2008
Wanna Have Some REAL Fun in Vallarta?

Mike Sole - PVNN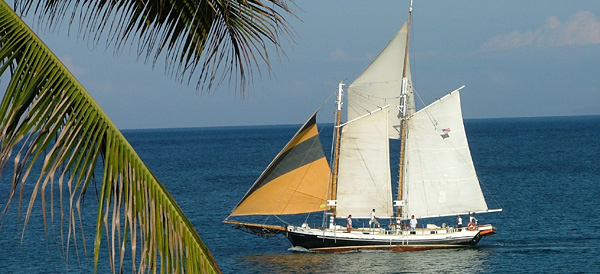 I give Pegaso Charters and their Adventure Park tour my highest ranking for things to do in Puerto Vallarta. To make your reservations, call (322) 290-0705.

Sometimes when you want to go have some fun and you really want it all, it's hard to find. Know the feeling? Well, I am here to tell you that it is possible to spend a completely fun-filled day on Pegaso Charters' Las Animas Adventure Park tour.


I recently climbed aboard one of Pegaso Charters five beautiful sailing ships, the Elias Mann, for an exhilarating day on Banderas Bay. The Elias Mann was built for a retired US Coast Guard Captain in Trinity Bay in Newfoundland, Canada in 1971, as a replica of the traditional New England Sailing Schooner. The master builders in Trinity Bay are known for building very strong and durable wooden vessels, and the Elias Mann is an excellent example.


I, along with 6 friends and 4 crew members, started the day by boarding to the warm welcome of our host, Benjamin. After a briefing about the Elias Mann and some safety tips, we set sail. After being immediately welcomed by the other crew members and saluting the captain, we were provided a very nice continental breakfast, juice and coffee. When I said, "you can have it all," I really meant it.


First stop, Los Arcos for a brief snorkeling session. Very clear water today so the fish were just glowing with blues, yellows, spotted fish, such a variety. The main event was still to come, so brief for me was a good thing.


Next stop, the new Adventure Park in Las Animas. While I have many female friends that would love this tour, I cannot speak for them. But I will share with you that, from a middle aged man's boyish perspective, this is a must do!


While I never had my own jungle gym, (remember those?) now there's something even better! The new Adventure Park in Las Animas combines swinging bridges and nets to climb through with zip lines and a rock climb - sheer heaven for the adventurous! Designed for the novice or the athletic, it's a bit challenging, but the only thing sore after you have finished will be your gut from laughing and giggling. (Such a young man I am in my mind!)


As this was my first visit to Las Animas, it was fortunate that we were able to stay on the beach for a bit to soak in the ambiance. It sure was nice and peaceful in Las Animas and I look forward to exploring it further.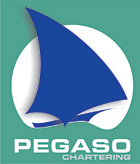 Once back on board the Elias Mann, the Pegaso crew provided a very nice lunch along with refreshments. The choices of refreshments were plentiful, sodas, beer, mixed drinks. Full sails up, we headed back to Vallarta. For those that may not have been on a sailing ship before, this is quite a treat.


The cost of this tour is very reasonable at $77 USD for adults and $39 USD for children under 12 years, including the Adventure Park tour. No charge for kids under 5 (without Adventure Park).


I give Pegaso Charters and their Adventure Park tour my "What Fun" recommendation. My highest ranking for things to do in Puerto Vallarta.


For more information about Pegaso Sailing Charters, click HERE.
Tell a Friend
•
Site Map
•
Print this Page
•
Email Us
•
Top