News from Around Banderas Bay | December 2008
A Posada at the CAPASITS Clinic

Ed Thomas - PVNN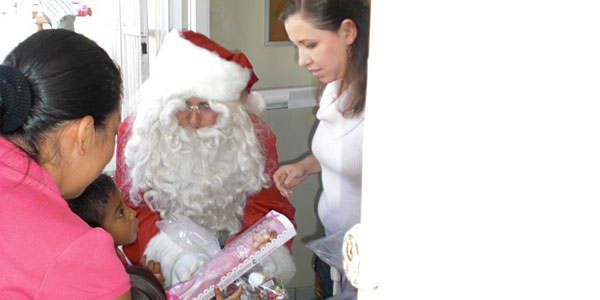 Mickey Mouse, Dumbo and Mario the Clown joined Santa at the CAPASITS clinic on Friday, December 19th for a Christmas posada sponsored by V.E.S. that gave many local children a day filled with fun, joy, toys - and lots of goodies
V.E.S. sponsored a Christmas posada at the CAPASITS clinic on Friday, December 19th, and there were plenty of happy children running around and playing on the "brincolin" while waiting for Santa to arrive.


The party started with a delicious bowl of pozole, a generous helping of Jello and Agua de Jamaica for everyone. Entertainment was provided by Mario the clown, who had balloons shaped like animals and entertained all with games.


Then there were 4 piñatas (filled with plenty of candy) that needed to be broken while waiting for the big guy to arrive from the North Pole. When Santa did arrive he had some very strange helpers with him - Mickey Mouse and Dumbo the elephant. I guess the elves couldn't take the heat.


Santa had plenty of toys, a "Bolo" of candy and a bag of cookies for each of the kids. As the children were handed their presents from Santa they were steered back into the lobby of the clinic where they were treated to a delicious piece of cake.


The staff at the clinic acted as the servers and Santa's helpers. These are probably the most dedicated care givers I have ever had the pleasure to be associated with. When you first walk into the clinic you can feel the warmth and the love that is given so freely by these wonderful people.


I would like to thank the businesses that let us put our boxes for the donations of toys and candy in their establishments:


• Clarese Hair Salón - Venustiano Carranza #314, Col. Emiliano Zapata (222-5451)


• Johnny's Diner - Basilio Badillo #336, Col. Emiliano Zapata


• Bar Frida - Lázaro Cárdenas #361, Col. Emiliano Zapata


• Hotel Mercurio - Francisca Rodríguez #168, Col. Emiliano Zapata (222-4793)


• El Sofa Cafe Shop - V. Carranza #333, Col. Emiliano Zapata


• Car Wash - Basilio Badillo, Col. Emiliano Zapata


• Safari Accents - Olas Altas #224, Col.Emiliano Zapata (223-2660)


• Hotel Villa las Flores - Dalias #246 esq. Las Palmas, Col. Villas Las Flores (221-2365)


A special thanks to the following local businesses for their generous donations:


• Marilu's Pet Shop - Constitución #285, Col.Emiliano Zapata (222-8467) for donating all the paper goods


• Charme Bakery - Fco. I Madero #263, Col.Emiliano Zapata (222-7320) for providing the two (2) delicious cakes that fed 150


• Samba Vallarta by Pueblo Bonito - Av. Costera y la Playa S/N Flamingos Nayarita, Bahía de Banderas Nayarit (297-1414) for donating 50 toys and for providing the Dumbo and Mickey costumes


• Paletería "La Michoacana" - Col. Bobadilla for the Agua de Jamaica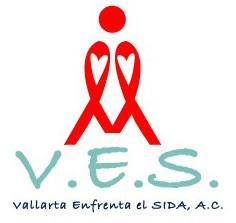 I'd also like to thank: Roberto for the Pozole, Sr. Alejandro Cordero for the delicious Tostadas de Tinga, Sr. Derek Castillo García for the Jello and the department of Desarrollo Social del H. Ayuntamiento for the candies.


We could not have done all this without the help of the wonderful people who put a toy or bag of candy in these boxes, so thank you all from the bottom of our hearts and hopefully these wonderful businesses will be visited more often by all who read this.


The V.E.S. staff and volunteers wish everyone a ¡Feliz Navidad y Próspero Año Nuevo!

---
Puerto Vallarta's HIV/AIDS non-profit organization, Vallarta Enfrenta el SIDA, and CAPASITS, work together to provide high-quality medical care, counseling and psychological support, education and prevention programs, and outreach to at-risk communities in the Banderas Bay area. For information, assistance, or to volunteer or donate, please visit VallartaEnfrentaSida.org. For information, assistance, or to volunteer or donate, please visit VallartaEnfrentaSida.org. To learn more about VES, click HERE.
Tell a Friend
•
Site Map
•
Print this Page
•
Email Us
•
Top