News from Around Banderas Bay | December 2008
A Banderas Bay Trading Company Expedition

Laura Gelezunas - PVNN

Decorating your new Puerto Vallarta home or condo is even easier when someone else does the shopping. One local store owner spends a whole week looking for the perfect items, during specific times of the year.


It's a shopping adventure, an hour outside of Morelia, Michoacán. There are hundreds of local artisans vying for customers, and one Puerto Vallarta store owner makes his way through the maze of handicrafts.


"The fair in Patzcuaro has been going on for years and years and my wife and I have been in Mexico for 26 years and basically come to this fair almost every year but since we have gotten into the retail business, we are here more often," says Peter Bowman, Buyer, "They do these fairs twice a year, at Easter and Day of the Dead."


One of the most popular media is clay, which comes from the region. The locals have been molding it for hundreds of years. Each family has its own way of expression.


"What's interesting about the guy who has these clay pots and figures, is that he comes from a family of artisans that traditionally did things the same way for years and he has sort of gone out on his own and done his own interpretations of something that is kind of a combination of new and old," says Peter, "And consequently he's coming up with a lot of wonderful pieces."


The artist, who molds the clay creations, added simple patterns to basic pots and dishes transforming them into updated versions.


Moving on to another artist working with clay at the fair, Peter observes, "This is another kind of curious thing, it's only been the last few years that these artists have taken the traditional clay pots and started making them into figures, animals and all kinds of things. When they are baked in the raw, in the soil, with the pine needles and all kinds of other things, that's how they cook them and that determines what kinds of colors come out in the finished product."


The selection of items is daunting and Peter tries to anticipate client requests. But sometimes his eyes are bigger than his truck.


"I'm trying to figure out where we can put these as we buy them," Peter refers to six-foot high vases, which he just purchased. "There are so many great piece and I hate just hate to pass the by."


You can find these items plus so much more at Banderas Bay Trading Company and The Annex.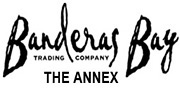 Open every Monday through Saturday from 10 am to 6 pm, these two stores are only three blocks apart, making it easy to find the high-quality artesanal works that have made Banderas Bay Trading Company one of Vallarta's favorite places to shop. For more information click HERE or visit BanderasBayTradingCompany.com.
---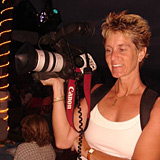 After having spent 10 years in the world of US broadcast news, Laura Gelezunas decided to unleash her skills on Puerto Vallarta by opening Video Diva Productions, a full-service, professional digital video company. Whether you're interested in a sales video, WEBmercial, music video, feature story, documentary, or corporate event video coverage, she has the experience, equipment and talent to coordinate a professional production. For more information, visit her website at VideoDivaProductions.com.
Tell a Friend
•
Site Map
•
Print this Page
•
Email Us
•
Top