News from Around Banderas Bay | December 2008
Professional Tennis Star Sam Querrey Works Out at Canto Del Sol

Bob Cohen - PVNN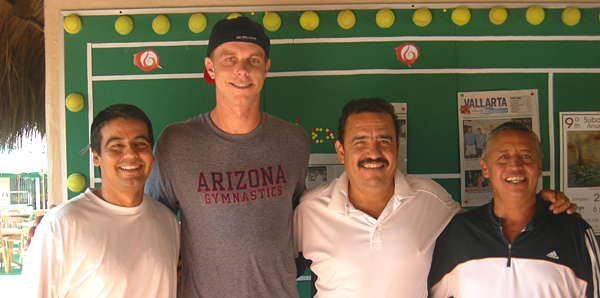 From left to right, Canto Del Sol tennis pro Polo Torres, Sam Querrey, Martin Parra and Canto tennis pro Polo Martinez.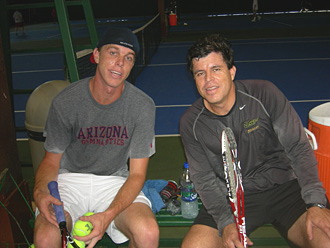 On the left, Sam Querrey with former Mexican tennis professional and now college coach Agustin "Bebe" Moreno.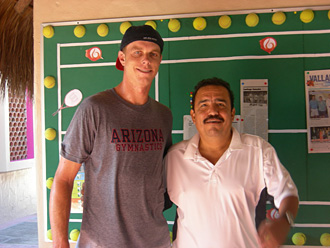 On the left, Sam Querrey, standing 6 foot 6 with Canto Del Sol Tennis Director Martin Parra.

Sam Querrey, the 39th ranked men's tennis professional in the world was vacationing in Puerto Vallarta Christmas week and prior to arriving he contacted Martin Parra, the Tennis Director at the Canto Del Sol to schedule a workout at the club. Arrangements were made, a hitting partner was secured and on the day after Christmas a small gathering got to see a 6'6, 21 year old tennis giant smack the ball for an hour with former Mexican tennis pro Agustin "Bebe" Moreno, now 41 and the coach of the University of South Florida women's tennis team.


At first glance the young Querrey of San Francisco and now playing out of Thousand Oaks, California would be easily mistaken for a Southern California surfer and his casual nature would insure that until he hit the court with Moreno for his training session. Sam was blasting balls with power and accuracy that hasn't been seen in Puerto Vallarta for years. In a sport once ruled by the United States, the young Querrey is the fourth best American professional and has been playing on the tour for only two years.


It was a treat as a tennis player, fan and writer to see the two hit for an hour on the new resurfaced tennis courts at the Canto Del Sol. Moreno, from Guadalajara reached #120 in the world in 1988, the highest in his pro career. He played on the Mexico Davis Cup team from 1985-1994 and played on the professional circuit from 1987-1994. Moreno played in the 1988 Olympics in Seoul, Korea and was the doubles Junior Wimbledon champion in 1985. He coached the USF women's tennis team to a Big East title in 2007 in his third year at the helm. Prior to that he was an assistant coach at both Georgia and TCU, two universities with elite tennis programs. Moreno also has run a kid's summer tennis academy at the USF campus the last three years for boys and girls aged 9-16.


The big draw however, was the up and coming current and future star Sam Querrey. On June 11, 2006 he became the first player to win an ATP Challenger event in his pro debut. That launched him to the ATP Tour where he won a few matches in the second half of the year. In 2007 he opened the year by advancing to the 3rd round of the Australian Open and not much more was heard about him until he made tennis history in June at the Indianapolis Tennis Championships where he served ten (10) consecutive aces when he defeated James Blake in a quarterfinal. It was after this tournament he first cracked the Top 50.


In March of 2008 Querrey won his first ATP tournament at the Tennis Channel Open in Las Vegas. A highlight in 2008 for the youngster was to be able to represent the United States in the 2008 Olympic Games. In the U.S, Open he advanced to the 4th round where he was defeated by Rafael Nadal the #1 player in the world in a tough four set match. He also filled in for an injured James Blake and played on the Davis Cup team, losing again to Nadal in four hard sets. At year end his professional record stood at 53-59 and a ranking of #39 in the world. Sam has already won $1,040,000 in his short career.


Catching up with Sam after his workout, I was able to ask him a few questions as some young Mexican tennis kids and maybe future stars were having him autograph tennis balls. About Puerto Vallarta, Sam stated "I love it here. We are staying in a beautiful huge house in the hills of Mismaloya and I have enjoyed my week here. This was my first workout in preparation for the Australian Open that begins in mid-January. When I get back to the states I will resume a rigid training program." Asking about his goals for this year, he responded "I feel real good, real confident for Australia. My main goal this year is to crack the Top 20 and hopefully more".


For the few dozen watching the unannounced workout, it was quite a treat. Before he took the court, a group of 10 youngsters under 12 were participating in a weekly clinic and they appreciated seeing an ATP star live in action and hopefully left them inspired. We wish Sam all the best in his quest to reach the elite status in professional tennis and were glad he chose to visit our city. Hopefully he will return next winter having achieved his lofty goals.
Tell a Friend
•
Site Map
•
Print this Page
•
Email Us
•
Top