Entertainment | Restaurants & Dining | January 2009
The Irreverent Chef: 2009, A Good Start

Liana Turner - PVNN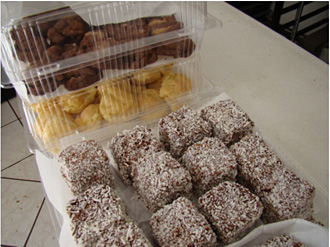 Lamingtons, (below,) with white and chocolate cream puffs
Against all odds and predictions, the turnout for this year's Puerto Vallarta Annual Summer Camp for Adventurous Adults and Families (also known as the Snowbird Migration, or simply... Tourist Season) has been quite good.


Our sales outside of the bakery have seen quite an increase this year, and that means that our stores and cafes have been doing well. I haven't seen hotel or airport traffic statistics, but all signs lead to a pretty good season here.


Yes, some restaurants and other businesses have closed, but that happens every year, for one reason or another, most often related to greedy landlords who charge rents so high that a legitimate business has a very slim chance of making it through even one year.


Anyway, I am optimistic, and optimism is probably the easiest and most effective tool that we can use to get through hard times. It can be contagious too, and the influence of a collective consciousness is a powerful thing. This is a time of great change, and I hope that we will all be working together to push the change into the positive realm. That is my request for 2009.


Speaking of requests, this season I seem to be the "go to person" for special culinary needs. I don't mind it a bit. I love a challenge, and also it is a great opportunity to learn something, and at the same time, increase my repertoire and my menu list.


Just in the last week, we have made for various people and events:


Sugar-free Chocolate-dipped Strawberries
Cream Puffs (White and Chocolate)
Caramel Custard Filling
Lamingtons (a funny little cake thing from Australia... more below)
Mexican Wedding Cake Cookies


And next week I plan to work on:


Gluten-free bread
More Tasty Tofu Creations


Note: In the coming weeks I will be writing recipes in this column for some of these items. Readers are encouraged to request recipes by sending an email to lianasea(at)msn.com.


What are Lamingtons?


Lamingtons could be called Australia's national cake. They probably were first made by some thrifty cook as a way to save some stale cake. Nearly every country or culture has some recipe that has been created as a way to save some old baked goods... bread or cake. Here in Mexico we have the Pastel Tres Leches (three milk cake,) and Capirotada, which is a variation of bread pudding, which is very common in American country kitchens and upscale restaurants that take the old and tweak it to make it seem new. It's not a dessert, but Italy has Tuscan Bread Salad, which when I first heard of it I thought it sounded disgusting, but it is now one of my favorite foods.


Lamingtons are a very simple creation, consisting of a plain sponge cake or butter cake, covered with chocolate icing and rolled in desiccated shredded coconut. They can be made with just a square of cake, or filled with fruit jam. I made mine plain, and I think I would prefer them that way, but I can see all kinds of possibilities, with other fruits, nuts and fillings, probably enough to make a conventional Aussie choke on his Vegemite toast.


I have to admit, though... the Aussies "got it goin' on" with the Lamington. It is quite good. I think I will be making more of them soon. They are time-consuming and messy to make, but worth the trouble.


Lamingtons are most likely named after Charles Cochrane-Baillie, 2nd Baron Lamington, who was the governor of Queensland from 1806 to 1901. Ironically, it is rumored that the Baron couldn't stand the dessert that was named after him, and is quoted as referring to them as "Those bloody poofy woolly biscuits."


The Irreverent Chef, a.k.a. Liana Turner, is the chef and owner of Paradise Bakery and Catering. Serving the "Best Cinnamon Rolls in Vallarta," along with delicious sandwiches, salads, main dishes and yummy sweet treats every day but Sunday, and providing all styles of catering services, from pre-prepared meals to-go for informal gatherings to full service elegance for dinners, cocktail parties, wedding receptions and special events, Paradise Bakery & Catering is located at Sierra Aconcagua 299, Prolongacion Brasil, Colonia Lazaro Cardenas, Puerto Vallarta. For more information, call (322) 222-5133 or visit VallartaCatering.com.

Click HERE for more articles by The Irreverent Chef
Tell a Friend
•
Site Map
•
Print this Page
•
Email Us
•
Top