News from Around Banderas Bay | February 2009
Team Prince - Forbes/Becerra Win 25th Annual Canto Del Sol Pro-Am

Bob Cohen - PVNN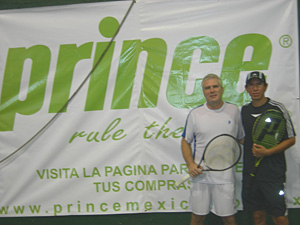 On the left Duncan Forbes with his professional playing partner Javier Becerra after winning the Pro-Am for Team Prince.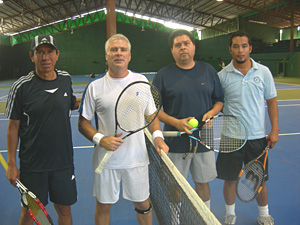 Prior to the Pro-Am final, on the left Javier Becerra, Duncan Forbes of Team Prince with Abelardo Robles and Luis Santiaguillo of the Flamingos.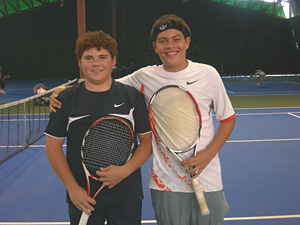 Prior to the "A" finals, on the left 16 year old Javier Diaz with 13 year old Jerry Lopez.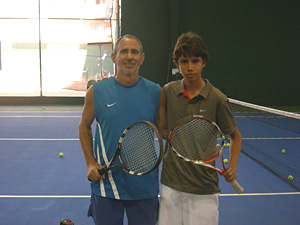 Prior to the "B" finals, on the left Bob Cohen and Daniel Alarcon.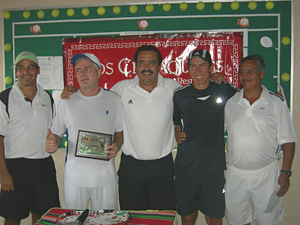 Presentation of the Pro-Am trophies. On the left Polo Torres, amateur winner Duncan Forbes, Martin Parra, pro winner Javier Becerra and Polo Martinez.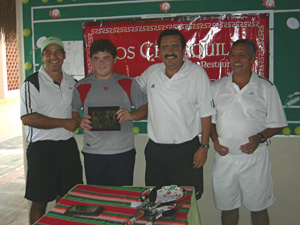 Javier Diaz is presented with the "A" championship. On his left is Polo Torres and to his right are Martin Parrra and Polo Martinez.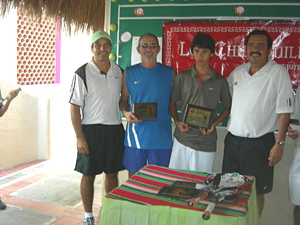 The "B" trophy presentation, on the left Polo Torres, finalist Bob Cohen, champion Daniel Alarcon and Martin Parra.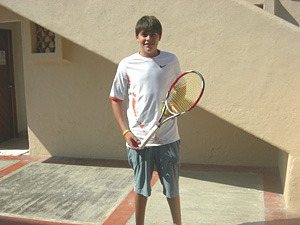 Jerry Lopez was forced to withdraw due to injury in the "A" finals with the score tied 5-5. Jerry needs to heal for a short time and will be fine.
The 25th Annual Canto Del Sol Pro-Am drew the strongest field of 24 teams in recent history and from the opening round the competition was fierce. Almost all the top professionals in Puerto Vallarta were all in the competition as well as a couple of pros that made the trip from Guadalajara. Almost every amateur partner was an "A" player and a few were "B+".


The top seed in the Pro-Am was Juan Becerra of Guadalajara, a pro that plays part time on the Mexican Tour (AMTP) playing with Duncan Forbes who represents Prince Tennis Mexico. The 2nd seed was Canto Del Sol pro Polo Torres playing with his regular tournament partner Dr. Raul Meza who represented CMQ Hospital. Torres and Meza were finalists each of the last two years. Both top seeded teams saw action in the Friday evening semifinals.


Top seeded Duncan Forbes and Guadalajara professional Javier Becerra defeated Jerry Diaz and Nuevo Vallarta professional Ricardo Padilla in straight sets 6-2, 6-3. The second semifinal saw Abelardo Robles representing the Flamingos and Flamingos pro Luis Santiaguillo defeat last year's finalists, 2nd seeded Dr. Raul Meza and Canto Del Sol pro Polo Torres also in straight sets 6-2, 6-2.


Sunday's Pro-Am final was the last of the finals matches beginning at 2:30 PM. The match was tied at 3-3 in the opening set with each team recording a service break and Forbes/Becerra broke serve, held and broke again to take the first set 6-3. They ran off the next three games to open a 3-0 lead, surrendered a game and won the final three to win the 2nd set 6-1. In winning the match they won 9 of the last 10 games and were crowned the new Pro-Am champions.


The winning professional received $2500 pesos and the winning amateur partner won a trophy and bragging rights for the year. The professional finalist was awarded $1500 pesos and a trophy went to his amateur partner. The professional semifinalists won $1000 pesos each.


The singles competition had strong draws as well, with "A", "B" and kids divisions competing. The B and C divisions were combined into the "B" category and "C" players were looking for upsets as the rounds advanced.


The top "A" seed was Duncan Forbes, the winner of the "A" competition last year. Emile Larrive was seeded 2nd and was last year's finalist as well. This year the younger kids that have been moving up in class each year were a force to be reckoned with. Javier Diaz, Jerry Lopez, Gustavo Viera and Rodrigo Martinez, all 13-16 years old won their first round matches as a new generation of top tennis Puerto Vallarta tennis players is challenging the old guard. All four youngsters reached the quarterfinals and Javier and Jerry won their matches to advance to the semifinals, presenting interesting matchups.


Jerry Lopez at 13 years old faced 2nd seed Emile Larrive while 16 year old Javier Diaz faced top seeded Duncan Forbes in Friday's semifinals and 13 year old Jerry Lopez faced last year's finalist Emile Larrive. It was a changing of the guard, at least for this tournament as the two youngsters defeated last year's winner and finalist rather convincingly in straight sets.


Javier Diaz defeated last year's champion Duncan Forbes 7-5, 7-6 in a match that saw Javier hitting hard and accurate shots. Forbes, who always seems to stay in the match, forced a tiebreak in the 2nd set but fell short as Diaz reached the final. Lopez had an easier time with Emile, defeating him in straight sets 6-2, 6-3. Just two years ago both youngsters were playing "C" tournaments and at least on this day they defeated two of the best "A" players in Puerto Vallarta.


The two played the "A" final at noon on Saturday. It appeared to be a changing of the guard as the two youngsters totaling 29 years of age played on center court and hitting hard, accurate and consistent. The two were tied 5-5 in the opening set when Jerry took a bad step and rolled his ankle that required medical attention. Unable to play as his ankle was swelling, Javier Diaz won the "A" championship as Lopez was forced to retire. Javier wasn't happy to win this way but collected his first "A" title, with many more tournament victories ahead of him. Lopez, three years his junior will most likely win a tournament before his 14th birthday.


In the "B" division, Bob Cohen faced Dago Alarcon another hard hitting youngster in a thrilling three set semifinal match that took 2 ½ hours to complete. This time the older player won, but it was clearly not easy. Cohen took the first set in a tiebreak 7-6 and then had a collapse and lost the second set 6-0. The third set saw the tiring Cohen go ahead 3-0, but the lead was cut to 3-2. Bob, who has been a finalist but still hasn't captured a title, went ahead 5-3, then Dago closed to 5-4, before Cohen broke serve to win the thrilling match with a 6-4 final set. In the other "B" semifinal Dago's older brother Daniel defeated Luis Ernesto 6-2, 6-3 to set up the final played at noon Saturday.


Daniel, at 14 is a hard hitting, fast player and after warming up, Bob knew he had his work cut out for him. Daniel opened a 2-1 lead as Bob was a point from tying the set at 2-2, but failed to win another game until he closed to 5-2, then lost the opening set 6-2. Alarcon showed a few weaknesses but his play so strong that Cohen was unable to capitalize. Down 4-2 in the 2nd set, the two played a game that went to deuce a dozen times but Daniel prevailed and served out the match to win the "B" championship 6-2, 6-2. Look for Daniel to join the ranks of the young "A" players in the very near future.


In the kids division, there were two competitions, one for the youngest kids and one for older kids that chose to play in this format. Jorge Oliver Uribe was the champion of the older kids utilizing a round robin format that had each kid play one eight game set against each other. Then all games were totaled and Uribe was the winner. The finalist was his brother Luis Oliver Uribe. The winner of the younger kids division was unavailable to this writer at press time.


The 25th Annual Canto Del Sol Pro-Am was a success once again but there are changes in Puerto Vallarta tennis now. The best "A" players for years have been over 40+ and this tournament showed the public and players that now the best youngsters 13-16 years of age are competing on an equal level currently. The "A" division has rarely been won by anyone between 20-40 years of age. As an observation, the "A" division could be split eventually and a seniors division created, but not yet. Another possibility is that these rapidly improving youngsters will eventually advance to the professional level. Either way, the future holds some great competition and fun for all. Thanks once again to Tennis Director Martin Parra and pros Polo Martinez and Polo Torres for another successful tournament.
Tell a Friend
•
Site Map
•
Print this Page
•
Email Us
•
Top